Citing a section of the Justice Department's scathing report of racial bias within the Ferguson Police Department, Rudy Giuliani said former Officer Darren Wilson should be commended for shooting unarmed teenager Michael Brown in August.
During an interview on Thursday, the former New York City mayor said Wilson acted dutifully and was vindicated by the report's findings that there was not enough evidence to conclude that Brown had his hands up before he was shot.
"What happened in Ferguson is that a man committed a robbery, attempted to assault a police officer, and the police officer -- to save his life -- shot him," Giuliani told Fox News. "The police officer did his duty. The officer should be commended for what he did."
Far from embracing the report, Giuliani attempted to cast doubt on the more damning sections, claiming that there was little evidence to prove racism within the department.
"It's an allegation. There's no proof yet," Giuliani said.
The former mayor has become an outspoken defender of law enforcement in various controversial police shooting cases in the past year. He's appeared on Fox News numerous times, defending embattled police officers and blaming violence in black communities for sparking harsh police actions. In December, Giuliani implied that both Brown and Eric Garner, who died after a New York City police officer placed him in a chokehold, were responsible for their own deaths because they had broken laws.
"Mr. Brown had committed at least two felonies, possibly three during that incident. So the police officer was dealing with a criminal," Giuliani told Fox News last year. "And in [Garner's] case, the police officer was dealing with a criminal who was resisting arrest. Maybe if Mr. Brown hadn't committed his crimes and this gentleman hadn't resisted arrest, they wouldn't be dead today."
Before You Go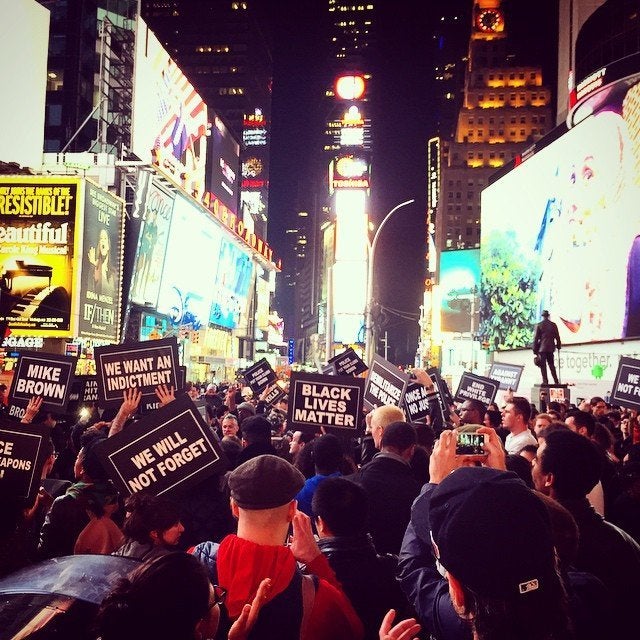 Ferguson Protests Around the Country
Popular in the Community