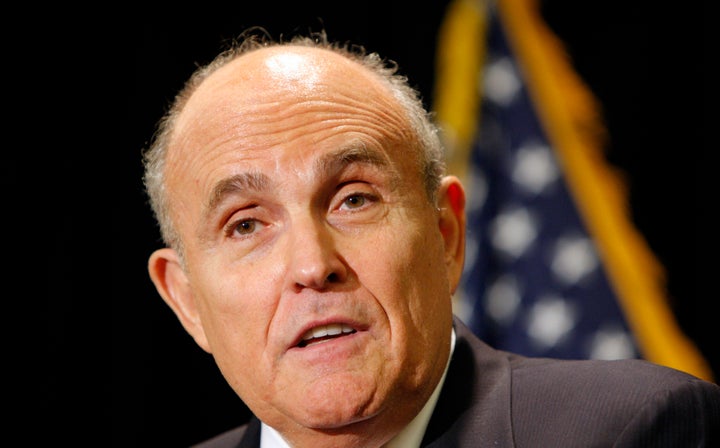 Rudy Giuliani appears to have broken a long-held promise to marry his gay friends, the New York Post reports.
Howard Koeppel, the car dealer who provided a crash pad for Giuliani in 2001 for six months during his divorce battle, recently spoke to the Post about a promise he says the former New York City mayor made to him a decade ago.
Koeppel told the Post that he had asked Giuliani to marry him and his long-time partner, Mark Hsiao, and that Giulliani said to him, "Howard, I don't ever do anything that's not legal. If it becomes legal in New York, you'll be one of the first ones I would marry."
In a 2005 New York Magazine interview, Koeppel spoke about his relationship with Giuliani when they were roommates. According to Koeppel, he helped Giuliani pick out his ties and even convinced Giuliani to speak "doggy talk" to his dog.
When Koeppel and Hsiao first married in Connecticut in 2009, the Post reported that Guiliani was a last-minute no-show at their wedding. Now, Koeppel would like to repeat the ceremony in New York with Giuliani officiating.
While Koeppel reportedly feels "miffed" that Giuliani has been ignoring his calls, he still believes the former mayor meant what he promised, stating, "He doesn't usually say things just to make you feel good."
Although progress has been made in achieving equal rights for gay couples to marry in New York, there is work still to be done. Political consultant Scott Levenson told the Post that one possible reason Giuliani may be avoiding the New York gay wedding is because it "would be a sign he's no longer interested in running [as a Republican] for president -- ever."
In the past, Giuliani supported civil unions for same-sex couples, although he backed away from this stance while running for president in 2008, going as far to say that New Hampshire's law went too far because it is "the equivalent of marriage."
When a group of former New York City mayors created videos in March voicing their support for gay marriage, Rudy Giuliani was noticeably missing.
After gay marriage was legalized in New York, NBC New York reported that Giuliani said, "I still favor marriage as being defined between a man and a woman but I completely understand what people are striving for... I was very glad to see people relieved of this burden of discrimination, which is a terrible thing to feel."
But does Giuliani's weak stance on gay marriage support that very discrimination?
Support HuffPost
The Stakes Have Never Been Higher
Popular in the Community