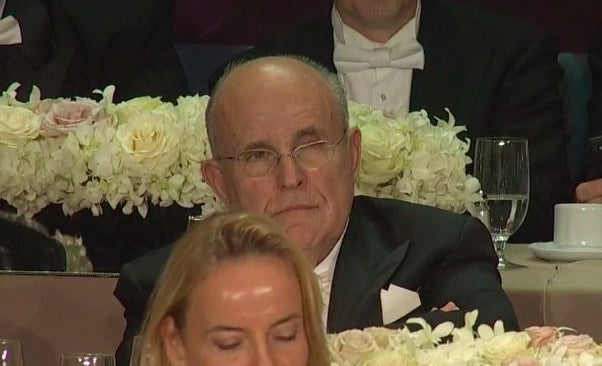 WASHINGTON ― Hillary Clinton and Donald Trump were the stars of Thursday night's roast at the Alfred E. Smith Dinner in New York, but it was the look of misery on Rudy Giuliani's face that may have stolen the show.
The former New York City mayor was the target of some of Clinton's jokes at the dinner, an annual charity event hosted by the Catholic Archdiocese of New York. During presidential election years, both nominees typically attend and trade light-hearted barbs with each other.
During her spiel, Clinton gave a shout-out to the "wonderful elected officials" in the room. "The honorable Chuck Schumer. The honorable Andrew Cuomo. The honorable Mike Bloomberg."
"And, we have Rudy Giuliani," she said to laughs.
The camera panned to his face in the crowd. There was nothing even resembling a smile going on there. It was just a scowl and a pair of lopsided glasses hanging on his nose. Clinton kept going.
"Many don't know this, but Rudy actually got his start as a prosecutor going after wealthy New Yorkers who avoided paying taxes," she said, a reference to Trump reportedly not paying federal income taxes. "But as the saying goes, if you can't beat 'em, go on Fox News and call 'em a genius."
That drew another round of laughs, but not from Giuliani. It was just a cold, hard death stare.
Watch the full video of a humorless man suffering:
Popular in the Community