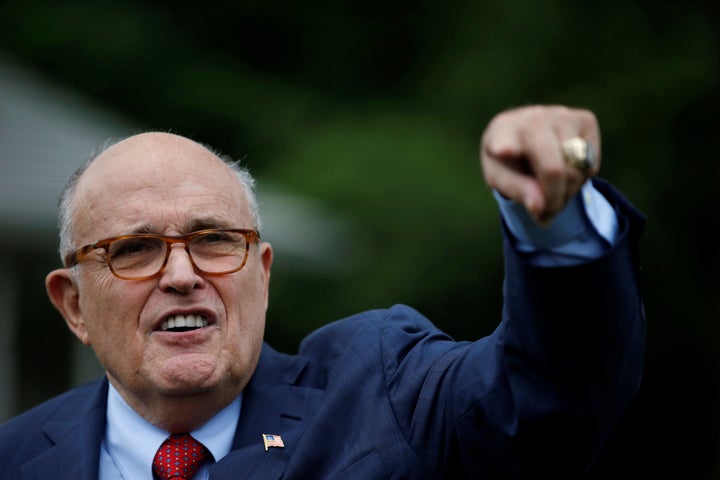 WASHINGTON ― With a strong economy and a new "success" in North Korea, President Donald Trump will cruise to re-election in 2020, his lawyer predicted, particularly if the Democrats nominate a "moron" like former Vice President Joe Biden.
"They need someone new, who would be more threatening to us," Rudy Giuliani, himself a failed presidential candidate in 2008, told HuffPost. "They've got to hit us with a surprise."
Giuliani said not one of the candidates currently receiving attention as potential 2020 opponents worries him, but he reserved his harshest comments for the former vice president.
"Joe Biden is a moron," he said, claiming that Biden finished last in his law school class at Syracuse University and had been unable to understand issues Giuliani tried to discuss with him when he was a federal prosecutor and Biden was a Delaware senator. "I'm calling Joe Biden a mentally deficient idiot."
Giuliani further said Biden's time has passed. "He's also too old. He's four years older than Trump," Giuliani said.
Biden is 75. Trump just turned 72.
Biden unsuccessfully ran for president in 1988 and 2008. He considered running in 2016, as the sitting vice president under President Barack Obama, but did not, citing the recent death of his son Beau from brain cancer.
An aide to Biden declined to comment on Giuliani's remarks.
It's unclear why Giuliani felt compelled to attack Biden personally. In a poll early this year, 58 percent of Americans saw Biden favorably compared to 28 percent who saw him unfavorably. In contrast, approval ratings for Giuliani's boss, Trump, have ranged from the mid-30s to the low 40s through his presidency thus far.
Giuliani also said Democrats would hurt themselves if they asked Obama to campaign for Democratic congressional candidates this fall, saying that would limit them to just 42 percent of the vote. "Please, bring him back," he said.
A recent poll, however, showed Obama's approval rating as even higher than Biden's, with 63 percent approving and 36 percent disapproving.
Giuliani has taken charge of the legal team defending Trump in the ongoing investigation into contacts between Trump's 2016 campaign and Russian spy agencies, which the U.S. intelligence community determined had worked to elect Trump.
The FBI had begun its probe of possible collusion between the Trump campaign and the Russians well before Election Day. Control of the investigation was shifted to special counsel Robert Mueller after Trump fired then-FBI Director James Comey in May 2017. Soon after, the president told NBC News as well as senior Russian officials visiting the Oval Office that he had fired Comey because of the investigation.
Mueller's investigation has so far resulted in the guilty pleas of five individuals, including three former Trump campaign staffers, and the indictment of 15 other people and three companies. That total includes 14 Russians, Trump's former campaign chairman Paul Manafort, and the Internet Research Agency "troll farm" that was used to create and disseminate propaganda to help Trump win.
A related investigation by Giuliani's former office is examining the dealings of longtime Trump lawyer Michael Cohen. A former business partner of Cohen has agreed to cooperate in that probe and plead to New York state charges.
Notwithstanding all this, Giuliani said the ongoing investigation into contacts between Russia and Trump's 2016 campaign would not result in anything damaging to Trump. At most, he said, it would offer a possible basis for House Minority Leader Nancy Pelosi (D-Calif.) to seek an impeachment vote, should Democrats take control of the chamber in November.
Giuliani predicted she would not do so, though, because she was in the House in the late 1990s, when Republicans chose to impeach Democratic President Bill Clinton and saw it backfire against them.
"She's seen this before," Giuliani said.
Popular in the Community