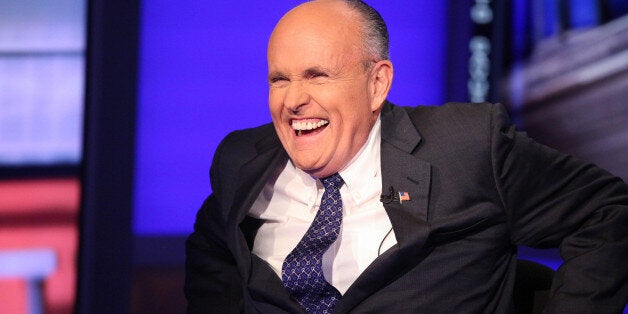 Former New York City Mayor Rudy Giuliani has not been shy about airing his opinions on the recent deaths of Michael Brown and Eric Garner at the hands of police officers. Over the past few weeks, Giuliani has bashed current Mayor Bill de Blasio's leadership amid local protests related to the two deaths, and repeatedly proclaimed that black-on-black crime is a far bigger problem than strained relations between police and black communities.
But in an interview with talk show host Geraldo Rivera on Monday, Giuliani added yet another group to the list of people he thinks are exacerbating these problems: teachers unions.
Asked by Rivera about de Blasio's response to the situation, Giuliani said that liberals have been ignoring the underlying causes of police brutality against black communities. While groups around the country have been protesting the decisions by two separate grand juries not to indict the police officers who killed Brown and Garner, Giuliani suggested that these activists may be misdirecting their energies.
"The energy that [Al] Sharpton and everyone else is spending protesting against police would save a lot more black lives if it would start talking about improving black education, if it would talk about improving the family situation in black neighborhoods, if it would talk about dealing with police officers with respect," Giuliani said.
The former mayor then went on to suggest that teachers unions may be partially to blame.
"Maybe all these left-wing politicians who want to blame police, maybe there's some blame here that has to go to the teachers union, for refusing to have schools where teachers are paid for performance, for fighting charter schools, for fighting vouchers so that we can drastically and dramatically improve education," he said.
Giuliani also argued in the interview that high crime rates among blacks were a main driver of police brutality.
"Liberal guilty whites have to stop refusing to say the bigger part of the problem here is black crime and not police overreaction. A small part of the problem is police overreaction. It is driven by the incredibly large rate -- disproportionate rates of crime in the black community," he said.
Reached for comment, a spokeswoman for American Federation of Teachers President Randi Weingarten referred The Huffington Post to a critical tweet posted on Weingarten's account Monday evening.
Giuliani also appeared on Fox News' "Hannity" Monday, where he again suggested that teachers unions are contributing to problems in black communities.
"There's nothing inherently wrong with these communities. It's problems that have to be cured, problems that have to be dealt with, like education," said Giuliani. "Why not support charter schools? Why not support vouchers? Why not support new ways of having education in the black community, instead of submitting to the will of the teachers' union?"