Rudy Giuliani, a national security adviser to Republican presidential nominee Donald Trump, said again Thursday that it might be a good idea to put electronic monitoring tags on thousands of people named in the federal government's controversial terror watchlist. 
"I still think it might be a good idea, I'd have to look at all the legal ramifications of it," Giuliani, the former mayor of New York City, told reporters during a Republican press conference in Philadelphia. "But I can't imagine why, if someone's on the terrorist watchlist, you wouldn't wanna keep an eye on them."
On Wednesday, NJ.com reported, Giuliani said he thought it was an "excellent idea" to use electronic tags for people on the watchlist. 
There are a staggering 680,000 people ― 280,000 of whom, by the government's own admission, have "no recognized terrorist group affiliation" ― on the U.S. terror watchlist. Of that tally, anywhere from 21,000 to 40,000 are American citizens or legal residents. 
"People can be listed as 'suspected' terrorists not because of any wrongdoing but because of unwitting associations with someone else the government deems suspect," wrote ACLU staff attorney Hugh Handeyside in 2014. 
Often people end up on the list for having a name similar to another person's.
And American Muslims are disproportionately represented on the list. It's no coincidence that Dearborn, Michigan ― which has the highest concentration of Arab Americans in the U.S. ― has the second highest number of watch-listed individuals in the U.S., despite having a population of under 100,000 people. 
Being on the list can have a range of consequences, including being blocked from flying in or out of the country, denial of immigration visas, and detention and questioning by authorities.  
The government does not disclose its reasoning for the inclusion of certain names on the watchlist, and getting a name removed from the list can be exceedingly difficult. 
"Maybe the list should be more accurate," Giuliani said Thursday. "Maybe we should make the procedures for people to complain if they are erroneously there easier. I would like the opportunity to take a look at what percentage is faulty. If the percentage is very high, like 20 percent, 30 percent, then I wouldn't do it until the percentage was down to something like 1 or 2 percent. If the percentage is more like 1 or 2 percent, then I would do it. But I do think it's something to consider."
Giuliani's support of electronic monitoring falls in line with Trump's dragnet counterterror strategies, most of which are aimed at Muslims. Trump has called for a national database of Muslims, said Muslims should be racially profiled, said mosques should be surveilled, and called for a ban on Muslims entering the U.S. 
During the press conference Wednesday, Giuliani touted his own counterterror record, saying he "put undercover agents in mosques for the first time in January 1994" after the 1993 truck bombing of the World Trade Center that killed six people. 
"I did it because the 1993 bombing was planned in a mosque in Union City, New Jersey, and a second plan was uncovered to bomb our subways, which was foiled," said Giuliani. "And I kept those police officers in those mosques until I left as mayor."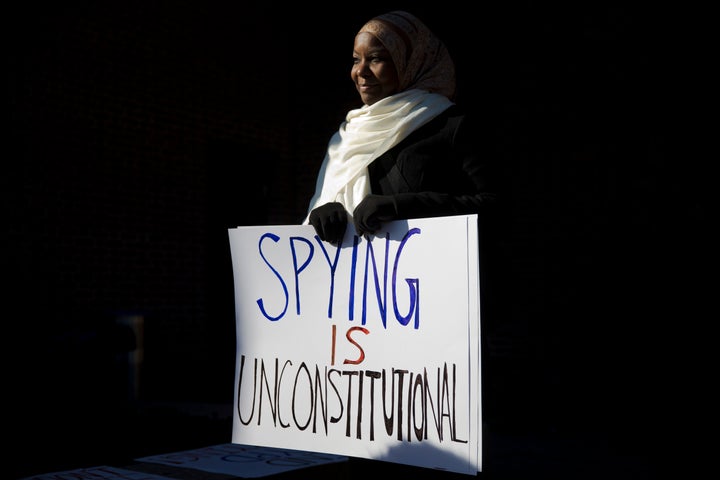 At his press conference Thursday, Giuliani told reporters that "this country and the Western world is in more danger today than it has been at any time since the Second World War."
"The picture painted by the fantasizer in chief last night was of a world that he made peaceful," he continued, referring to President Barack Obama's Democratic National Convention speech Wednesday, in which the president urged Americans to "reject cynicism, reject fear" and vote for Hillary Clinton. 
"[Obama] has made the world much more dangerous than the world that was handed to him, and Hillary Clinton played a material, important role in that," Giuliani said. "We would make a terrible mistake making her our next president."
S.V. Date contributed reporting from Philadelphia.  
Calling all HuffPost superfans!
Sign up for membership to become a founding member and help shape HuffPost's next chapter