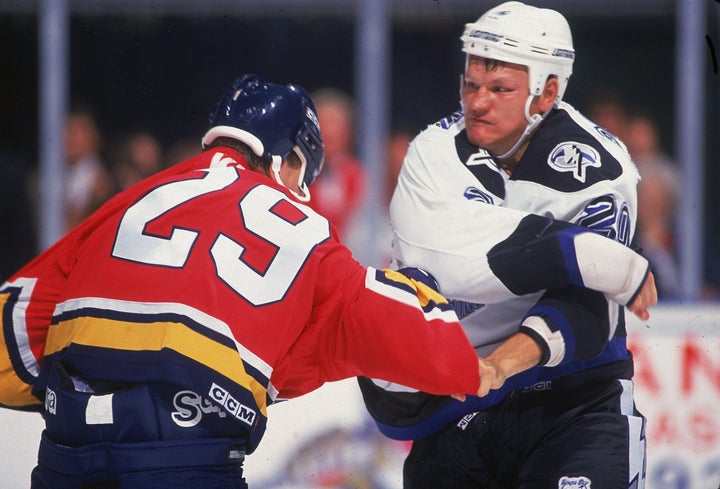 More than 15 years after Rudy Poeschek played his 364th and final game in the NHL, and a dozen years since he gave up on the minor leagues and retired for good, the blackouts are among his most vivid memories of the game he loved.
They came quick. One minute he'd be fighting an opponent, the next he'd catch a clenched fist to the jaw or the side of his head. And then the lights would go out.
When they would come back on seconds later, he'd still be fighting. He'd go to the penalty box, clear his head and go back out on the ice. A few times, Poeschek asked a trainer if he should worry about the times he couldn't see, but they'd tell him he was fine. After a particularly jarring incident, he finally asked one of his team's doctors about the effects those blackouts might have on his brain.
"I asked one of the doctors, 'I get tagged sometimes and I see black; What is that? Is that going to affect me later on?'" Poeschek said. "He basically dismissed it."
Poeschek is now one of roughly 80 former hockey players suing the NHL because they feel the league did not do enough to warn them about the long-term dangers of those blows to the head or protect them from the hits. In October, Poeschek joined the class action suit, which more than 20 players originally filed in 2013.
The lawsuit is similar in principle to the one more than 4,500 former NFL players settled for $765 million in 2014. It alleges that the "the NHL engaged in a decades-long plan to conceal from the players the risks of concussions and developing serious brain diseases from playing hockey in the NHL."
Poeschek was a fighter -- an "enforcer" in hockey parlance -- charged with protecting his team's skill players. If they took a big hit that crossed the line, it was his job to deal out punishment to the offending opponent, or to his opposite enforcer.
He found his way to that role early in his career, as he bounced between the NHL and minor leagues until he latched on with the Tampa Bay Lightning in 1993. Poeschek estimates that he fought more than 100 times during his NHL career. The blackouts, he said, occurred every five or six fights. His best guess at how many concussions he suffered is between 10 or 15. The subconcussive hits were innumerable.
"I did what I had to do to get into the league. But you're oblivious. You're young. You don't think you're going to have these issues," Poeschek said. "Nobody tells you."
The effects of all those hits are clear now, primarily because so much of his daily life isn't.
""I did what I had to do to get into the league. But you're oblivious. You're young. You don't think you're going to have these issues.""
Poeschek, 49, suffers from insomnia, frequent headaches, mood swings and short-term memory loss, he said.
"The amount of times I misplace things and can't find them, that just drives me nuts every day," he said. "It's ridiculous."
Basic tasks fill him with anxiety. He puts off simple phone calls or more important chores, like doing his taxes. He is unemployed and has struggled to find a job, a situation he partly blames on the changes he believes all those hits caused. Poeschek has had legal issues -- he's been arrested twice since 2012 and was sentenced to brief jail time this fall. He said those run-ins with the law stem from the problems he's experienced and a prior addiction to painkillers.
The NHL and Commissioner Gary Bettman have "no desire" to settle with the former players as the NFL did, according to an internal memo Yahoo Sports reported on in October.
Bettman, whose July 2015 deposition in the case remains sealed, has said there is "no evidence yet" linking hockey-related concussions to chronic traumatic encephalopathy, or CTE, the degenerative brain disease linked to repetitive head trauma more commonly found in former football players.
But Poeschek and others are dealing with symptoms commonly associated with the disease, and researchers found CTE in the brain of Steve Montador, a former NHL player who died in February at age 35. His family is suing the league in a separate suit.
The NHL filed an unsuccessful motion to dismiss the former players' lawsuit in March. The case is currently in discovery, and the NHL has turned over more than 2 million documents related to injury data and other information, though most of the documents remain sealed. A federal judge will hear arguments Tuesday over whether the documents should be open to public scrutiny.
In emails released to TSN on Monday, NHL officials wrote of one player who the league guessed "has had at least 3 concussions in the last year." None of them, the email says, were recorded.
"They're in denial. They don't want to have to get out their wallets," Poeschek said of the NHL. "Once you're done with them, they don't care about a player like me. Unless you're a superstar in the league, they don't care about you when you're done."
The NHL has instituted rule changes in recent years, including a new concussion management policy and stiffer penalties for the brutal checks and hits that were once more common. Despite his proficiency as an enforcer, Poeschek wonders now if fighting has a place in the sport. The NHL, he said, should work to remove it from the game altogether.
Poeschek doesn't regret his time in the NHL, but if he could go back in time, he'd try to get there on his skill as a player instead of as a fighter. But he worries about his long-term health. He's also concerned that other people like him -- especially players who were on the receiving end of his fists and hits -- are suffering, too.
"If [former players] need help, get them the help," he said. "If they need medical help, they should get the help."
Related
Popular in the Community