"Chips or fries? The timeless struggle, the eternal choice," read bags of Ruffles' new Crispy Fries, which debut nationwide on June 23. The crunchy potato snack is a hybrid of French fries and potato chips in both appearance and taste, and the effect isn't unappealing.
That's high praise considering that the product resembles gas station standby Andy Capp's fries, last seen between the Slim Jims and the Corn Nuts. But unlike Andy Capp's, Ruffles' Crispy Fries are the "first-ever French fry-shaped snacks sliced from real potatoes," according to a press release.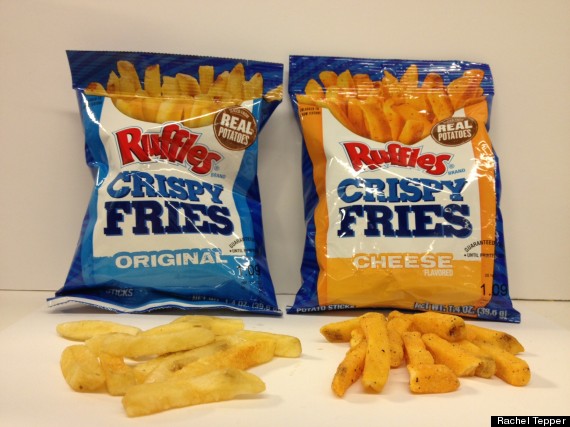 Perhaps that's why the snack, which comes in Original and Cheese, really does taste like slices of potatoes that have been chucked into a deep fryer. The Original flavor's label only lists three ingredients: potatoes, vegetable oil and salt. The Cheese flavor lists considerably more, although none include preservatives or MSG. (Both are listed as ingredients in Andy Capp's Hot Fries.)
HuffPost was recently able to sample the two flavors of Crispy Fries and had mostly positive things to say about them.
"I like the Original flavor," one editor said. "They really are addictive. I imagine these would be great if I really wanted French fries but wasn't near a restaurant." Another editor echoed the sentiment. "I'm a little embarrassed to admit this, but these potato fries were pretty damn good," she said. "They taste like real potato -- but crunchy!"
The Cheese flavor proved divisive; half the editors who sampled it turned up their noses while the other half said it was their favorite.
You can decide for yourself come mid-June. Each 1-ounce bag has a suggested retail price of $1.09.
Correction: An earlier version said that the chips will debut in July. They will debut in June.