We've been feeling some potato chip overload recently at HuffPost HQ, but that didn't stop us from noshing on the newest bag to hit our desks: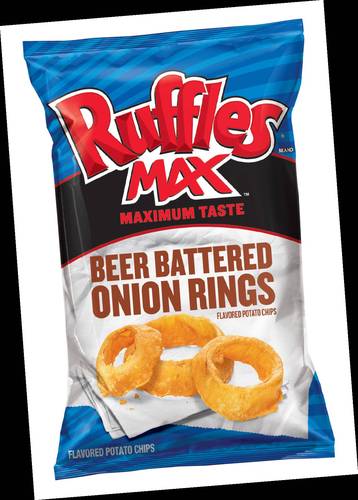 Ruffles, as part of its Ruffles MAX line (MAX being "flavors inspired by real foods guys love with the maximum taste guys want" according to a press representative), has debuted Beer Battered Onion Rings potato chips. Sound familiar? Ruffles first launched the flavor a few years ago, but now it's to the MAX.
We are very harsh potato chip judges. That being said, we are fans of these. There isn't a ton of onion ring flavor, but the chips do taste like a pretty good onion dip, in chip form. "You could just dip it in sour cream and it makes its own onion dip," said one enthusiastic taster. There's also an evident beer taste as well, sort of the flavor you get when you eat meat that has been braised in booze. The new chips have 10 grams of fat per ounce, compared with seven grams of fat for regular Ruffles.
Frito-Lay, which makes Ruffles, said it's serious about marketing these chips to a male audience. "Onion rings are one of those staple guy get-together foods," said Tony Matta, Frito-Lay North America vice president of marketing, in a press release. "We wanted to incorporate that flavor for guys to share for any impromptu gathering." The release describes the chips as "a truly unapologetic snack experience that satisfies man hunger at just about any time."
With all due respect to Matta, beer-battered onion ring potato chips do not automatically equal an impromptu gathering with our crew. Also, our crew would include females. And probably some sour cream. Perhaps some guac. And maybe some actual beer.
The chips are available nationwide starting Feb. 26 for a limited time. They will be sold in 2.5-ounce bags for a retail price of $1.49 and 8-ounce bags for a retail price of $4.29.