In 2017, American Muslims still have many "firsts" ahead of them.
And for as many challenges as American-Muslims face, African-American Muslims face even more. Even though they make up 25% of America's Islamic community, their voices are too infrequently heard as representative of that community.
Now, for the first time, an African-American Muslim couple will take the stage at Ted-X.
The Ted platform has been around since 1984, and though it used to be a conference where Technology, Entertainment and Design was the primary focus, today, TED covers almost all topics—from science to business to global issues—in more than 100 languages.
Meet Rufus and Jenny Triplett, our first African-American Muslim couple to give a TED talk.
Their topic is the "Power of No," taken from lessons they've learned from a lifetime in the entertainment industry.
1. "No" is the most important word on your journey to the life you want.
Rufus and Jenny both got their start in media back in the 1980's. Rufus was a music producer and Jenny a radio host. And although more than one couple has successfully pulled off a marriage in the entertainment industry, Jenny and Rufus managed to do it all the while identifying first as black Muslims, and second as entertainers.
Back in the 80's, this caused more than a little apprehension for the executives they worked with. To have a headscarf wearing black woman and her kufi wearing husband as part of their branding had never been done before. Following 9/11, these reservations only intensified. As a result, when Rufus and Jenny introduced projects, they were often told "no."
In fact, more times than they can count.
Since then they have grown an empire out of motivational speaking; rooted in a philosophy of self-honesty and inspiration their talks have taken them all over the world.
2. We all hear no, but maybe not enough.
According to Rufus and Jenny, the most successful people hear no a lot in their lives. But it is the perseverance required to keep trying that matters. Being told "no" by an entertainment industry more interested in Muslims as terrorists, running backs, boxers, and not much else, has never slowed them down.
In fact, hearing "no" allowed the Triplett's to host their own radio show—Prisonworld Radio—for nine years. Being told "no" lead to an appearance on Dr. Phil as parenting experts, and somehow despite all the negative treatment they've received over the years—Jenny has had the opportunity to give the Real Housewives of Atlanta some words of wisdom as to why they should say no to things too.
Hearing "no" helped Rufus and Jenny realize that rejection carries power, "no" allowed them to become uncompromising.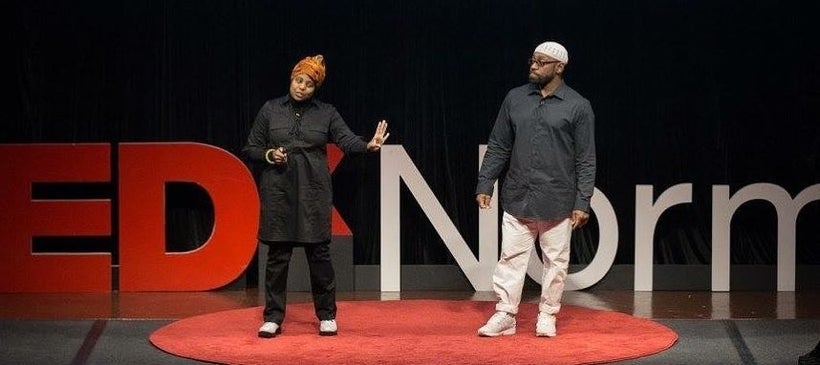 3. African-American Muslims are as American as they come.
Although not directly on topic, every talk they give and show they produce is in some way an act of representation.
And unlike most Muslim groups, African American Muslims are not immigrants to this country. America is the only home and only culture they know. Both Rufus and Jenny were born and raised in the United States, and as far back as they can trace, so were their ancestors. Rufus and Jenny also answered the call and joined the United States Armed Forces. Rufus served in the Marine Corps and Jenny in the Navy. And yet, with this background and these credentials, the Triplett's still experienced rejections of their all-American message—but it was from these very institutions that they learned valuable skills like patience, perseverance, and determination.
Rufus and Jenny believe they have succeeded because of their "unusual" history and identity, not in spite of it.
4. "No" helped them embody #relationshipgoals
Rufus and Jenny are probably best known, however, for their high-energy seminars on marriage and relationships.
They met in high school, and agree to disagree as to how that ended with an elopement. Just recently they celebrated 28 years of marriage, finding their new normal after the death of their eldest son and navigating that experience with two other children, as well. They attribute the success of their marriage to having good mentors in people who had been married for 50+ years themselves. "No one knows your spouse better than you," says Rufus.
In a country where the divorce rate hovers between 40%-50%, it has become a rare thing to see couples staying together. Ebony Magazine honored the Tripletts as Ebony Magazine Couple of the Year in 2012, and Mashable joined in on the honors by highlighting them as a Social Media Power Couple. The Tripletts have amassed a long list of awards.
For Rufus what saved his marriage was not the advice from professional marriage counselors, but the real world lived experiences of his peers and mentors, "There are ways to communicate that a lot of counselors don't clearly define but you have to listen to the person, and you need to know your mate. A counselor doesn't know your mate, you have to know your mate better than anybody, you have to know how to talk to this person and how not to talk to this person and stay away from areas [that cause unnecessary friction]."
So whether you're interested in the entertainment industry, the military, grief and the loss of a loved one, or building and keeping a happy marriage—this Ted talk may be just what you're looking for, regardless of the fascinating intersection of their identity, struggle, and the challenges of life.
Look for their exciting and inspiring lecture here.
And for even more information on Rufus and Jenny Triplett be sure to check out their website.
Calling all HuffPost superfans!
Sign up for membership to become a founding member and help shape HuffPost's next chapter
This post was published on the now-closed HuffPost Contributor platform. Contributors control their own work and posted freely to our site. If you need to flag this entry as abusive,
send us an email
.