It's been three years since Rufus Wainwright played Denver. And in the meantime, a lot has happened.
The singer-songwriter, praised by The New York Times for his "genuine originality" and referred to by Elton John as "the greatest songwriter on the planet," has released a couple of albums, premiered an opera, acted in his third film, composed a musical adaptation of Shakespeare's Sonnets, and publicly and poignantly suffered the loss of his mother, the acclaimed folk singer Kate McGarrigle.
There have been many ups and downs, to say the least.
These days, Wainwright is in the middle of 16-city cross country tour in support of his new album, All Days Are Nights: Songs for Lulu. He's already played Boston, Philadelphia, Pittsburgh, and Chicago - and on August 17, he comes to Denver. The show, which had been set for the Paramount Theatre, has been moved to the Ogden Theatre for a reserved seated show.
Recently, Wainwright took time out of rehearsals to answer a few questions about All Days Are Nights: Songs for Lulu. His new album may be his best yet - and also his most revealing.
Thomas Gladysz: You've mentioned five women were the muse for your new album. Who are they?
Rufus Wainwright: Yes, there are five. I could start with the title, Songs for Lulu. I am referring to Louise Brooks and the movie Pandora's Box, where she plays the character Lulu. She has always been a vision of the decadent, carefree, bohemian flapper who tears down the world where ever she goes, with a smile. She has become a kind of symbol of the dark world which I love so much - but can't really spend much time in. Every time I am a little bit vulnerable or under pressure or tired I see her as a vision, as a phantom, and I need to watch out - these songs are a sacrifice to that spirit.
The next is Régine Saint Laurent, a character from my opera, Prima Donna. One of the arias from the opera is on the new album. She has been a character who has inhabited my life for four or five years. I've lived with her constantly - it's what one has to do to write an opera, inhabit the characters. Shakespeare's Dark Lady was wandering around as well. I'm working with Robert Wilson and the Berliner Ensemble on the Shakespeare sonnets project. The Dark Lady in Robert Wilson's version of the sonnets is really DEATH - she embodies death in that production. I have to say, if you ever have a chance to see it in Berlin, it is absolutely fantastic, and very effective.
The two other women are the most important women of my life, one being Martha - my sister, and the other being my mother Kate - who passed away. So it's quite a strong bunch - both mythical and real people.
Thomas Gladysz: Archetypes?
Rufus Wainwright: They are archetypes and also muses and foils.
Thomas Gladysz: You said these songs were a "sacrifice." How so?
Rufus Wainwright: You can look at this album as a kind of representation of grief and pain and also transcendence, and also spiritual knowledge - these are also the toughest songs I have ever had to play and sing - and they are matched with some of the simplest and purest melodies I have ever written. For me, it's been a mountain range of personal and artistic exploration, and with only two instruments, my voice and the piano. In a lot of ways it is a sacrifice. It takes a lot of energy. I have to be operating on all cylinders. I have to be totally true to myself when I perform.
Thomas Gladysz: You mentioned Shakespeare's "Dark Lady." What does she mean to you?
Rufus Wainwright: A lot of people ask me - or at least a lot of people talk about, they don't necessarily ask me - was Shakespeare gay? I don't think so, but I do believe he had sexual feelings for this young boy [referenced in the Sonnets]. That really took him off guard. So, I would say he was bisexual. The dark lady, on the other hand, is really his sexual drive. He is a kind of slave to this brooding attraction for this woman whom he wants to screw but is also screwed by. (Laughs) It's the tortuous nature of male and female relationships - the battle of the sexes. That is the impression I got.
Thomas Gladysz: Your new album has been described as "stripped down." It's certainly the most revealing and personal of your recent projects.
Rufus Wainwright: Recently, I said in an interview "if you wait, life will show you what's going on." That's the case with this album. Back when I released Release the Stars, there were rumblings of it being a kind of stripped down album. But I went full throttle the other way.
I knew at some point that I would have to make this kind of record. And now that I look back at it I see that it required many ingredients. One being a tragedy - my mother's passing, which was the toughest thing I have ever gone through. It needed that. It also needed some sort of reaction to these massive projects with huge orchestras - I'm talking about the opera. And the Robert Wilson project. And the Judy Garland show. So I needed some sort of yin to that yang, shall we say.
Also, to be frank, I am a strong believer that art is tied to the ways of the world. We are in a period of cutbacks and downsizing. So, there was also a very practical reason why I had to do it - I had to survive like everyone else in these challenging times.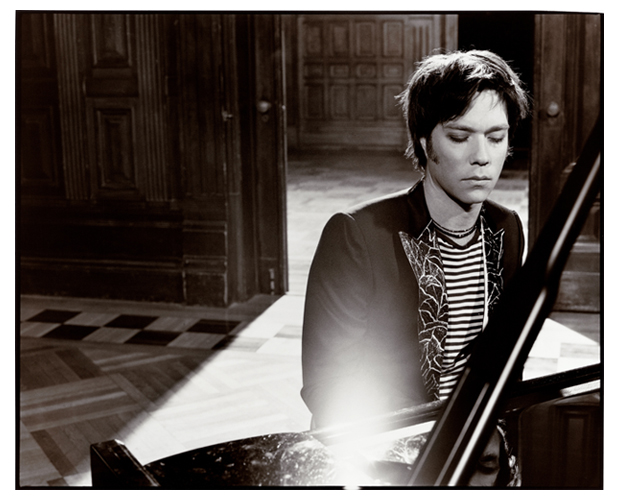 Rufus Wainwright performs at the Ogden Theater on August 17. The first part of the program will be performed as a song cycle with visuals by artist Douglas Gordon. During the first set, Wainwright has asked that fans not applaud until after he has left the stage. More info at www.rufuswainwright.com/.
Thomas Gladysz is an arts journalist and author. His interview with Allen Ginsberg was included in Sarah Greenough's "Beat Memories: The Photographs of Allen Ginsberg" (National Gallery of Art, 2010). And recently, he wrote the introduction to the Louise Brooks edition of Margarete Bohme's classic novel, The Diary of a Lost Girl (PandorasBox Press, 2010). More at www.thomasgladysz.com.

Calling all HuffPost superfans!
Sign up for membership to become a founding member and help shape HuffPost's next chapter