Rugby is one of the world's toughest sports. Large men wearing little or no protective gear collide with each other at full speed. They leap. They scramble. They mash together in scrums. So it's no wonder that rugby's injury rates are nearly three times higher than soccer's.
In professional rugby, one of the essentials for achieving a winning record is reducing the injury rate. That's why the Leicester Tigers, the most successful professional rugby team in the United Kingdom, recently adopted predictive analytics software aimed at proactively reducing injuries. The goal is to avoid the physical and mental fatigue that sets players up for some of the most common rugby injuries, which include muscle and ligament tears and joint dislocations.
"Our data suggests that if we have a fully fit squad, we'll rival any team in Europe. If we have a lot of injuries, we'll have trouble competing with the best," says Andy Shelton, Head of Sport Science. In spite of having three key players out with injuries right now, the Tigers are in second place in the premier division in the final weeks of the season.
The Tigers' project is just one of many examples of data analytics helping to transform the way professional sports teams operate. Statistics have long played an important role in sports, but deep analysis of data to spot unexpected patterns became mainstream after Oakland A's manager Billy Beane built a top-flight baseball team on a shoe-string budget-a story told in the book and movie, Moneyball.
It's all part of the data analytics revolution. Industries from retailing and healthcare to banking and law are increasingly using analytical tools to gain competitive advantage.
Professional rugby teams have long used analysis of game play to improve their performance and prepare for the upcoming rivals. For several years, led by Alex Martin, Head of Strength and Conditioning, the Tigers have been gathering detailed data on player's individual fitness and performance. Now they're going even deeper-evaluating each player's vulnerability to injury.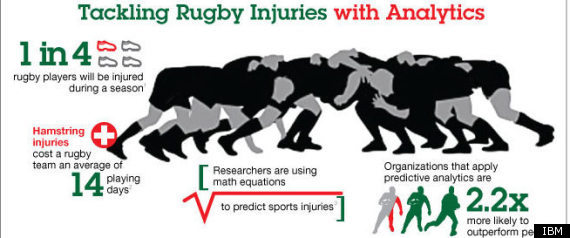 They gather data in two ways. The sports science team records every event involving a player-collisions, leaps, kicks and sprints. In addition, players wear small monitoring devices during games and practice that measure the intensity of their activity and transmit the data wirelessly to a computer system on the sidelines.
Once the team gathers detailed information, it hopes to be able to anticipate when each player is fatigued and, therefore, is more vulnerable to injury. That way, the coaches can take the player out of a game or reduce the intensity of their practice or fitness regimen before they're injured. They'll also be able to better manage a player's recovery from injury-making sure they don't try to come back too quickly and risk re-injuring themselves. "The end goal is that nobody gets to a state which may predispose them to injury," says Shelton.
Thanks to funding from The Matt Hampson Foundation, the Tigers are using software from IBM, SPSS Modeler, to perform predictive analytics. The plan is to spend the next year or so fine-tuning the system. They'll discover each player's fatigue threshold based on detailed activity and injury records. Ultimately, Shelton says, they'll be able to measure each player's freshness during the game and decide in real time whether to leave them in or send in a substitute. "We want to be the leader in analytics," he says. "It's simple. If you have your best players on the pitch, combined with the best tactical knowledge, you'll win more games."
Related