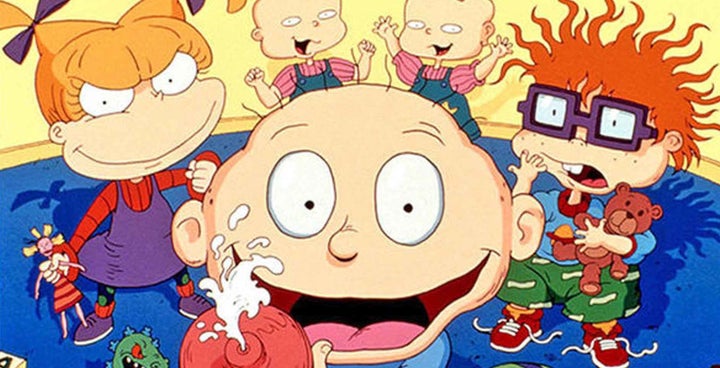 When it comes to folks who grew up in the 1990s and their love of cartoons, there are three warring camps: those who swore allegiance to Nickelodeon's programming, those who swore allegiance to Cartoon Network's offerings, and the noncommittal cowards who wallowed sheepishly in the gray area that was the Disney Channel's animated lineup. (Pick a side, dammit!)
But people like me ― people who, to this day, are often guilty of boring dinner guests by preaching the virtues of "Hey Arnold!" and "CatDog" ― know the inescapable truth: No matter which network you pledged your loyalty to, the greatest '90s animated show is undeniably "Rugrats."
The Nickelodeon series, which celebrates the 27th anniversary of its premiere on Aug. 11, brought together a band of children with diverse cultural identities and personality traits. The Pickles family, which includes siblings Tommy and Dil, was proudly Jewish; Chuckie Finster visibly coped with the absence of his mother; and African-American Susie Carmichael has two accomplished parents ― a mother who is a chef, pilot and doctor and a father who is a prolific cartoonist. The show was wildly successful, ran for nine seasons, won four daytime Emmy Awards, spawned several feature films and inspired a spin-off series, "All Grown Up!" which debuted in 2001. 
In honor of "The Rugrats'" anniversary ― and to examine the show's cultural impact over the last three decades ― I spoke with voice actors E.G. Daily (who played Tommy Pickles) and Tara Strong (who played Dil Pickles) about how they brought their characters to life, the beloved series' progressiveness and what we can gain from cartoons in the era of President Donald Trump. 
Tara Strong on beating out Madonna for the role of Dil Pickles in 1998's 'The Rugrats Movie':
"I'd appeared previously in a role as a kid named Timmy McNulty, and they asked if I wouldn't mind guide-tracking 'The Rugrats Movie.' Guide-tracking is typically done by the studio when they want to lay down the lines and see how a script is working, and they'll often bring in some big celebrity to do it after it's already been guide-tracked. The reason voice actors do them is because quite often, you get to be in some part of that production; in fact, sometimes, even the part you guide-tracked. That's exactly what happened in 'The Rugrats Movie.' I was told my role as Baby Dil was initially being offered out to Madonna. So I went in, started doing this baby cry, and they stopped tape. I was like, 'Uh-oh, I definitely messed up here,' and someone came up to me and said, 'Uh, Tara, there's a new mom in the booth, and you're making her lactate.' [Laughs.] Needless to say, I got to keep the role of Baby Dil, which was so exciting."
E.G. Daily on bringing Tommy Pickles to life:
"The spirit of Tommy Pickles is definitely my own. I think that was my contribution — my version of my little boy Tommy. I just understood him. He's genuinely concerned about people. He's genuinely empathic and definitely has a little fighter's spirit — a little leader's spirit. He was just sweet, and I love that I was able to bring that part to him. The part I related to was just wanting people to feel safe. He has noble friend characteristics that I think are beautiful."
Strong on the small but important changes that the actors helped make behind the scenes of 'Rugrats':
"Production was very collaborative. For example, there was an episode we did where the Rugrats were in a car dealership. You know, often they would fantasize about being somewhere else, and that imaginary world would get animated. So in this one, they pretended they were under the water. They saw some funny guy go by and went, 'Look, it's a blowfish!' Then they saw a heavy-set woman go by, and my line was, 'Look, it's a whale!' And I told producers that growing up and witnessing fat prejudice and bullying against my mom — holding her hand while she cried sometimes — I asked if they'd just change it to some big muscle guy and call him a whale. They said, 'Absolutely,' which meant a lot to me. I think they were very socially aware."
Daily on the show's tackling very real — and very adult — issues: 
"[The characters] were part of our family. We had our own families, and we were going through divorces and children, and we were growing right along with 'Rugrats.' 'Rugrats' dealt with real-life issues — differing religions, single parenting — and that connects people. You can watch the cartoon with your kid, but you look at it like, 'Wow, this show is really tapping into my own issues.' Animation is incredible that way. It's so vast, and it's so limitless in what you can communicate."
Strong on the role of cartoons in the Trump era:
"I was never political until politics enraged me. The truth is, I don't hate a group. I really hate Trump and everything he stands for. It's like, every single day he dismantles something we take for granted in America, and it's terrifying how it's ignited the racists in this country. He's given them a voice, and it's unforgivable. When I talk to people in my real life — people who I thought were somewhat progressive — and they say things like family separations at the border are successful because it's a deterrent, I'm like, 'What? These are people with children.' Trump's rhetoric invites this behavior. But I think animation in general can bring people together. It's a source of escape, but it also reinforces some common-sense stuff. If you're allowing your child to watch cartoons, I can guarantee you they're going to witness empathy. That's sorely lacking right now. I mean, it's astounding to see the lack of empathy on the right. So if the kids are getting it through animation — even a little bit — that's a win for me."
Daily on the experience of watching 'Rugrats' grow into an Emmy-winning phenomenon:
"I had no idea in the beginning [what it would become], at all. None of us had any idea. We just went to do the show. And it was over a period of time that everything happened. We started to win Emmys, we got a star on the Walk of Fame, and things just grew and grew over time. We didn't really feel the growth as it happened. It's like if, all of a sudden, you went from wearing a size 2 shoe to a size 8, you would really feel the difference. But when you go from a 2 to a 2 1/2, to a 3, it just feels like natural growth. And as the popularity grew, we grew."
REAL LIFE. REAL NEWS. REAL VOICES.
Help us tell more of the stories that matter from voices that too often remain unheard.