Several years ago, my mother told my sister and I the story of her wedding dress. While we were at my Nonnie's house in Connecticut, my sister and I noticed my mother and Aunite M wore the same wedding dress.
I asked if one of them had a shotgun wedding. My mom just laughed. No, she told me, we just both happened to fall in love with the same dress. Since the dress was rather pricey, they decided to go fifty-fifty on the dress and both wear it. My mother wore the wedding dress first; my Auntie M a couple months after. It fit them both perfectly, in "the sisterhood of the travelling pants" kind of way.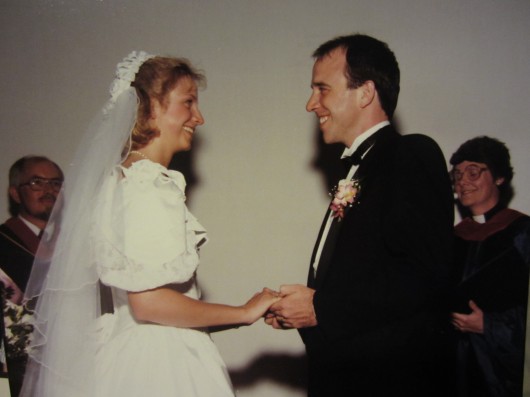 My mother (21) and my father (25) at their wedding.
I loved the idea of a family dress, to the point that later that evening, my younger sister and I vowed to both wear that dress and keep up the family tradition.
Three years later, I got engaged. My fiancé got down on one knee at Tokyo Disneyland and let out a long, rehearsed speech about wanting to wake up next to me for the rest of his life and forging a future together. Of course I said yes.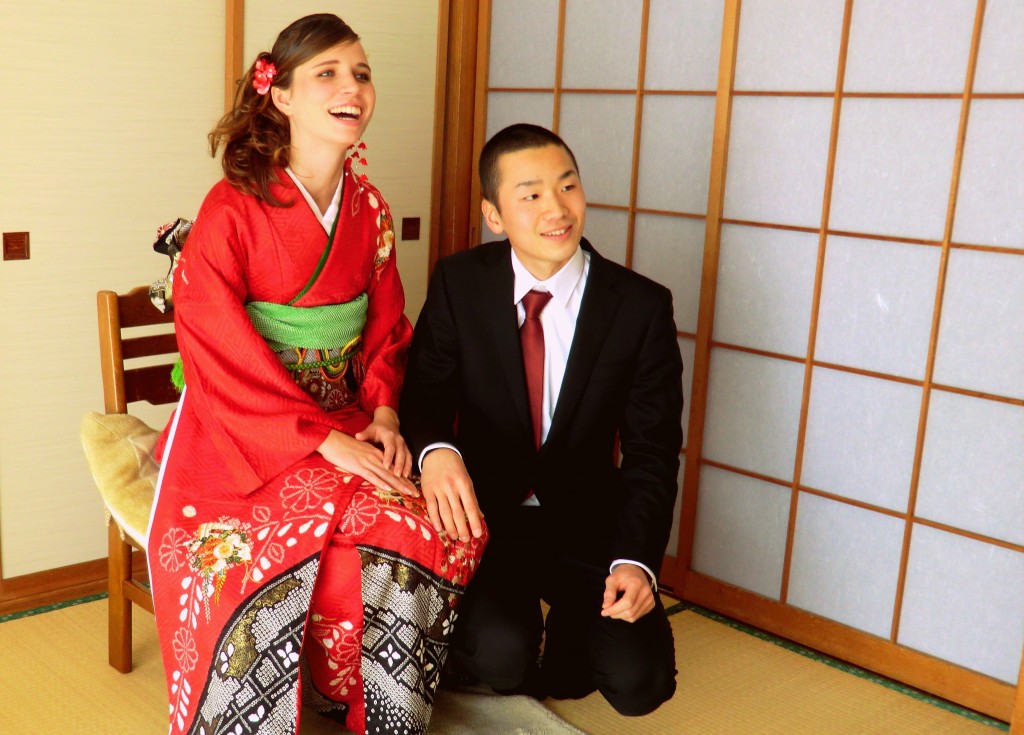 Taking engagement photos with my fiancé in Tokyo in early 2013. I continued the tradition by wearing a family kimono.
The next morning, I Skyped my parents from Tokyo to tell them the news. I also asked my mother if I could wear her old wedding dress.
"Are you sure you want to wear our old dress?" She asked. "You don't have to. You can pick out your own."
"I did pick out a dress. Your dress."
It was everything I had ever wanted. Off the shoulder sleeves, tight in the stomach, and fanning outwards like a Disney Princess. It was a dream come true.
No other wedding dress could compare. And, because my mother and Auntie M had paid your company good money to get the dress preserved after their wedding(s), I would be able to continue the family tradition.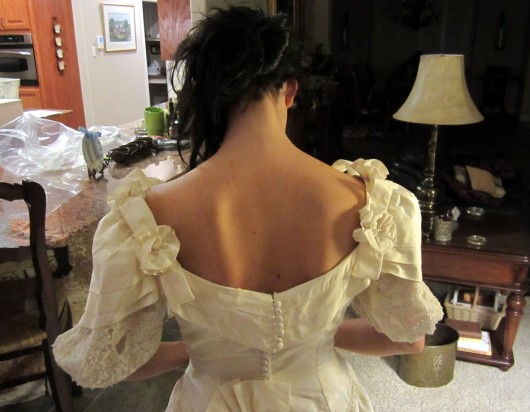 In late August of 2013, back in Texas, trying on my mother's and Aunt's old wedding dress.

Your company told them that during a normal wearing, the wedding dress will absorb oils from the skin and sweat. Add alcohol, cake, and a collection of young people ready to make bad decisions, and the bride has a recipe for a ruined dress. Which is why many women, my mother included, choose to get their wedding dress professionally cleaned and preserved for years to come from companies like yours. She paid your company more than she should to get her dress preserved in a gorgeous white box that would sit in her closet for the next 25 years... until her oldest daughter got married.
You see, Wedding Dress Preservation Companies are supposed to inspect the dress and determine which chemical solution is best to remove the stains. That chemical varies depending on the type of stain and type of dress.
But your company didn't do that.
Instead, you took a flat iron and pressed the dress, forever trapping the stains. Then you put it in a box and gave it to my mother. The dressed looked mighty fine there, sitting in the box, but over time, the acid from the cardboard box soaked into the edges of the unprotected dress, causing stains along the side.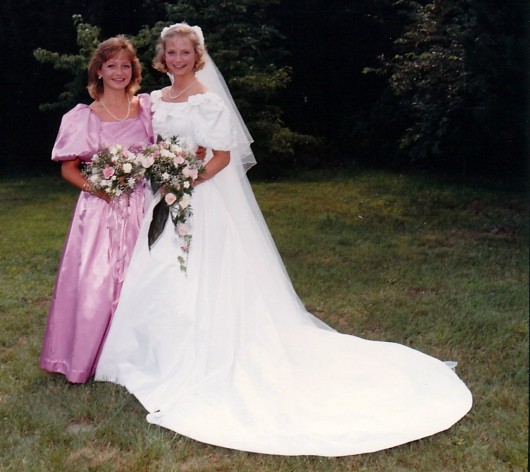 This was the picture that made my little sister and me fall in love with the heirloom dress. My Auntie M (left) and my mother (right) at my mother's wedding.
The next time that dress saw the light of day was five months before my wedding. I had been in Tokyo since the engagement finishing up my study abroad and was only back home in Texas for a couple days before heading back for my last semester of college.
I tried the dress on in the guest bedroom of my grandmother's house. I had been imagining this moment since the day I got engaged. The dress was everything I had hoped it would be -- it fit like a glove, brought tears to my father's eyes, and took my breath away. It was perfect.
We noticed some staining at the bottom and on the sides. "It's no problem," my father told me, fussing over the now-yellow dress. "That is probably left-overs from the dress preservation. A cleaning company can restore the dress back to its original color. And get rid of the stains."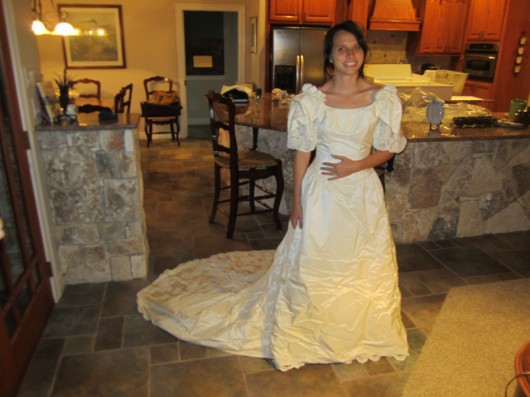 The first time I tried on the dress was in my grandmother's living room. It fit perfectly, but I noticed staining along the hemline and a large yellow blotch in the front of the skirt
Fifty-nine days before my wedding, I got a call from my father. My mother's wedding dress had been ruined.
He had taken the dress from the cleaners, he explained, and the cleaners told him that whatever company my mom and dad had used to preserve the dress had ripped them off. Your company had taken my parent's money, ironed the dress, and stuck it in a box, hoping no one would be the wiser. How many people actually re-wear a wedding dress? You must have rationed. It's a win-win situation.
I get it. You were probably trying to save a couple bucks.
Ironing a dress is much cheaper than actually treating, cleaning, and preserving it. When a couple of newlyweds showed up to your company 25 years ago, you never thought they would try to re-wear the wedding dress much later. But we did.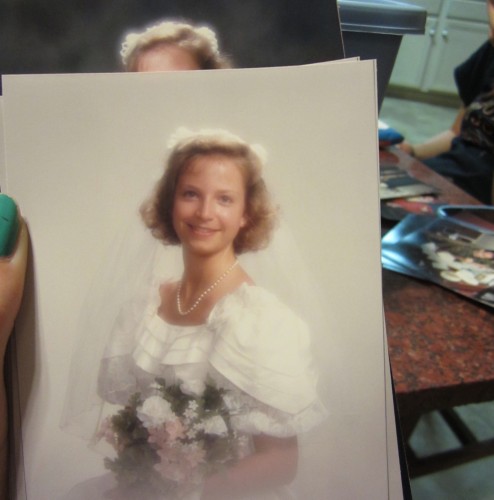 My mother was such a lovely bride. She has an excellent taste in dresses.
I hope those couple bucks you saved were worth it.
Because your cheapness and willingness to rip off and take advantage of a young married couple, my parents, has cost me the chance to walk down the aisle in my dream wedding dress -- the wedding dress both my mother and Auntie M fell in love with, many many years ago. The dress my sister and I fell in love with many years later.
Instead, 57 days before I get married, I am madly scrambling through eBay for a discount dress my size, because between classes, graduation, and planning my upcoming move to Japan, I don't have the time or budget to find a "real" wedding dress at a boutique.
I can't find "replacement dress" because there is no replacement for tradition.
I'm not writing this letter for sympathy or retribution. I'm writing this because I want you to know you ruined this little girls' dream for a family legacy to save a little bit of money.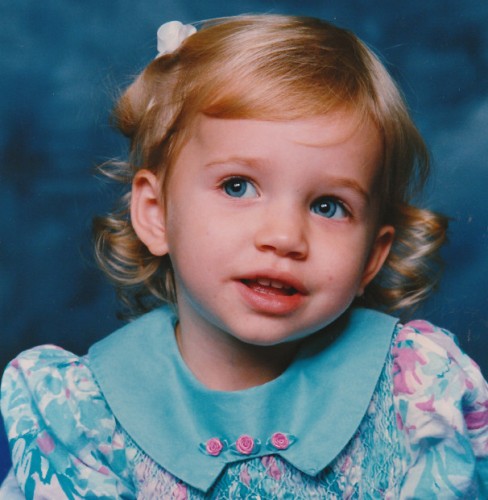 I was such a cute baby. Too bad I grew up.
I'm writing this letter because those who run a business have an obligation to their customers to fulfill their promises. I sincerely hope my mother's wedding dress was the only dress you cut corners on, because I can't bear the thought of another bride losing that special "something borrowed."
A Texan trying not to become Bridezilla
Popular in the Community