Many point to William Shakespeare as England's (as well as the world's) greatest dramatist. Others choose to identify the Victorian era as producing some of England's greatest literature.
Although Queen Victoria occupied the throne from June 20, 1837 until her death on January 22, 1901 (and the reign of King Edward VII lasted until his death on May 6, 1910), many people have chosen to extend the influence of the Edwardian era until either April 15, 1912 (the sinking of the RMS Titanic) or the onset of World War I. Nevertheless, three writers who achieved recognition during the Victorian era are responsible for a great deal of how we envision certain styles of English history on today's stages.
Charles Dickens (1812-1870) crafted The Pickwick Papers (1836), Oliver Twist (1837), Nicholas Nickleby (1838), A Christmas Carol (1843), David Copperfield (1850), A Tale of Two Cities (1859), and Great Expectations (1861). These novels (some of which were initially published in serial form) have been adapted for the stage, screen, and television with remarkable success.
In 1887, Arthur Conan Doyle created the character of Sherlock Holmes, the famous sleuth whose escapades (ranging from approximately 1880 to 1914) appeared in four novels and 56 short stories.
William S. Gilbert teamed up with composer Arthur Sullivan to create a highly successful series of comic operas which mocked the behavior of British society. From Trial By Jury (1875), The Sorcerer (1877), and HMS Pinafore (1878) to The Pirates of Penzance (1879), Patience (1881), Iolanthe (1882), and Ruddigore (1887), no segment of the British aristocracy was spared. Their only "serious" opera was 1888's The Yeoman of the Guard; or The Merryman and His Maid (whose action takes place in the Tower of London during the 16th century).
While the list of famous English composers born prior to World War I includes John Ward (1590-1638), Henry Purcell (1659-1695), George Frideric Handel (1685-1759), Edward Elgar (1857-1934), Frederick Delius (1862-1934), Ralph Vaughn Williams (1872-1958), Gustav Holst (1874-1934), Ivor Novello (1893-1951), William Walton (1902-1983), Michael Tippett (1905-1998), William Wordsworth (1908-1988), and Benjamin Britten (1913-1976), one composition by Thomas Arne (1710-1778) remains deep in the heart of British subjects.
The most frequently adapted work by Charles Dickens is, of course, A Christmas Carol. The first silent film adaptation of A Christmas Carol was Scrooge, Or Marley's Ghost (directed by Walter R. Booth), which was screened for British audiences in November of 1901. On December 23, 1910, a 13-minute silent version of A Christmas Carol directed by J. Searle Dawley made its debut in American theatres.
Since then, the character of Ebeneezer Scrooge has appeared in a wide variety of media ranging from monologues, recordings, and radio plays to television specials, operas, and feature films. In 2006, A Klingon Christmas Carol was published, followed by 2009's I Am Scrooge: A Zombie Story for Christmas.
Nor should anyone assume that Ebeneezer Scrooge is strictly human. In 1947, the Walt Disney Company created the character of Scrooge McDuck and developed it into a lucrative franchise. Scrooge has also been an inspiration for animated features such as 2006's Bah, Humduck! A Looney Tunes Christmas and 2008's Barbie in "A Christmas Carol."
An annual holiday show for many theatre companies (whose box office proceeds help many a nonprofit get through leaner months), the latest entrant into the Scrooge genre is a new musical written by Duane Poole with music by Larry Grossman and lyrics by Kellan Blair. Directed by Dyan McBride, Scrooge in Love! recently received its world premiere from 42nd Street Moon at San Francisco's intimate Eureka Theatre.
Anyone who has been touched by Ebeneezer Scrooge's spiritual transformation knows that the bitter old miser has been visited by the Ghost of Christmas Past, the Ghost of Christmas Present, and the Ghost of Christmas Yet To Come. But what happened after that? Did Scrooge become a decent man or a philanthropic narcissist? Did he find joy late in life? Did he find love?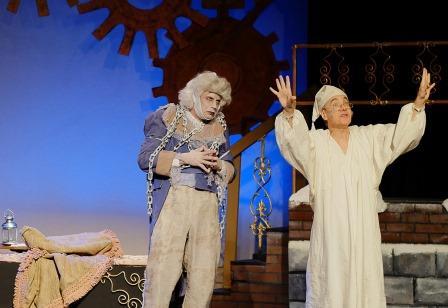 The ghost of Jacob Marley (Ryan Drummond) visits Ebeneezer Scrooge
(Jason Graae) in a scene from Scrooge in Love!
(Photo by: Patrick O'Connor)
Act I introduces the audience to most of the beloved characters created by Charles Dickens. But there is a twist. While the ghost of Jacob Marley (Ryan Drummond) is still weighed down by chains, the Ghost of Christmas Past (Elise Youssef) has been transformed into a clarion-voiced soprano determined to give Scrooge a chance to bring love into his life. A party girl who wants everyone in Victorian England to enjoy the benefits of true love, she shows Scrooge that he may have completely misinterpreted his encounter with the young Belle (Melissa Reinertson) on the night they partied at the home of Mr. Fezziwig (Ted Zoldan) and his wife (Heather Orth).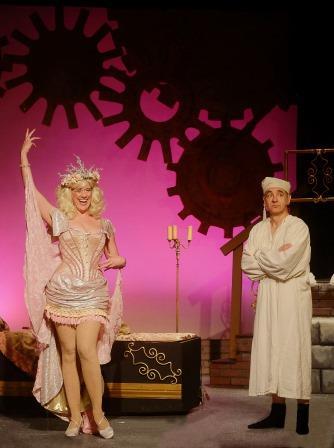 Elise Youssef (Ghost of Christmas Past) and Jason Graae
(Ebeneezer Scrooge) in a scene from Scrooge in Love!
(Photo by: Patrick O'Connor)
The Ghost of Christmas Present (Will Springhorn, Jr.) urges Scrooge to accept an invitation to dine with friends on Christmas Eve. But because this takes place a year after Scrooge's transformation, Tiny Tim is cured, the Cratchits have enough money to feed everyone, and the only person resisting the warmth of holiday cheer is Scrooge (who has begun to find these ghostly visits rather tiresome).
Finally, Scrooge receives a visit from the Ghost of Christmas Future (David Naughton), who bears a striking resemblance to The Addams Family's butler, Lurch, if he had been hidden under a monk's cowl. When Scrooge tries to make amends with Belle, he initially approaches the situation as if offering up a list of financial assets to make life easier for her and her niece, Nora (Anjali Blacker). Infuriated by his emotional sterility, Belle rejects him and sends a confused Scrooge packing.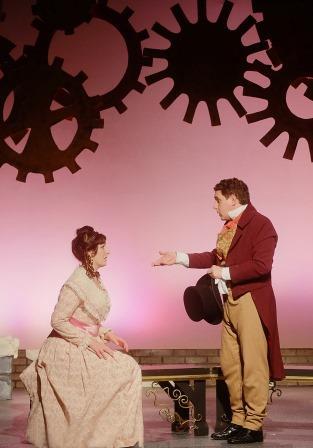 Young Belle (Melissa Reinerston) and young Scrooge
(Kalon Thibodeaux) in a scene from Scrooge in Love!
(Photo by: Patrick O'Connor)
It is at this point that Scrooge in Love! finds its emotional core. Once again, Scrooge learns that money isn't everything. Whereas, in the original Dickens version, Scrooge was so miserly that he could not bear to part with his money, in this new musical he is so generous with his money that he assumes it to be the cure for everything.
Scrooge in Love! is one of those rare musicals whose second act is much stronger than its first. Although Act I ends with Scrooge amazed that someone is "Sad I'm Dead," Act II contains the show's best musical numbers: "A Kitchen Built For Twenty" and "You Can't Put A Price On Love." Those songs deliver the extra kick this show needs to pave the way toward future productions by regional and community theater companies.
In addition to strong performances from Ryan Drummond, Elise Youssef, Kalon Thibodeaux, and Melissa Reinertson, Scrooge in Love! benefits from young David Ryan's portrayals of Peter and the Turkey Boy and David Naughton (who does triple duty as Scrooge's former friend, Dick Wilkins, a local priest, and the Ghost of Christmas Future).
In the title role, company favorite Jason Graae is an often puckish Scrooge who alternates between knowing how to sell a punch line and humanizing the old man's neuroses. Rebecca Valentino's costumes add a nice touch of the Victorian period coupled with a keen sense of theatrical wit. Dave Dobrusky's musical direction was noticeably enhanced by Ken Brill's contributions on an electronic synthesizer (a practice that should be encouraged for all future productions staged by 42nd Street Moon).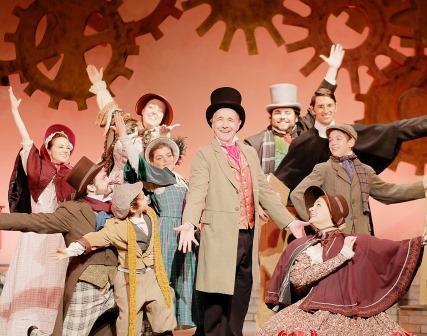 The cast of Scrooge in Love! (Photo by: Patrick O'Connor)
Calling all HuffPost superfans!
Sign up for membership to become a founding member and help shape HuffPost's next chapter