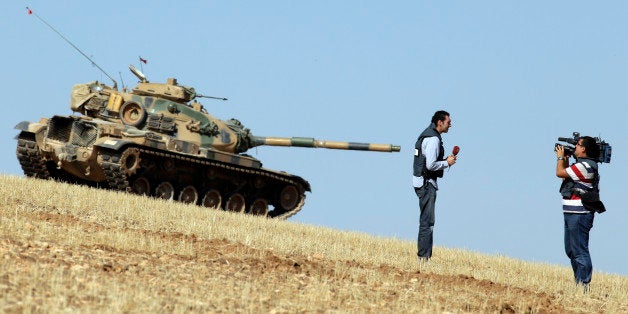 A set of rules has been established by the Islamic State militant group for any journalists reporting in the area of Deir Ezzor, Syria, the media group Syria Deeply said Tuesday.
The 11 concrete rules, all said to be non-negotiable, were established directly by ISIS for any journalists "who wish to continue working in the governorate."
Among the conditions, no journalist is to publish any piece of work without first turning to the ISIS media office and all work is to be completely supervised by ISIS. Journalists in the region are considered "subject of the Islamic State" and thus must "swear allegiance to the Caliph [Abu Bakr] al-Baghdadi," the rules also state.
The journalists were also given permission to work with international news agencies like Reuters, the Associated Press and the Agence France-Presse, but are prohibited from collaborating with any international or local satellite TV channel.
Perhaps most daunting is rule No. 10, which states that the rules "are not final" and can change at any time.
1: Correspondents must swear allegiance to the Caliph [Abu Bakr] al-Baghdadi ... they are subjects of the Islamic State and, as subjects, they are obliged to swear loyalty to their imam.

2: Their work will be under the exclusive supervision of the ISIS media offices.

3: Journalists can work directly with international news agencies (such as Reuters, AFP and AP), but they are to avoid all international and local satellite TV channels. They are forbidden to provide any exclusive material or have any contact (sound or image) with them in any capacity.

4: Journalists are forbidden to work in any way with the TV channels placed on the blacklist of channels that fight against Islamic countries (such as Al-Arabiya, Al Jazeera and Orient). Violators will be held accountable.

5: Journalists are allowed to cover events in the governorate with either written or still images without having to refer back to the ISIS media office. All published pieces and photos must carry the journalist's and photographer's names.

6: Journalists are not allowed to publish any reportage (print or broadcast) without referring to the ISIS media office first.

7: Journalists may have their own social media accounts and blogs to disseminate news and pictures. However, the ISIS media office must have the addresses and name handles of these accounts and pages.

8: Journalists must abide by the regulations when taking photos within ISIS territory and avoid filming locations or security events where taking pictures is prohibited.

9: ISIS media offices will follow up on the work of local journalists within ISIS territory and in the state media. Any violation of the rules in place will lead to suspending the journalist from his work, and he will be held accountable.

10: The rules are not final and are subject to change at any time depending on the circumstances and the degree of cooperation between journalists and their commitment to their brothers in the ISIS media offices.

11: Journalists are given a license to practice their work after submitting a license request at the ISIS media office.
At the conclusion of the meeting, some journalists reportedly signed a contract agreeing to the conditions of the rules. Many did not, however, and left the grounds soon after.
The rules provide more chilling proof of the incredibly dangerous situation currently building in Syria for reporters. Journalists risk their lives every day to report on the conflict between U.S. forces and ISIS, but the militant group has been increasingly gaining more power and control over the media and what is being reported in recent months. Following the beheading of two U.S. journalists, news organizations have been hit with a very difficult task of balancing true reporting with basic safety measures. In an attempt to prevent further attacks on journalists, the Agence France-Presse, for example, boldly said in September that they would no longer accept any work from freelance journalists traveling to Syria or other "places where we ourselves would not venture."
Popular in the Community