Mark Bittman once wrote in The New York Times about an "appliance that could help you save money, reduce food waste and get meals on the table faster." What is this magical appliance that lets you save money and time? He was talking about the freezer! With a freezer -- something almost all of us have -- we can cook once and then eat much, much later. And doing that (cooking food, saving some and eating it later) is pretty much the big secret behind batch cooking. Preparing food in advance means spending less on dining out, ordering in or grabbing stuff at drive-thrus. It also means throwing out less of the food you purchase, and having more time to spend with family.
We've partnered with Campbell's to compile a list, you'll definitely want to bookmark, of what we believe to be the most important rules of batch cooking. By following these rules not only will you achieve your New Year's resolution of saving money, but you'll also have more quality time to spend with the family.
1. Freeze this, not that! Most things freeze beautifully, including rice, meatballs, oatmeal, quinoa, sauces, soups, breads, fruit, beans, casseroles, chili, muffins and pies. In fact, here's a fabulous chart that gives you the maximum amount of time most foods should be frozen for. But there are some things that don't freeze well at all. Mayonnaise, low-fat cream cheese, uncooked potatoes and lettuce all get funky in the freezer. Turns out -- to misquote Elsa in "Frozen" -- the cold actually bothers them anyway.
2. Use muffin tins for perfect portions. Store food in the freezer the way you will be eating it. If you plan to serve a dish to six people, that's one thing. But if you don't, freeze individual servings instead. Using smaller portions makes food quicker to reheat and helps you waste less food. And embrace muffin tins! They're perfect for freezing individual portions of soup and oatmeal. Once your batches are thoroughly set, pop them out this way; bag them; and then reheat what you want, when you want it.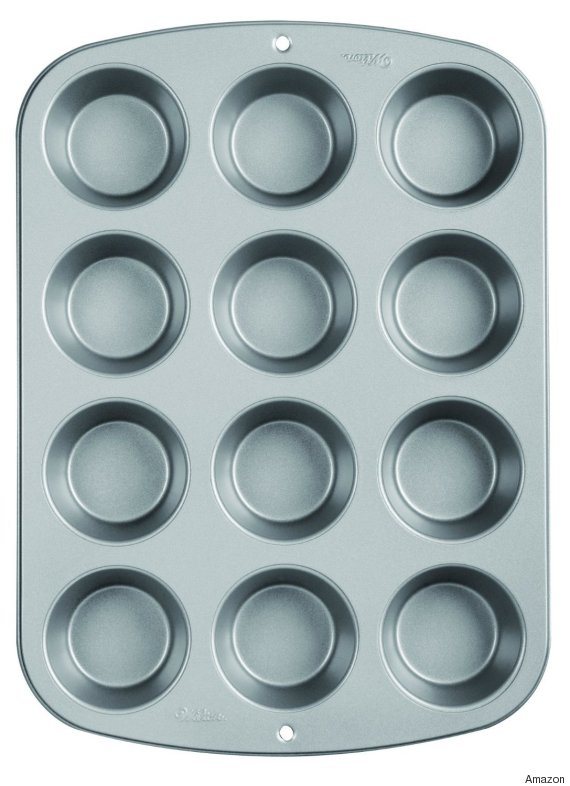 Image: Wilton Muffin Pan/Amazon
3. Plastic wrap is your best friend … but not for what you think. Before you begin filling up baking pans and casserole dishes, line them thoroughly with plastic wrap. À la this recipe for baked pasta, once the food has frozen, simply lift up the frozen food, "remove plastic wrap, and transfer to resealable freezer bags" and then place the bags in the freezer. When you are ready to eat, slide the food out of the bag, place it onto a pan, and reheat.
4. Flash freeze your messy stuff. You can freeze a whole lot more than just soups and casseroles. Individual items, even messy ones like olive cheese bread by The Pioneer Woman, which would normally fuse together if frozen the traditional way, can be "flash" frozen. Think balls of cookie dough, hamburger patties, meatballs and more. Place separate pieces on baking sheets, freeze for a short time until the surface hardens, and then freeze them together with their buddies in airtight containers or freezer bags.
5. Give yourself headspace. Before you can freeze anything, you must make sure that it's wrapped carefully and that you squeeze out any excess air. Doing both prevents the enemy of batch cooking, freezer burn. And when you freeze soup, give yourself what's called "headspace," a little room (generally half an inch to an inch) between the soup and the lid for expansion.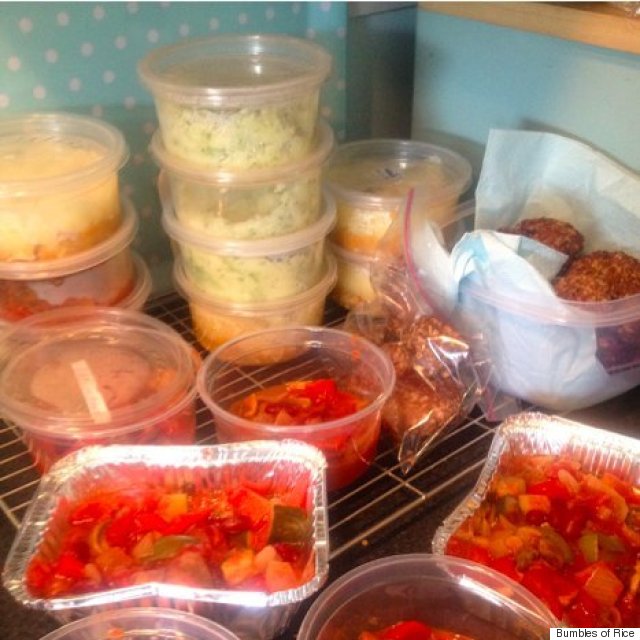 Image: Sinéad Fox/Bumbles of Rice
6. Don't be "old school" when defrosting. It doesn't matter that you fondly remember your grandmother leaving steaks out on the kitchen counter from sunup to sundown. We wear seatbelts now. We don't smoke on airplanes. And we don't thaw perishable food at room temperature. If left too long, bacteria can grow and produce toxins. If you don't want your next dinner party to become a trending topic on Facebook, defrost perishable food slowly and safely in the refrigerator, or by submerging it in cold water (making frequent water changes) like this.
7. Speed things up with this game-changer. We learned about this from the brilliant folks at America's Test Kitchen. The simplest method for reheating a frozen, already-baked casserole is by putting it straight from the freezer into a cold oven and then preheating it and cooking it for a little longer -- 20 to 30 minutes on average -- than you normally would. (Warning: do not put a frozen dish into a hot oven!)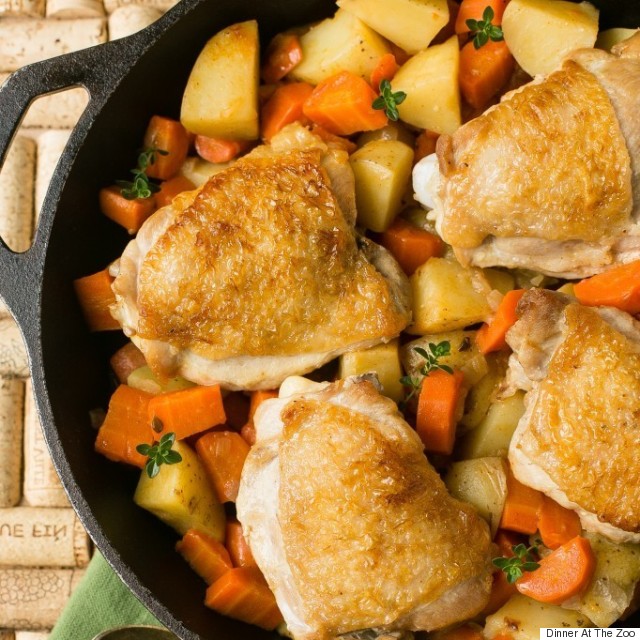 Image: Sara Welch/Dinner At The Zoo
8. Cooking more doesn't need to be complicated. Yes, there are websites devoted to special calendars and shopping lists just for batch cooking, but it doesn't have to be all that complicated. When it comes to getting started, we love this simple advice from Sinéad Fox of Bumbles of Rice: "Cook what you would cook normally, but more of it. Double, triple or, depending on the size of your family and your saucepans, quadruple it."
Campbell's wants to help you stick to your resolutions in 2016. Their Real Solution Generator has quick meal ideas that will free you up for more family time.
Related