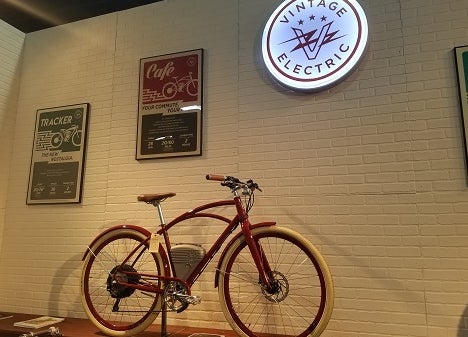 Who are "bicycle people?"
Speaking at so many conferences and visiting trade shows across a variety of industries, I have gotten to experience the inner workings and personalities of different types of businesses. This was my second year at Interbike and here's my recap:
As in many industries, the Amazon threat and the ease of online shopping looms large. In fact, the group I spoke to in my 30-Minute Problem Solving Workshop tackled "How do I compete against online discounters?" as their topic. We came up with some great ideas for bringing back the local bike shop!
Electric bikes are hot, hot, hot! I picked up a copy of Power Pedal, a magazine from the Electric Bike Association devoted to just that. Traditional bike people apparently used to give electric bikes the stink eye, but they have now been embraced by the industry. A rising tide floats all bicycles. Or something like that.  In any event, I'm totally sold on the electric bike thing and I plan to invest in one within the year. I'm a sucker for aesthetics and all things retro, so I'm madly in love with this brand, but I'll be sure to do my homework.
Bicycle people are a fun group, but they (like many industries) are very inbred. They may "invite you along for the ride" if you're an outsider, but you have to work a bit, especially…
If you are a woman. Women are in a clear minority in the bicycle world, which is ironic because many of us are responsible for buying that first trike and lots of us are riders. But because it's a somewhat technical and sporty industry (gears, brakes, etc.) it has not traditionally been a girls' world. That said, I met a few cool women at the show — a store owner (who extolled the virtues of the cycling bib from SheBeest, Mercedes Ross, founder of non-profit Bike Tech in School, and the marketing director of Lightspeed, a POS company.
Safety-related products are on the upswing. After all, as more people bike to work and on After all, as more people bike to work and on errands (and not just for recreation), protecting their heads and limbs against distracted drivers is super-important. Bells, alarms, sunglasses, and helmets come in a variety of shapes and sizes and sounds. I saw a fantastic Bolle helmet (pictured below). It's super-light and it even has a slot for sunglasses. Bells, alarms, sunglasses, and helmets come in a variety of shapes and sizes and sounds.
Carriers are also essential if you're going to bring your laptop, child, or puppy to work.
The National Bicycle Dealers Association (the force behind Interbike) is doing a great job of educating retailers on how they need to prepare for the future. Interbike also produces CycloFest, an event for dealers AND consumers.
Bringing those groups together for a challenging ride is ultimately what will help the industry grow and keep the mom & pop stores cycling on into the future. Here's a great recap of some of the trends that will impact the industry in the years ahead, including electric bikes, bicycle tourism, and bike sharing and rentals.
Catch up on Part 1 here (my day at Bootleg Canyon) and watch for Part 3 of the series — my video "tour" of the trade show floor. It'll be a fun ride!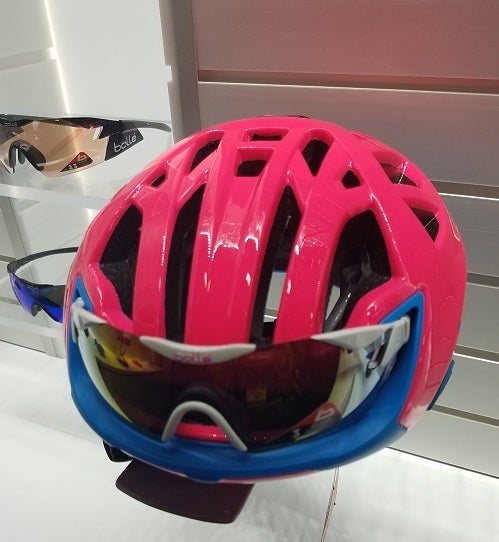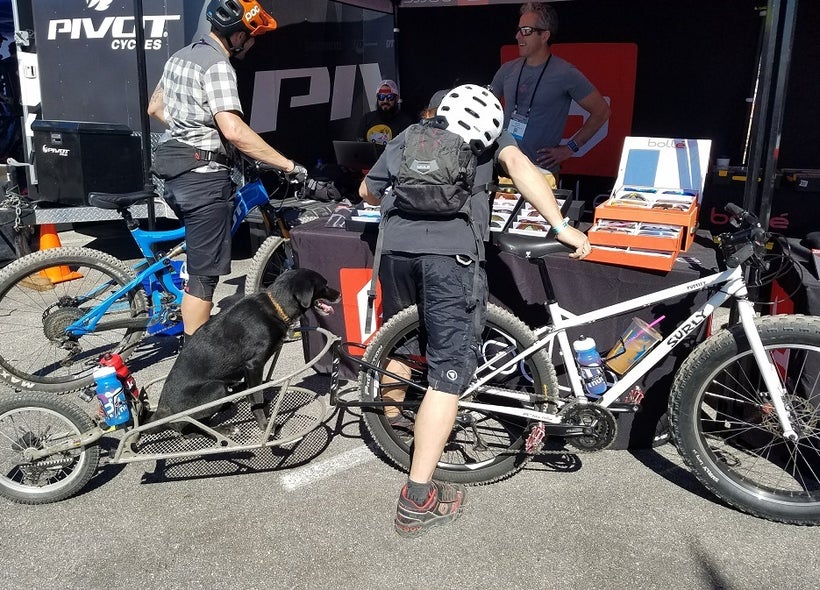 Calling all HuffPost superfans!
Sign up for membership to become a founding member and help shape HuffPost's next chapter
This post was published on the now-closed HuffPost Contributor platform. Contributors control their own work and posted freely to our site. If you need to flag this entry as abusive,
send us an email
.