As happens so often in life, writer/director Rajeev Nirmalakhandan fell into creating a movie named The Odd Way Home quite by accident. A colleague who'd been engaged to produce a film on autism was unable, so she suggested it to him. His initial reaction? "I have no personal connection to autism," but after some discussion, he agreed to check it out.
Even though autism afflicts over half a million Americans, Rajeev's reaction was not uncommon. While things are improving, the disorder remains a condition shrouded in misconceptions and age-old prejudices.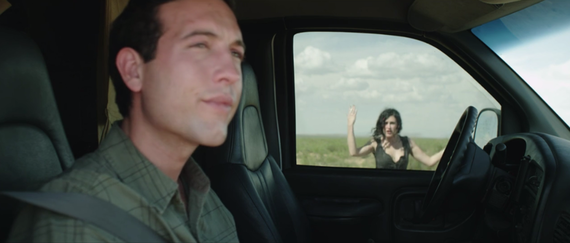 (Chris Marquette and Rumer Willis)
According to Autism Speaks, a non-profit dedicated to advocating, funding research, and increasing awareness, autism is a "general term for a group of complex disorders of brain development ... characterized, in varying degrees, by difficulties in social interaction, verbal and nonverbal communication, and repetitive behaviors." It goes on to say that some of the afflicted "excel in visual skills, music, math and art."
A supreme example of that is Temple Grandin, best-selling author, professor, and activist who was the subject of the 2010 film named after her. An autistic child who did indeed love science and math, she possessed near-super-human visual skills. The film, like The Odd Way Home, strove to shine a light on this still-largely-misunderstood condition.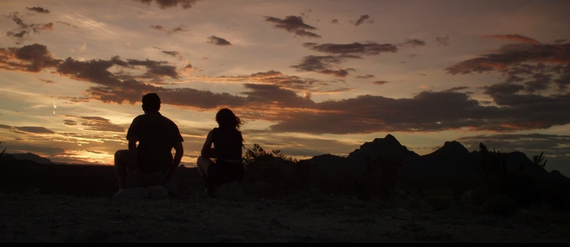 Setting aside The Odd Way Home's instructive value, which is significant, it has many other allurements: the writing, the acting, the cinematography -- all are superb. We are treated to 87 minutes of spectacular vistas, ignorance and poverty, ferocious brutality, disarming innocence, utter despair, and genuine, unaffected honesty.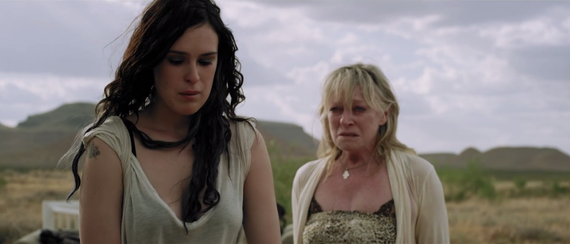 (Rumer Willis and Veronica Cartwright)
Twenty-six-year-old Rumer Willis, who's presently wowing all of America on Dancing With The Stars, delivers an exquisite performance as Maya, a young woman, battered and bruised and at the very end of her rope, who meets Duncan, an autistic young man perfectly portrayed by Chris Marquette, when she steals his truck, which also turns out to be his home. At first blush, it's easy to assume that Maya, being the 'normal' one of the two, would become the caregiver, leaving Duncan to become the 'cared-for', but as the story progresses and the relationship forms, the question of who's helping whom shifts to and fro.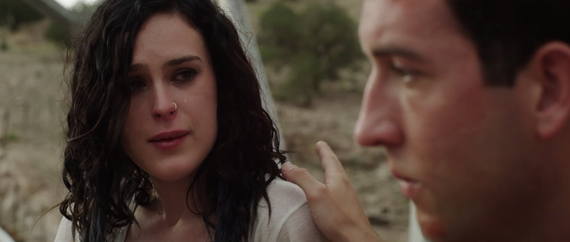 (Rumer Willis and Chris Marquette)
That shifting back and forth is well-illustrated when they encounter a particularly despicable lout played brilliantly by veteran actor Dave Vescio. No spoilers here ... but the very realistic dynamics of this fast-moving scene, the quick role-reversals back and forth, how each in turn, and in their own way, steps in to save the other, is what makes this movie work so well: it is neither improbable nor stereotypical in its expectation of how each character handles the challenges and brick walls they encounter throughout the film.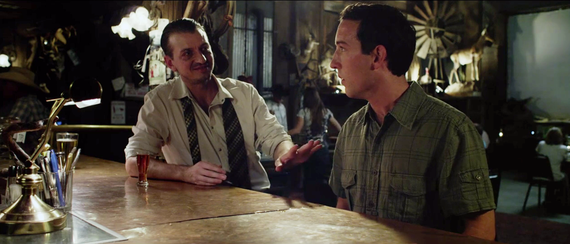 (Dave Vescio and Chris Marquette)
I spoke with Dave Vescio about his role, and he was quite candid about his rather colorful background. "But," he said, "That's the reason I 'get it', why I understand people who commit crimes. Hollywood plays villains one-dimensionally, and that doesn't help anyone. I want to bring that truth to the world, warn women and kids about the real tell-tale signs. This film throws out a lot of honesty -- and that's why I love the indies!"
Additionally, unlike Rajeev, Dave does have a personal connection to a developmentally disabled child. "We live in a culture where we judge people in the first twenty seconds -- that's just so wrong."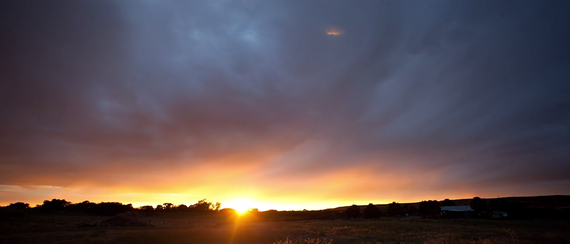 The research required to make this film so deeply affected Rajeev that it impacted every aspect of the story he wrote and the characters he created. No surprise there -- that happens all the time with writers. But what does not always happen, although it is always the goal, is that the characters and their actions are so true-to-life, that the actors themselves are completely drawn into the story, and the result is that the audience is, as well.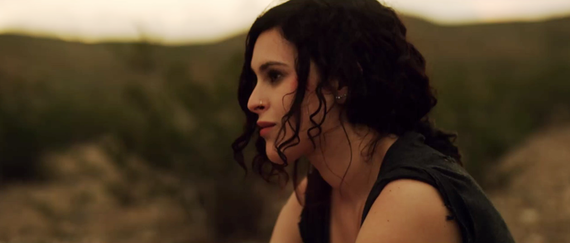 (Rumer Willis)
Rajeev began his research at Baylor College of Medicine in Houston, TX, where he met families whose children's autism ranged the spectrum, high to low.
"I spoke with the families," Rajeev said, "I went into their homes, interacted with the children, got an immersive experience of what it's like, how it effects the family dynamic, the concerns, but also the gifts. All the children had a sense of spirit, an air of joy and excitement about them, because they themselves were not hampered by the label."
Unlike a child who is, say, wheelchair-bound or enduring a life-threatening illness like cancer, the children Rajeev got to know were quite unaware of being 'different'. "They were not walking around thinking, Oh, my God, I have autism! They were just living life."

One boy was in diapers, exhibited the characteristic repetitious gestures, and was completely non-verbal. "It was like he was in his own bubble." But on Rajeev's last day, he told the child, "Ricky, I'm going home now," and to everyone's amazement, including the boy's parents, Ricky patted Rajeev's shoulder, acknowledging a genuine human connection. I freely admit to some tears when I heard that.
The topic is worth delving into; the film is worth watching; its sponsors are worth getting to know -- this is the human experience at its purist, and as such, because our lives are so constrained by technology and severe time and economic limitations, we all need some food for the soul.
(all images © Sandia Media, used with their generous permission)
('Ricky' is not the child's real name - that was changed to protect his privacy)
REAL LIFE. REAL NEWS. REAL VOICES.
Help us tell more of the stories that matter from voices that too often remain unheard.