Before Paris Fashion Week even began, the web was already abuzz with rumors on who would replace Dior's recently dismissed head designer, John Galliano. Considering the unusual fashion in which the vacancy of this coveted role came about, I suppose it was unavoidable.
From cafes to catwalks, the stories and rumors ran rampant and those who ventured to Paris couldn't help but be bombarded by them. From Haider Ackermann to Riccardo Tisci to Alber Elbaz, names were being tossed around like fish at Pike Place Market. And what about the other rumors? Stefano Pilati heading to Giorgio Armani and Hedi Slimane returning to fashion to take over YSL? My head was spinning at the thought of the biggest round of fashion musical chairs I had heard about in quite some time. Fashion Week was turning into an episode of Gossip Girl on speed. But before I got carried away, I reined in my A.D.D. and returned my focus on Dior. It wasn't who was going to take over that was of interest to me, but the stories that began to surface of Dior's drawn out struggle with their long standing designer.
As the story goes, Dior had been looking for a way to cut ties with Galliano for years. Unable to handle their enfant terrible due to Galliano's drug and alcohol addiction and his refusal of help, Dior was at the end of their rope. And though the incidents that played out were not ideal by any means, in the end it was a relief to them to be rid of him. John Galliano's reign at Dior was over and before the ink on his dismissal was dry, the search for his successor began.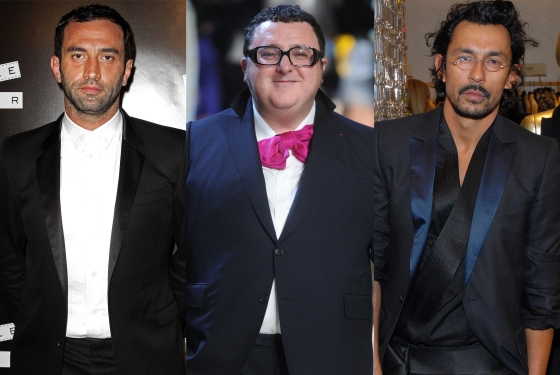 Though several names have been mentioned, Lanvin's Alber Elbaz has emerged the frontrunner among the rumors. A source later confirms. But the question I asked myself when I heard this was, "WWAD: What Would Alber Do?"
Elbaz was unceremoniously fired from YSL in 2000 after it was acquired by the Gucci Group, a division of PPR. But was his firing a blessing in disguise? In 2001 Elbaz found himself at Lanvin, and for almost a decade has flourished under the ownership of Taiwanese media magnet Mrs. Shaw-Lan Wang, with his collections improving with each passing season. But Dior is another level. With the promise of more money and more clout, would Elbaz consider leaving the comfort of Lanvin to lock horns with another superpower fashion conglomerate after PPR left such a bad after taste? Would people view LVMH's appointment of Elbaz as the head of Dior as more of a politico religious move than a fashion one since he's Israeli? With so many questions surrounding this one move and his ongoing success at Lanvin it's unlikely Elbaz will bite the bait. This leaves us with two possible contenders, Haider Ackermann and Riccardo Tisci.
For fashion behemoth LVMH, who owns both Dior and Givenchy, the obvious choice is Riccardo Tisci. This move is not only a smart one but an ironic one at that. John Galliano's career at LVMH began at Givenchy and ended at Dior. Now Riccardo Tisci, the name who brought big buzz and big money to Givenchy, LVMH's second largest apparel division behind Dior, is in contention to follow in Galliano's footsteps to Dior.
Tisci shows he has talent and is gifted as a designer, but as in fashion we'll have to wait for his first collection to see if Tisci and Dior are a match made in LVMH heaven. If he falls short, LVMH will have to once again shuffle their cards in hopes of being dealt a winning hand.
And who's to take over Givenchy? Let's go with Haider Ackermann.
Photos by Andreas Rentz/Getty Images, Jamie McCarthy/Getty Images for H&M, Michael N. Todaro/ Getty Images