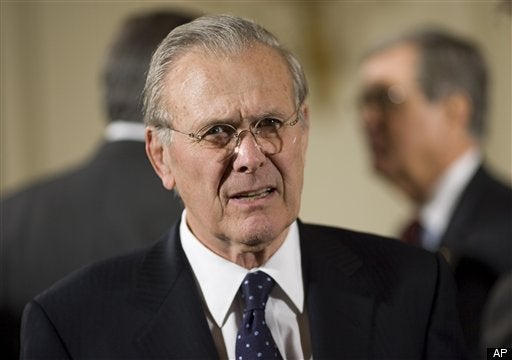 Former Defense Secretary Donald Rumsfeld's response to a line in President Obama's speech on Aghanistan is drawing a sharp response from both the White House and military leaders.
On Tuesday, Obama asserted that before he took office in January, "Commanders in Afghanistan repeatedly asked for support to deal with the reemergence of the Taliban, but these reinforcements did not arrive."
Rumsfeld issued a written statement on Wednesday disputing Obama's claim about inaction under George W. Bush:
Such a bald misstatement, at least as it pertains to the period I served as secretary of defense, deserves a response. I am not aware of a single request of that nature between 2001 and 2006. If any such requests occurred, "repeated" or not, the White House should promptly make them public. The President's assertion does a disservice to the truth and, in particular, to the thousands of men and women in uniform who have fought, served and sacrificed in Afghanistan.
Adm. Michael Mullen told a House committee Wednesday that Gen. David McKiernan, who led U.S. troops in Afghanistan between 2008 and this year, had asked for 20,000 troops for the effort but was rebuffed.

"We didn't have them because they were pushed to Iraq," the four-star admiral said during a House Foreign Affairs Committee hearing in response to a question from Indiana Republican Rep. Mike Pence. "That was the priority of the president."
The White House had a little more fun with their response. While Press Secretary Robert Gibbs refused to engage Rumsfeld's claims directly, he did quip, "You go to war with the Secretary of Defense you have."
Neither Mullen nor Gibbs directly addressed whether Pentagon requests may have occurred during the Bush administration but not while Rumsfeld was serving as Secretary of Defense. General McKiernan served after Rumsfeld left the position.
Popular in the Community