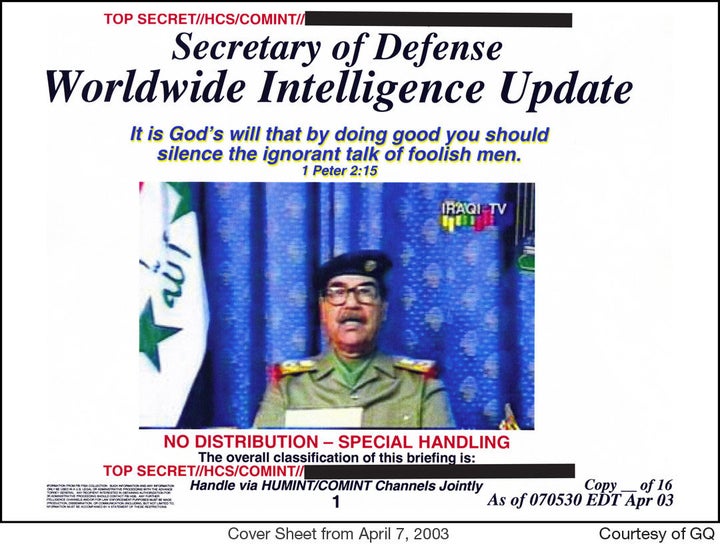 Talk about running from your record. "The Bush administration is gone and people addicted to attacking it really have to get over that," said George Will. Bush may be gone, but his failures have a cost that accrues with time. And conservatives who aided and abetted Bush's failures haven't gone anywhere. They persist in arguing that the crimes have ended, so the cover-ups should continue.
And when new revelations emerge, the Republicans' credibility takes new hits. That's why GQ's reporting on Donald Rumsfeld is damning to Susan Collins, who spearheaded the Senate's sham investigation of the Katrina disaster. The GQ article reveals how Rumsfeld's illegal insubordination contributed to the delayed federal response during Katrina. (The National Response Plan specified that the Defense Secretary was to take direction from DHS Secretary Chertoff, who belatedly ordered additional troops to New Orleans.)

"The next day, three days after landfall, word of disorder in New Orleans had reached a fever pitch. According to sources familiar with the conversation, DHS secretary Michael Chertoff called Rumsfeld that morning and said, 'You're going to need several thousand troops.'
'Well, I disagree,' said the SecDef. 'And I'm going to tell the president we don't need any more than the National Guard.'

"The problem was that the Guard deployment (which would eventually reach 15,000 troops) had not arrived--at least not in sufficient numbers, and not where it needed to be. And though much of the chaos was being overstated by the media, the very suggestion of a state of anarchy was enough to dissuade other relief workers from entering the city. Having only recently come to grips with the roiling disaster, Bush convened a meeting in the Situation Room on Friday morning. According to several who were present, the president was agitated. Turning to the man seated at his immediate left, Bush barked, 'Rumsfeld, what the hell is going on there? Are you watching what's on television? Is that the United States of America or some Third World nation I'm watching? What the hell are you doing?'

"Rumsfeld replied by trotting out the ongoing National Guard deployments and suggesting that sending active-duty troops would create 'unity of command' issues. Visibly impatient, Bush turned away from Rumsfeld and began to direct his inquiries at Lieutenant General Honore on the video screen. 'From then on, it was a Bush-Honore dialogue,' remembers another participant. 'The president cut Rumsfeld to pieces. I just wish it had happened earlier in the week.'

"But still the troops hadn't arrived. And by Saturday morning, says Honore, 'we had dispersed all of these people across Louisiana. So we needed more troops to go to distribution centers, feed people, and maintain traffic. That morning Bush convened yet another meeting in the Situation Room. Chertoff was emphatic. "'Mr. President,' he said, 'if we're not going to begin to get these troops, we're not going to be able to get the job done.'

"Rumsfeld could see the writing on the wall and had come prepared with a deployment plan in hand. Still, he did not volunteer it. Only when Bush ordered, 'Don, do it,' did he acquiesce and send in the troops--a full five days after landfall.
GQ's anecdote was a small part of the information deemed off-limits to the Congressional investigations, which were designed to give the illusion that there had been a full accounting of events before, during and after the hurricane. The White House disclosed almost nothing about the basic flow of information to and from senior White House officials, including Rumsfeld, Chertoff, Chief of Staff Andy Card, or HHS Secretary Michael Levitt. It disclosed no emails, no phone logs, and no list of documents being withheld. Congressional staffers were not allowed to interview key individuals.
Before, during and after the hurricane, FEMA's Michael Brown said he had "innumerable" conversations with Bush, Cheney, Card, Card's deputy, Francis Townsend, and Karl Rove. Yet The White House deemed those conversations off-limits to Congressional scrutiny, and the Republicans in Congress dutifully complied.
So, even though she had no idea what went on between Brown and the people he spoke with, Collins, Chair of the Senate Homeland Security and Governmental Affairs Committee, designated Brown as the party deserving primary culpability. Upon release of her, "plenty-of-blame-to-go-around" report on Katrina (the analog to those "a-few-bad-apples" reports on Abu Ghraib), Collins said:
"[T]here were several findings that I found particularly troubling. The first is the blatant insubordination of then FEMA Director Michael Brown. It was clear that he was disengaged from the onset of Katrina. He failed to communicate absolutely vital information about the condition of the levees in New Orleans. Most of all, he allowed his personal feelings, his distaste for being in the Department of Homeland Security, to override his clear obligation to provide effective leadership at a time when lives were at stake."
What about Collins' distaste for bucking the party line, which overrode her obligation to provide effective leadership in pursuit of the truth? Do you think anyone cares to find out what really went on during Katrina?
Calling all HuffPost superfans!
Sign up for membership to become a founding member and help shape HuffPost's next chapter