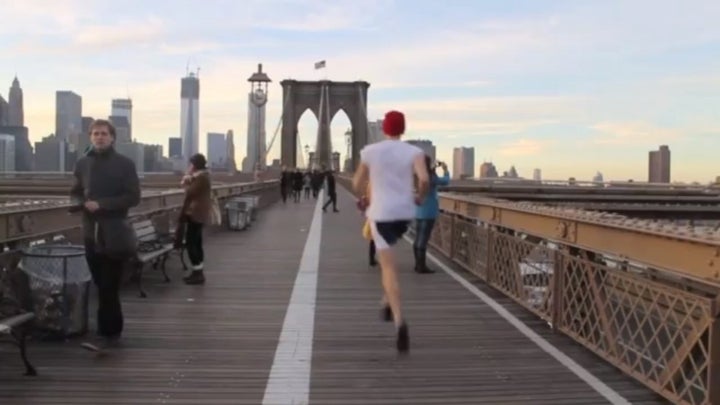 On Saturday, Dec. 15, I'm running across the Brooklyn Bridge to benefit homeless LGBT youth.
And I'm doing it in heels.
Dec. 15 marks the five-year anniversary of my coming out to my parents. Five years ago I gathered my mom and dad around the kitchen table. Five years ago my hands shook as I struggled to pull myself together. Five years ago I took a leap of faith.
When I told my parents that I was gay, I didn't know what would come of it. I didn't know that, five years later, I would be studying at an amazing school, surrounded by a supportive community and filled to the top with love. On that December night my life could have taken a turn for the worse; my parents could have kicked me out of the house.
Kick me out of the house and the fundamental trajectory of my life changes. Instead of spending my sophomore year of high school working to pass my exams, learning my lines as Prince Charming in the school play, or serving as an officer in student government, I would have spent my time straying from friend's house to friend's house, worrying about where my next meal would come from and hoping that I'd have a place to sleep the next night.
Kick me out of the house and five years later everything would be different. I doubt that I would be studying human rights at Duke, or that I would be in New York for the semester working at the United Nations, or that I would have been invited to the White House this past summer for the president's annual LGBT pride reception.
The reality is that for LGBT youth across the country, having a home makes all the difference. And in New York City thousands of LGBT youth still don't have one.
So on Dec. 15, in commemoration of five years out of the closet, I'm going to be raising money by running across the Brooklyn Bridge in five-inch heels. Why? Because Hurricane Sandy has left thousands of homeless LGBT youth in New York City out in the cold. Because on Oct. 29, when the storm surge from Hurricane Sandy hit New York City, it sent four feet of water surging up Manhattan and through the doors of the Ali Forney Center -- NYC's leading shelter for homeless LGBT youth -- decimating the building and incurring hundreds of thousands of dollars in damage. Because although we may have made great strides toward LGBT equality in the past decade, there are still thousands of LGBT kids on the streets who have been neglected by their families, who need a home in order to succeed. Because even if we don't always realize it, we are a community of lesbian, gay, bisexual, transgender and allied people, and we have to band together when those most affected by prejudice and discrimination in our community are suffering.
Honestly, it's a ridiculous idea. It's crazy, even. But you have to be crazy to come out to those you love, to risk everything you know in order to simply be yourself. Five years later I'm doing something crazy for kids like me, kids crazy enough to be who they are. Will you support me?
Calling all HuffPost superfans!
Sign up for membership to become a founding member and help shape HuffPost's next chapter