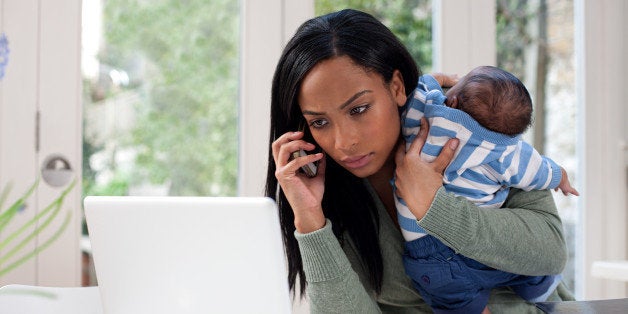 This article should be read at great speed...
Run, Mamma! Don't be late! Get up early, exercise. Look good, feel good, you know how it goes! Get the kids up, get them dressed. Last night you did the prep -- school bags, library books, juices and snacks, dress-up outfits, money for cupcakes. Did you read that school report? Did you quiz him? Practice sport? What about creative stuff? Make play-dough, or buy it? When did we last paint?! But wait, hold on -- we forgot. You have a career too... and you have to look hot! Have you shopped for yourself in the last three years? Had your nails done? Hair? Suit? Check. Nails aren't important -- haven't got there yet. Besides, a manicure lasts a day -- why bother? You simply don't have time for that. Get over it. Forget. Move on.
Aaargh! Your project at work! The VM is late -- how will you get it in? What a state. You arrive early -- earlyish -- earlier than most. Coffee. You need it. Then you'll call -- get the change control in. Check on the vendor. Get that quote. But you owe the steering committee a picture -- a high-level one. No stress. You'll get to that between 11h45 and 12h00 before eating lunch at your desk. Stop, wait -- you need to round robin it first. Get them all on board. They need to believe it's their idea -- not yours. You can do that. Sure. Meeting at 09h00. Done. Reminder. Check-list. Mind map. Delegate. Yes. Say no.
It's time to leave! Yikes! You need to go now! Your youngest turns 2 -- when? Ten days from now. Get the party packs. Presents. Cute plates and cups. Cake mix. Icing. Clamber Club -- take notes. Have you paid them? Invites out? Plan for that cake making -- it will take some time. And the school needs cupcakes on the day too, and chips. Toddlers like flings, yes. Got a ton of the things. Bug dress up on Friday -- any idea for clothes? Teenage Mutant Ninja turtles will do -- brown and green goes. We can reuse them -- cool. Versatile is always good. Get in and out -- no time to lose -- the boys wake up at 2!
Whew! I'm here -- just five minutes late. Where are those delicious little men I'm so dedicated to? They just woke up, sleepy-eyed... ready for home. Busy morning for them... but the day's just begun! It's home time which means playing with Mamma -- our best friend! Helicopters, firemen, astronauts, building men. Let's rescue Captain McGurk -- he got his kite stuck in a tree! I'll be the pilot -- you can be the passenger -- come and see! We'll use Mamma's car -- turn the dials, press the knobs. Lights on and blast off! Take off into the sky! It's you and you and me, Mum. The three of us will fly! Then trampoline and cricket, kick ball, ride a bike. Chalk drawings on the driveway... making apple juice and the like.
Then, just like that! It's five o'clock and late. Warm up dinner, let's eat. Yum run-around, spread spaghetti mess, catch me if you can. I'm too big for my high chair and run like a gingerbread man! Did some food go in? I think so... two more mouth fulls before our game. Then fruit and cheese and yogurt -- get that last bit in my tum. If I don't sleep then you don't sleep and then tomorrow's done.
Whoops! It's 6 p.m. and time for bath... Yay! Pappa's home! You take one I'll take his brother. We'll swap tomorrow -- done. Bath, storytime and bed....
Aaaaah... Eight o'clock, shall we eat? You and I alone? Supper's almost made... how was your day? Fine? Did your plans go well? That meeting? The boys? So well! I love you. So much. Are you as tired as I am? As happy? Bushed? Elated and content? Did we do well? Are they OK? Not bad -- all fine. Plans for weekend? All good. Done for today. I'm DONE. Until tomorrow...
This post originally appeared on Janice's blog: Halfdaymum. You can subscribe here or follow her on Twitter, Tumblr or Facebook for inspiring articles and resources to help you on your journey as a mum with a job on the side...