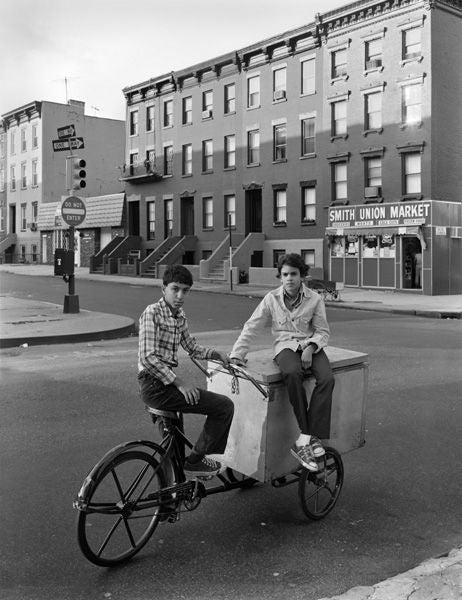 Death and All Her Friends.
Evangelist Jimmy Pinto Sr. lay peacefully in an open casket at the front of Trinity Tabernacle Church of Gravesend, Brooklyn. He had spent the better part of the last 20 years travelling the country and preaching the word of God in high crime and drug infused neighborhoods. Prior to getting cleaned up and turning his life around, Pinto spent over three decades as a drug addict with a daily methadone habit. Pinto's old life took a toll on his family and especially on his two children, James Jr. and Paula. In the front row of the church, just steps away from the casket, sat a stoic looking man holding back the tears that welled up in his eyes - his son, Pastor James Pinto Jr.
James Jr. had not expected his father to suddenly pass away. As he sat by the casket, Ana Lopiccolo's voice filled the church sanctuary. She sang an Italian hymn, which seemed appropriate given that Trinity is a predominately Italian church. The song meant hope. That a former drug addict could not only rehabilitate his own life, but raise a son who would become a pastor was not lost on anyone that day. The senior Pinto himself embraced this slogan about his life that he often used to promote his services throughout the country: "The Loser Who Became a Winner."
Everyone in the church saw evidence of James Sr.'s winning side that day. He lived to see his son become pastor of Trinity this past summer. He died at the age of 74 just a few days after Thanksgiving. Next to James Jr. sat his wife Melissa who was with child – their seventh. There were many people in the church that day who remembered when James Jr. first came to Trinity over a dozen years earlier when he chanced upon an ad for Trinity in the Yellow Pages. That chance meeting had turned into a lifetime bond between him and the church. Among the people he met on his first visit was Ana Lopiccolo – the tall slender Italian woman was now the soloist at his father's funeral. Lopiccolo had predicted that the young James Jr. would someday be in church ministry.
Another person who remembered Pinto from that time over a dozen years ago was Stella Esperon. Now a church elder, she sat a few rows behind the pastor and his wife. Esperon remembered that the young Pinto "didn't talk much," and "would speak with his eyes." In those days Pinto was a tall and quiet young Italian man in his early 30s with slick back black hair, an easy smile, and hopes of getting involved in church. Pinto had escaped years on Wall Street that were fueled by drugs, heavy drinking, and perhaps some questionable financial practices. Although he held a responsible job, he was still fending off his father's demons. After experiencing mental anxieties borne of his wild lifestyle, Pinto had sought redemption through prayer. First he moved back in with his mother in Brooklyn. Attending Trinity gave Pinto solace from a world where he had seen so much pain.
Today, at 41, he is the youngest pastor in Trinity's more than 70 year history. Pinto represents a new era of leadership for a church that has faced turmoil among its inner ranks. There was one pastor who instituted a working constitution almost 20 years ago to rid himself of pesky board members and another had a debilitating stroke at the church altar in the middle of the Sunday morning sermon. And yet another pastor stepped down and announced that he was not only leaving the church but leaving his wife.
"I personally thought that it would be hard for the church to accept him because he was too young and inexperienced," Esperon said of the young Pinto. Yet when time came to elect a new pastor, "I stood up for James. In the midst of all that had just happened we needed someone who would be loyal to Trinity," continued Esperon. Pinto's induction as the new pastor last summer was taken by many as a sign of hope for the future.
As Pinto stood up and sauntered to his father's open casket, what was he thinking? Not too long ago he was merely helping out with the church's youth ministry. Moreover, his community outreach to local food banks and poor neighborhoods was relegated to his own personal time. I would know. I was there.
This is an excerpt from the forthcoming narrative nonfiction, "Runaway Trinity."
Runaway Trinity is a story of grit and perseverance in the face of immeasurable odds. The unlikely story of a young kid from Brooklyn, NY ascending to become a pastor is the quintessential American story. Reporting and interviews took place over the course of one year. Runaway Trinity is the first book from Oghene Oyiborhoro .
Oghene Oyiborhoro holds degrees from Columbia University, Georgetown University, and George Washington University.
This post was published on the now-closed HuffPost Contributor platform. Contributors control their own work and posted freely to our site. If you need to flag this entry as abusive,
send us an email
.