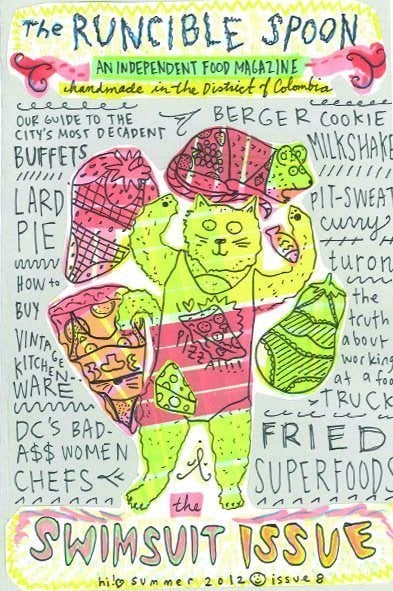 TOP 5 PICKS FOR TUESDAY, MAY 15
1. The Runcible Spoon Summer Issue Launch Party at Blind Dog Cafe
This food zine makes food taste better and zines more palpatable. Full of recipes, tidbits and stories about food, it's a cute companion piece for any hipster's kitchen. This release party at Blind Dog Cafe is in an ideal setting, full of people who enjoy delightful treats and enjoy stories. 6:30 p.m., all ages, no cover
2. R. Ring at DC9
Kelley Deal of The Breeders is in this band so this band is cool. The kind of cool you want to be when you're in high school and you meet some college kids and they could care less about all your weird whatever. They make that kind of music. Be prepared, this doesn't sound like The Breeders. It's just guitar, keys and vocals. More stripped down. Get there early to see one of D.C.'s finest three pieces The Mean Season. 8 p.m., 18+, $10
3. Herta Müller At The Library Of Congress
The Nobel Prize Laureate will be speaking about with the Chair of the Department of German at Georgetown University Peter C. Pfeiffer about house searches, the censorship of her novel "Nadirs," and interrogations by the Ceausescu regime. Since leaving Romania for Germany in 1987, her works have been translated into more than 20 languages. 6:30, all ages, no cover
4. DC Science Cafe At Busboys And Poets
Though not inherently fun, learning about the ecosystem of your local body isn't a bad way to spend a night. Scientists Jim Cloern and Walter Boynton, each 30+ year experts in their field, will discuss the past, present and future of the San Francisco and Chesapeake Bays. 6:30, all ages, no cover
TOP 5 FOR THE NEXT 5 DAYS
Wednesday, May 16
North Country at Velvet Lounge
Frontman Andrew Grossman has the potential to be the next generations Ted Leo. He's able to write personal and political rock pop songs with conviction. This is the last time to see the band before they head into the recording studio. An excellent time to become a fan of the up and coming band.
Thursday, May 17
Zoofari at National Zoo
Bummed the Betty White event sold out? This National Zoo fundraiser will brighten your spirit. Over 100 restaurants including Graffiato, Citronelle, and Restaurant Eve, will be participating, giving their finest cuisine to well dressed patrons. Add in a silent auction, a few "Top Chef" contestants, animal demonstrations and more activities that will allow you to forget about Mrs. White. Did we mention this is a fundraiser? Why not feel good while having a good time?
Saturday, May 19
Survive DC
Like to fantasize about a zombie apocalypse? Don't actually want to perish but the idea of running through D.C. at night with people chasing you sounds appealing? This event is the closest thing we can find to your fantasy that's legal and safe.
Sunday, May 20
SoundBites at 9:30
The 9:30 Club is bringing in a sampling of some of D.C.'s food trucks and restaurants to benefit D.C. Central Kitchen. A DJ set by Eric Hilton of Thievery Corporation will provide the evenings soundtrack. This city is rich with great food events for great causes.
Related
Popular in the Community