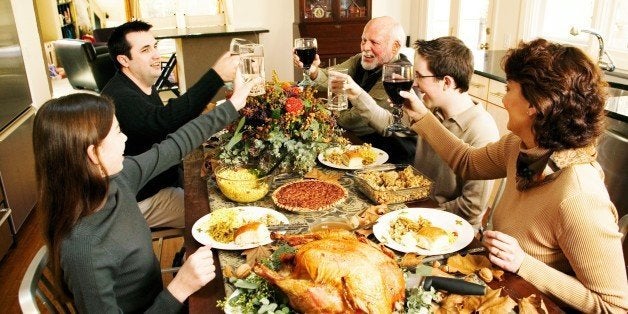 Thanksgiving is the most popular race day of the year in the USA. Runners of all ages and abilities line up around the country at local Turkey Trots, Wobble Gobbles, Feasters, and Pie Runs. For many runners (and their accommodating family members), a Thanksgiving race is a great excuse to get out and play before a long day spent sitting around the table or in front of the television. It's also a great way to offset the caloric impact of the traditional holiday feast.
For holiday travellers, a thanksgiving race provides an escape from the confines of your hotel or guest room, and a chance to see a new place. Many Thanksgiving races are charitable events to benefit the needy, or support local schools. Visiting runners and walkers from out-of-town are not only welcome, they're celebrated.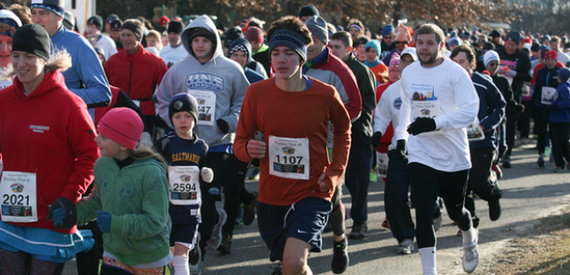 On race day, you'll find costumed joggers dressed like turkeys, recovering Thanksgiving Eve partygoers hoping to sweat out some toxins, and plenty of smiling kids. Some runners take the race seriously, but the majority of runners are there to have a good time with a few easy miles and some fresh air. Crisp fall temperatures and friendly holiday crowds make Thanksgiving a great day for racing.
If you're hoping for a guilt-free slice of pie, a morning run will do the trick. However, the average Thanksgiving meal has 2,500 calories or more. To burn it all off, you'd better plan on running a half marathon.
This year, my family will be running the Wobble Gobble 4-miler in Keene, NH. We usually run in our own hometown, but this year we're travelling. Thankfully, Thanksgiving races are everywhere. So, don't be a turkey, go for a run on Thanksgiving!


Infographic: DailyBurn