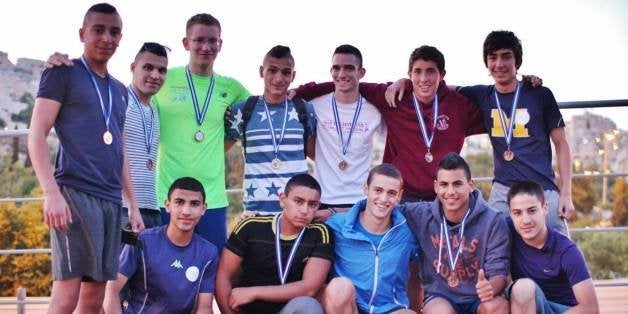 A group of teens in Jerusalem is making strides toward interfaith understanding.
Runners Without Borders brings young people from Jewish and Arab homes together for spirited runs on one of the most hotly contested pieces of real estate in the world.
"On the track, everyone is equal," 35-year-old Israel Haas, the group's manager, told The Huffington Post. "There are no barriers."
Running, though often seen as an individual pursuit, can also benefits from a community. People are much more likely to keep up and work hard if they're running in a group, Haas said.
"[The group] keeps you alive on the run," Haas said. "It helps you fulfill your goals."
Haas was planning on creating a mixed Arab and Jewish running club for boys when he heard that Shoshana Ben-David, a teenager from Jerusalem, had come up with the same idea and had launched a running group for girls in November 2014.
Both were looking for a way to heal their city after tensions between Israelis and Palestinians escalated into a violent and deadly war last summer. Their joint effort launched in February.
"Some people told me not to do it now, that it was not the right time," Ben-David told The Washington Post. "But I said that when things get tense, it is exactly the right time to do something like this and show everyone that there are youths who have nothing to do with the political situation and can live together."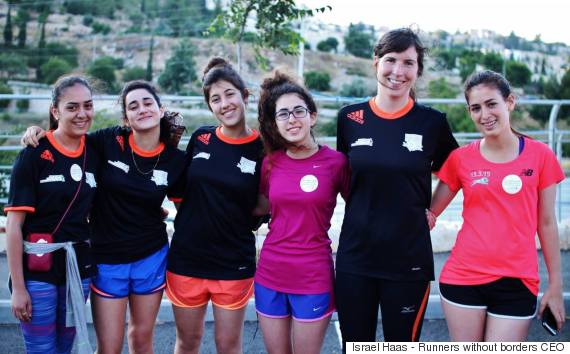 The girls running group with coach Sara Stone (second from right)
The girls' group, which now consists of about a dozen young women, has facilitated discussion sessions after their runs. These kinds of discussions are a bit harder for the 15 or so boys in the running club, since many don't speak English.
Haas remembers one group breakfast, after the girls had been together for a few months, when the conversation naturally drifted to the tense subject of Gaza. He said he watched closely as the girls honestly shared their feelings with each other. They didn't come to a conclusion at the end, but they did spend a good amount of time listening to each other.
"I think the dialogue about this burning subject just opened up something," Haas said. "You don't have to agree with everything, but you just need to be open-minded and accept different opinions."
The bonds made during club sessions have spilled over into the teens' real lives, with many agreeing to meet up outside of training sessions.
These budding friendships were tested this month when the group faced a tough choice. They were planning to participate in the Jerusalem Night Run, an annual race that leads athletes by famous holy sites in the ancient city.
Then, group leaders found out that the run was scheduled for June 18 -- the day Ramadan began this year. They asked the city to change the date so that Muslims could participate, but the request was denied.
Instead of going ahead without its Arab members, Runners Without Borders organized its own race a week earlier.
Haas said about 70 people participated in the run. And in the end, although there were many experienced runners there, it was a 17-year-old Arab teen who won the race.
"What we're trying to emphasize is not the political side, not the left wing or the right wing," Haas said. "We're trying to emphasize the aim that Arabs and Jews and all the population of Jerusalem can do things together."
REAL LIFE. REAL NEWS. REAL VOICES.
Help us tell more of the stories that matter from voices that too often remain unheard.
BEFORE YOU GO
PHOTO GALLERY
Jews And Arabs Refuse To Be Enemies