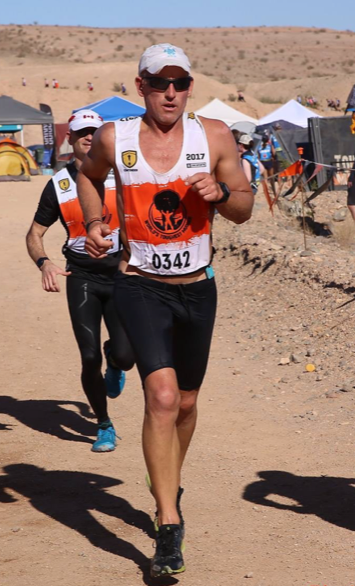 You have to be tough to be a Navy SEAL, but if you've been there, done that, why would you want to? Mark James, a former SEAL and now a civilian Navy SEAL instructor in the diving stage of training at the Naval Special Warfare unit in San Diego competes in Tough Mudder races for fun, for pleasure. He's a triathlete many times over, having competed in IRONMAN Kona 10 years in a row.
After trying his first Tough Mudder, at the urging of a buddy, James realized he was craving more of a team sport, kind of what it was like as a SEAL, and training and competing on his own in triathlon events wasn't giving him the camaraderie he was looking for. Now, at the age of 50, James flies in and out of cities to do a Tough Mudder as often as possible. I had the chance to catch up with James just after he competed in the Annual World's Toughest Mudder, which aired on CBS Sports on December 23, 2017, and can be watched here. The event is the toughest 24-hour obstacle race the series offers. Yes, as James told me, Tough Mudders are tough, but that's not why he's obsessed with them. They're just plain fun.
Here's an excerpt of our conversation.
Carolee Belkin Walker: Hi Mark!
CBW: I'm in Washington, D.C., where are you?
MJ: I'm in San Diego. Sunny Coronado. It's in California.
CBW: Wow. Is it a nice there?
MJ: It's only 80 degrees. I'm a little disappointed, but there aren't any clouds in the sky, so.
CBW: Nice. Do you live in Coronado?
MJ: I do, about three miles south of town. Coronado is like this little peninsula, right across from downtown San Diego. And so I live near the beach and near work.
CBW: Were you an athlete growing up as a kid?
MJ: People ask that because I've done triathlons and now Tough Mudders, but I was uncoordinated as a kid. I had trouble kicking a ball or hitting or dribbling or passing. I was just terrible at all the American sports. But I could always swim, and I rode my bike everywhere. Even though I always ran funny, I could run halfway decent. Running was just something I always had to work hard at. I was always the guy who struggled to keep up with the other, gifted athletes who were blessed with coordination and who were very strong.
CBW: That's interesting. You make it look so easy. I heard about you through Tough Mudder, but let me admit up front, I don't know what a Tough Mudder is. Except to say I picture people getting shocked by electrical fences…
CBW: Can you tell me a little bit about Tough Mudder and how you got involved in it?
MJ: After I left the Navy and worked for about five years I became a professional triathlete, and I did this for 10 years. I ate, breathed, and slept triathlon, and then I realized the only way I could make a living from the sport was to start coaching. I was already coaching swimming and cross country at the high school level and then I was a collegiate cross country coach at Sonoma State. And then a buddy of mine said, "Hey, I'd like you to do this Tough Mudder with me." I'm like, "What's a Tough whatever?" He told me it was an obstacle course. Specifically, he said, "It's OCR." I asked him to break it down for me. "OCR, as in, obstacle course racing," he said. "It's where you jump into these cargo nets and you swim through this mud." I thought, that sounds really stupid, but I'll go.
CBW: Did you compete as a team?
MJ: I did. My first Tough Mudder, I went with a group of guys who were trying to get into the Navy. They all wanted to be SEALs, and so it was the perfect venue, because they all stuck together. We did a 10-mile course in Lake Tahoe, and within the first 10 minutes, I thought, Wow. This is cool. It's so different from triathlon, which had always been all about me and my bike, and you couldn't help each other in triathlons. In a Tough Mudder, you have to help each other out. When you're in a mud trough, for example, or you're trying to get up a rope and you're starting to slip, people are there to help you.
I did that race, and I did two more, and then last year I did 16 races. I flew all around the country. I went to London. This year I went full-tilt. Usually a Tough Mudder is a 5- to 10-mile distance, but they announced 6 new 8-hour races. And I thought, I just turned 50 years old, I'm going to do all six.
MJ: Statistically, if you look at all the contestants, millions of people who have done Tough Mudder races and I think it had maybe one fatality and that was a fluke. Someone jumped off a platform, another person jumped on top of him without realizing it. So statistically compared to marathons and triathlons, I don't think so.
The electric shock obstacle is what we talk about probably the most, and that's usually the last obstacle. It's called Electro Shock Therapy and you run through these hanging tentacle wires, and some of them have an electrical charge in them, and you get a little zap. Some people can run through this with no problem. For some reason, I don't take shock well. I get hit and fall down in the mud, and I'm writhing in the mud.
The beauty of the Tough Mudders is that they're not like a typical 5k or 10k race where the gun goes off and everyone makes a mad dash. In a Tough Mudder when the gun goes off people are just walking. Some people walk the whole course and they get to an obstacle and then everybody helps them out, helps them over. People come from all walks of life. All ages, all shapes and sizes.
CBW: And do the obstacles change? Is there like a -- kind of a surprise factor?
MJ: If you're brand new to the season, then there might be a couple of new obstacles that you don't know. And what Tough Mudder has done is they've taken people's favorite obstacles of the year and they've kept those on the course, and added to that. And they have silly names like Funky Monkey or Augustus Gloop. And then you get to know every course has those same obstacles spread out maybe in different mile markers. But when you look at a map, you go, oh yes, that's where Kong is or that's where Funky Monkey's going to be and that's Arctic Enema in 35-degree water. A lot of people have trouble getting over the 8 troughs of mud, 8 feet deep and you're having to go in the trough and out of the trough over and over again. If you're someone whose shorter, you need someone to bust you up and over and someone to pull you out. And again, that's the whole team aspect of Tough Mudder, we work together. Even the guys in the pro division, Ryan Atkins and some of the top professionals, they have to help or get help to get out of some of these obstacles, which makes it a really neat dynamic.
CBW: Do you register as a team or do you form a team during the course?
MJ: With the exception of the first Tough Mudder, I travel by myself. The 8-hour events are very convenient because I can fly into a venue at around 8 p.m. since they all start at midnight. So I'd get to the race around 10, check-in my gear, pack my stuff, unpack it, do the race and then pretty much, get in my rental car, drive back to the airport and then fly out. But after every race, it seems like I make 5 new friends. Now, 42 races later, I have this network.
David Tyson Perry is a paraplegic in a wheelchair, and I'm going to Las Vegas to do the course with him and six others and we're going to get this guy, in a wheelchair, through the course. It's the ultimate buddy carry, helping a guy who can't walk. He's extremely strong and very motivated. He's got a beautiful personality. He'll coach us, tell us what he needs us to do.
CBW: It sounds like you're doing this more for the friendships and the camaraderie and the fun and the challenge than about the win or the athleticism.
MJ: Definitely. I mean, I still like to win.
I'm 50 years old and Tough Mudders hate losing to this 50-year-old guy. The average age is probably between 25 and 30, and I'm able to do good mileage. I'm able to compete. So I love the competition. I love racing, but I also like the idea that I'm helping others.
CBW: I love that. Are you married?
MJ: I've been married 18 years, and we have three kids: 16, 14, and 11. My wife is a poet. It's her passion. If I can work out, then her passion is poetry and writing. And we have a great dog, too, that keeps me sane, a husky.
CBW: Do you ever have a moment where you think, "Okay, I'm 50, why am I'm I doing this?"
MJ: The opposite. It's more, "Wow, how lucky am I?" I went to my high school reunion two years ago, and I was the only guy out on the dance floor dancing. And then they had a soccer tournament the next day, and I'm the only guy who can play, and I'm the guy who sucked at soccer. So I'm grateful. Twenty years ago, I thought, "When I'm 50, I'm not going to be able to do anything." And I'm still surfing and boogie boarding. I still run. I still hike. I do other stuff. I'm very competitive. I love to win.
MJ: I want to have fun but not get injured. And the fun factor has to be high in order for me to continue.
CBW: Do you have a favorite go-to form if you need to blow off some steam, peace out, or burn off a big meal?
MJ: Swimming. I've got a picture of me in a leopard Speedo, and I'm 8 months old. I do all the ocean swims with the SEAL students, and rarely, if ever, does anybody ever beat me in the water. I wear fins. We all wear fins during our 2-mile and 5-mile ocean swims. When I did the IRONMAN Triathlon, I'd be maybe top 20 out of the water and then suffer on the bike and the run. I'll swim in the river, the ocean, a lake, but not in a pool.
CBW: Have you ever come across anything that either delighted you or scared you in the open water?
MJ: Every now and then we'll get pods of dolphins that swim by and there's something just incredibly magical about being out there with dolphins around you. Dolphins are always a welcome sight. I do a lot of abalone diving in Northern California where there's been sharks in the water, and I've seen some sharks. Slightly close encounters, and I know they're out there out in Northern California when I'm diving, and I just try not to think about them too much.
CBW: Thank you for speaking with me, Mark, you're a pretty inspiring guy.
MJ: You're welcome! Let me know when you register for a Tough Mudder!
MJ: You have to do one! You're in DC. They've got races in Philly!
CBW: Ok, maybe, for my 60th birthday. I'll let you know - you can help me celebrate over that trough!
REAL LIFE. REAL NEWS. REAL VOICES.
Help us tell more of the stories that matter from voices that too often remain unheard.
This post was published on the now-closed HuffPost Contributor platform. Contributors control their own work and posted freely to our site. If you need to flag this entry as abusive,
send us an email
.