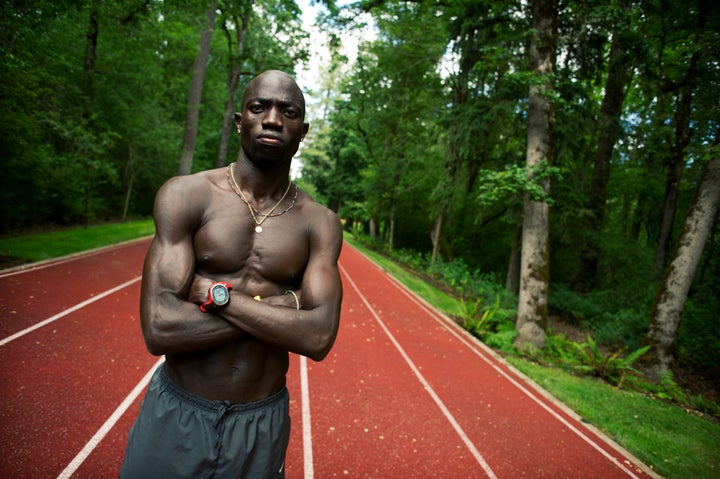 This blog is part of a series organized by The Huffington Post and the NGO allianceInterAction around the London 2012 Olympics. This piece was written with Steve Haas
In the first installment of the Lopez Lomong series, Lopez shared his terrifying experience of being ripped away from his parents by rebel soldiers at the age of 6. After his kidnapping, Lopez was taken to a camp where boys were forced to become rebel soldiers, killing other people, or dying themselves.
From there, a series of miracles occurred. Lopez was befriended by three older boys in the camp, who rescued him and fled the camp on foot at night. After running for three days and nights, the boys found themselves at a refugee camp in Kenya.
Part 2 of the series picks up at this refugee camp where Lopez lived there for the next 10 years, dreaming of what else life might hold and growing closer to God each day. He prayed that one day he would be able to leave the refugee camp and find a new life. His prayers were answered when a family in the United States decided to adopt him as their own.
How do you spell "AMERICA"?
I saw the fluid motion of Michael Johnson racing across the TV screen, and over the finish line. He had just won the gold and set the world record for the 400m dash. It was the first time I had ever seen a TV. I didn't know it at the time, but this experience would change my life. The race was special enough, but it was what happened minutest later that truly affected me. As Michael stepped up on a tiered box and received a gold medal around his neck, he cried.
In Africa men don't cry. I was shocked- he had just won the race and a gold medal. I could not fathom what could draw such a powerful emotion from this man. I heard the national anthem play and saw the American flag raised high. As a "Lost Boy" in no-mans-land without a family or a country, I began to wonder at the incredible pride he had for America and tried to fathom what kind of place it must be to bring the fastest man in the world to tears. Michael Johnson was running for something so much bigger than himself... what was it? I walked back to the refugee camp I lived in, pondering a newfound dream to achieve a place at the Olympics with the same three letters on my chest: USA.
Imagine. At that time in my life, I aspired to grow up to be strong one day so that I could fight for a little more food, just to bring an end to the incessant hunger. It's still easy for me to see how the rawness of reality can wear down the beauty of one's dreams. But in the black and white television image, I had been given a glimpse of what could be, a purpose and place that was so much higher than I knew.
Not long after, a man stood up in camp church to announce that "3500 boys from Kakuma will be allowed to move to the United States permanently." The catch was that we had to write our life story in the form of an essay.
But there were so many boys... thousands of boys who had stories of far greater suffering than mine. Since the beginning of Sudan's civil war in 1983, thousands of children had been displaced and on the move, often undergoing unspeakable hardship and atrocities. I committed myself to prepare my story even though my knowledge of English was hardly adequate. I knew that without God's help this selection process would be impossible. My quiet prayer for God's intervention was a sincere as it was seemingly far-fetched. What began with a kidnapping in church was now moving forward with an invitation to freedom in a church. Was this a sign from God?
With the help of borrowed paper, writing instruments and a number of my friends, whose English composition skills weren't much better than my own, we painstakingly finished the essays and deposited them into the church bin. It would be several agonizing months before we heard anything about who made the roster to get a second chance in the United States.
During the Christmas service, the mzungu (white man) who had announced the essay contest, returned and told us that if our name was called we should step forward. With every ear trained to hear of their ticket to a new life, my name was called and I was given a larger envelope. In the presence of others, I couldn't stand the thought of opening the contents given the devastating possibility that the information inside might be a rejection notice. I knew I would not be able to control my emotions if that were the case. Ironically, when I did finally race to a private spot to reveal the news, the entire paper was written in English and I had to route myself back to the church for translation. You cannot imagine my heart's cry when I was told, "Congratulations, Lopez. You are going to America!"
Many boys went with me months later as we boarded a life-changing trip on an airplane for the first time, but many were left behind. Like me, the ones who didn't make it had dreams and visions of a future far different from the reality they were consigned to. When I race, I not only bask in the goodness of God and run for a country that accepted me with open arms, I also tell the story of young boys and girls who continue to struggle in my birth country of South Sudan. I choose to believe that if I can engage enough of those who hear my voice and read my story, by God's grace and your continued goodness, we can spell America to many others: H.O.P.E.
Join me in my quest to bring true hope and joy to the people of South Sudan. I'm partnering with World Vision to bring the powerful interventions of clean water, improved nutrition, education, and healthcare. Go to 4southsudan.org for more information. Together we can make a great difference.
Related
Popular in the Community