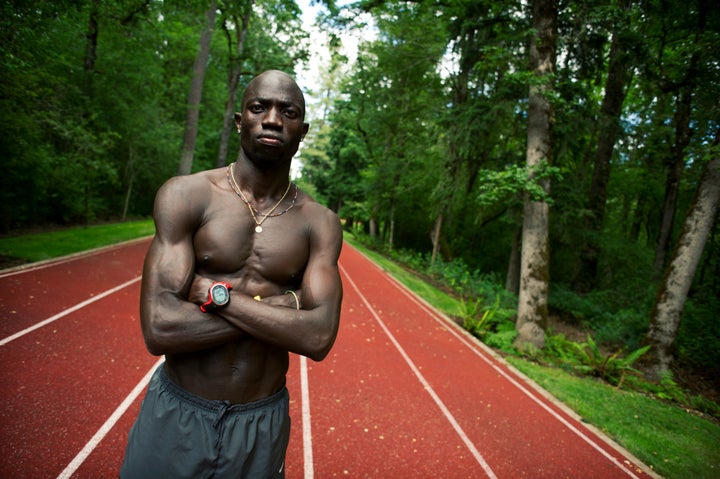 This blog is part of a series organized by The Huffington Post and the NGO alliance InterAction around the London 2012 Olympics.
After being kidnapped by rebel soldiers at age six some friends help Lopez escape captivity. After running for three days and nights, they suddenly find themselves at a refugee camp in Kenya.
In the second installment of this Lopez Lomong series, Lopez shares his experience about living at the refugee camp for 10 years, dreaming of what life might hold, and growing closer to God each day. He prayed that one day he would be able to leave the refugee camp and find a new life. His prayers were answered when a family in the United States decided to adopt him.
In this final installment, Lopez shares about his joy for running on Team USA and his hope for the people of South Sudan.
This post was written with Steve Haas.
Pressure. I've gotten used to hearing people talk about "pressure." It's a force that can cripple or drive someone to achieve the unthinkable. There's pressure from the expectation of myself and others to match or exceed levels of physical ability. There's pressure in understanding that our God-given talents and resources must be used properly and ultimately passed on to others.
I'm often asked if I feel pressure? I'm guessing that people ask me this because I perform on a public platform where the measure of success or failure is relatively stark. They remember 2008, that magical opening ceremony in Beijing, my selection by U.S. Olympic team members to carry the United States colors, warm embraces from the President, Mrs. Bush and other dignitaries, the fulfillment of a dream to compete on the world's biggest stage. Now, here I am, four years later, to weather the pinnacle of competition known as the London Olympics.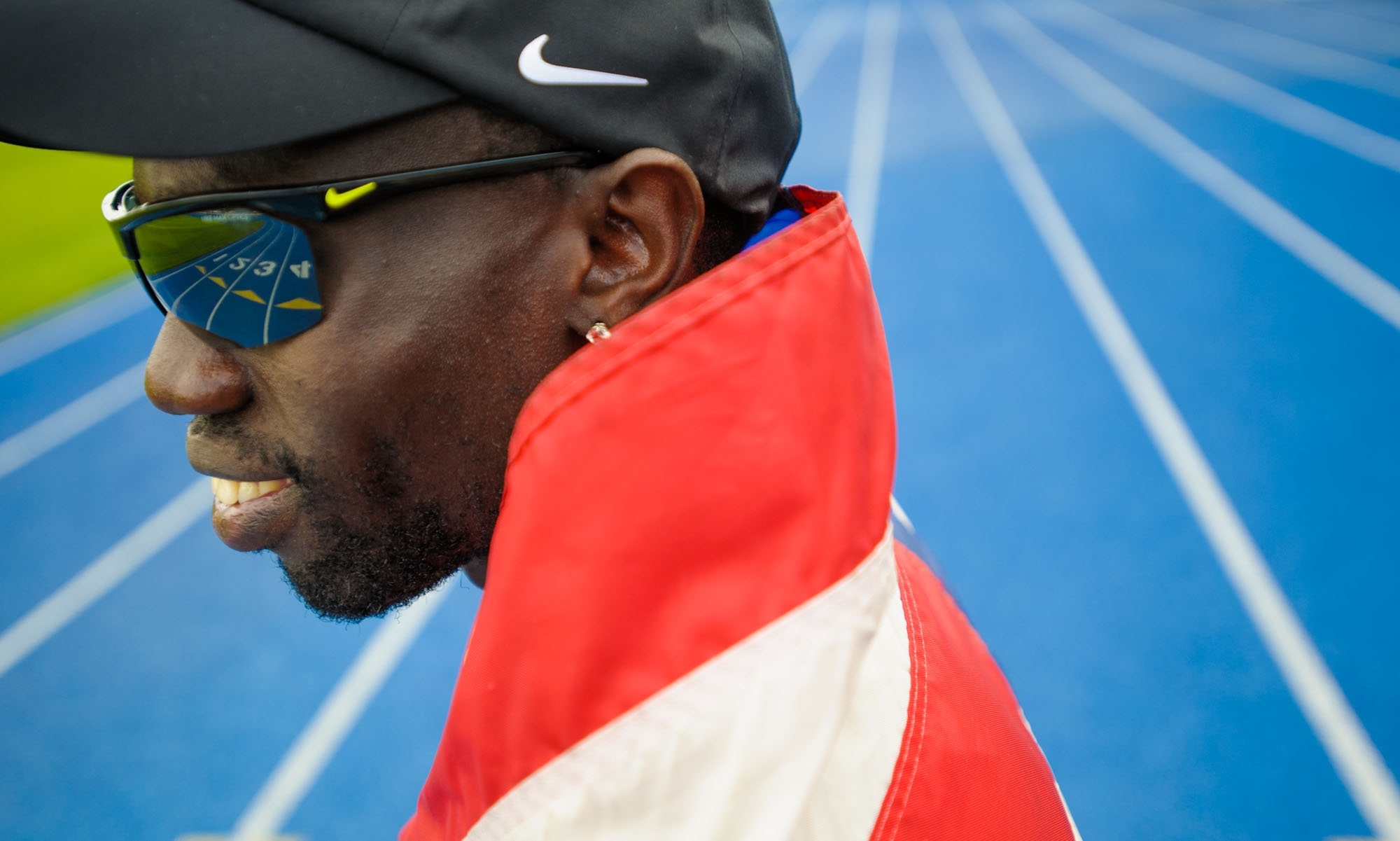 Lopez Lomong at the Northern Arizona University Track. Photo Credit: Jon
Warren/ World Vision
I think I surprise most that ask the question when I state honestly that I really don't. Perhaps my life has had enough excitement already and instead I go into races knowing that I can now run for joy rather than running from danger. I feel my life is a gift from God -- the good and the bad are all part of story that has a past, present and future. Some of the most harrowing parts of my journey have turned out to be some of the greatest sources of accomplishment for me. I survived a kidnapping and separation from my family and community, I thrived in a refugee camp, I dedicated myself to a foreign culture and made it my own (Thank you USA!). I am beginning to see the hand of God in many of these events and realize the story isn't over. Pressure is probably the wrong word.
I don't feel pressure, but I do feel a strong sense of responsibility. I often think of an orphan child in my birth country of South Sudan who, for no fault of their own, now finds himself vulnerable and alone. I know that world. I was one of those kids. They called us Lost Boys because we had been cut off from all that was familiar and forced to find our way. People came alongside me when I needed them most and some from the most obscure places and circumstances. I often wonder what my performance on and off the track could mean to that child. I imagine that my performance might inspire the hope and willpower to shape their dreams.

Lopez Lomong recalling the 2008 Beijing Olympics. Photo Credit: Jon Warren/
World Vision
I would want to encourage that kid and reassure him or her that while it is difficult, and often seemingly hopeless, they are important and valuable. I would tell them to "Keep going! Don't give up!" My dream is to see a young man or woman come up to me and tell me I inspired them to get their education, be a leader in their community, or live a more purposeful life. I hope that my story touches many and inspires strength.
It is for this very reason that I wrote my down my story, Running For My Life, and set up a foundation to directly impact South Sudanese kids and their communities. Together, World Vision and I are building up communities in South Sudan through education, nutrition, food security and clean water, an infectious kind of responsibility replaces crippling pressure with a powerful hope. I'm running for my life and to bring opportunity to others. There has never been a more strategic time to join my team as we reach out to the children of South Sudan. Take this baton of responsibility and together we can break records and change lives!
For more on my story -- check out my new book, Running For My Life.
Join me in my quest to bring true hope and joy to the people of South Sudan. I'm partnering with World Vision to bring the powerful interventions of clean water, improved nutrition, education, and healthcare. Go to 4southsudan.org for more information. Together we can make a great difference.
Related
Popular in the Community