[This article, the first of a five-part series, originally appeared in the September/October 2016 issue of inMotion, the bi-monthly publication of the Amputee Coalition. Contact the Amputee Coalition to learn how you can get involved in lowering the bar for people living with limb loss and limb difference.]
Among today's panoply of extreme events for the uber-fit the Ragnar Relays are an especially punishing series. Spread from coast to coast, Ragnar offers teams a selection of long-distance road and trail relays that span two days and one night of mettle-testing endurance. The Chattanooga-to-Nashville Ragnar Relay traverses 189 miles of tranquil scenery that frames the grueling event in sleepy Southern elegance. But the backdrop belies the challenge of running multiple stretches of a course without sleep or common comfort. The course tests friendships and team chemistry as much as it does individual limits and sheer fortitude.
Last March, 14 amputees ran as a team organized by Amputee Blade Runners (ABR), completing the course in some 32 hours and inspiring thousands in the process. Team Run Free included men and women ranging in age from 18 to 60. Thirteen team members received their running legs through grants from ABR. Two team members were double amputees. One runner has worn a prosthetic leg since before his first birthday while others have been running on prosthetics for little more than a year.
The team came together through the outreach and recruitment efforts of ABR co-founders Ryan Fann and Aaron Fitzsimmons, with the organization and coordination of ABR's Executive Director, Trey Barclay. [Since this article first appeared, Allison Plattsmier has taken over as the Executive Director of Amputee Blade Runners.]
Fann, a certified prosthetist and below-knee amputee, told race organizers, "I think it's going to be really incredible to have 14 amputees in one location running together… I think it's going to change the view people have of wearing a prosthesis."
Team Run Free included accomplished runners with impressive race histories. Fann himself played high school football, was the first amputee member of the University of Tennessee track team and is a two-time medalist as a member of the U.S. Paralympic team. The team also included runners participating in their first organized race.
"We told everyone to train for at least a half-marathon," said Barclay, adding, "The longest leg was just over 10 miles and most runners ran two legs."
One runner in particular epitomized the determination required to fit a two-day team run into the competing demands of real life. D.J. Vanderwerf, an 18-year-old three-sport athlete from Sweetwater, Tennessee, ran his first leg then left the team and drove 200 miles to attend his high school graduation ceremony. Following the ceremony he drove back to catch up with the team and ran the final leg of the race.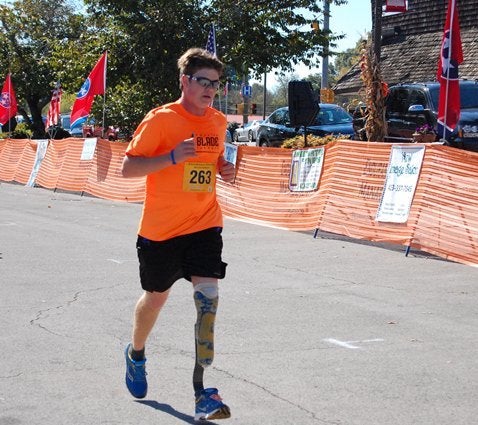 Mollyanne Rhodes, 19, Team Run Free's only woman, told reporters her biggest concern was that her leg might break. "I'm notorious for that," said Rhodes.
Rhodes' leg did not break, but the team was prepared for such an eventuality. A support vehicle was stocked with prosthetic supplies, spare blades, sockets and accessories. Socks, liners, adapters and other equipment can keep a runner's prosthetic in operating condition, but it takes guts to stay on the road. By day two, sores, blisters, bruises and skin tears plagued most runners. Despite the occasional walk break, Team Run Free pressed on.
Preparation for the run was perfected through prior experience. ABR teams have participated in the Ragnar Relay in each of the past three years. For the first two years teams included a mix of amputees and able-bodied runners.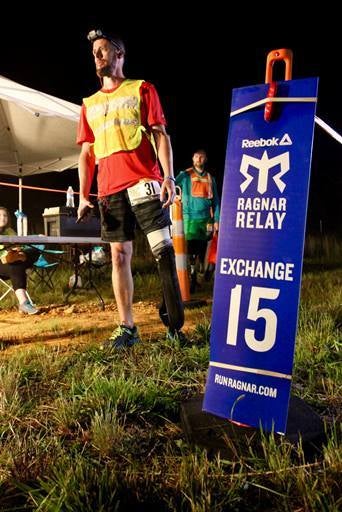 "This year," said Barclay, "we thought it would be great to recruit a team of all amputee runners to show what we're all about."
Brent Lambert, the team's oldest runner at 60, is a veteran of all three ABR Ragnar Relays. Lambert had his right leg amputated below the knee five years ago, following 20 surgeries in four years in a failed attempt to save it from recurrent bone disease. Lambert received his first running prosthesis from ABR at age 55. "I'm the oldest of the ABR team," said Lambert, "and I thought they're really not going to [give me a leg]. But they did. So I've been running for the last five years." Lambert has many more years of running ahead of him.
ABR is a nonprofit corporation based in Nashville that provides running blades and other prosthetic components to amputees aspiring to live active lives. With running prosthetics ranging from several thousand to tens of thousands of dollars, few amputees can afford to buy their own legs and virtually no health insurance policy will cover athletic prosthetics of any kind.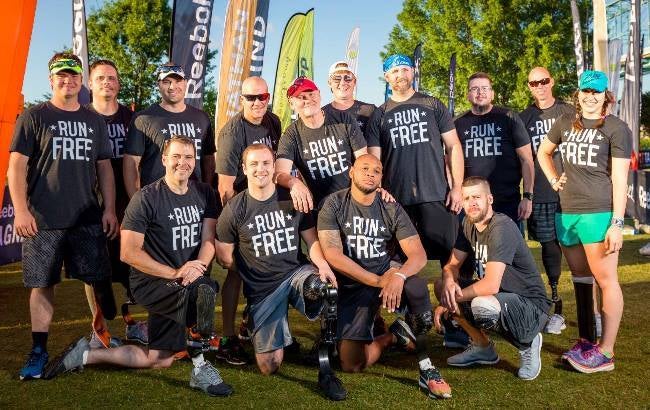 "We provide grants to amputees who demonstrate their dedication to leading active, healthy lives regardless of limb loss," said Barclay. "Since Ryan and Aaron founded ABR, we've grown steadily and we continue to reach more and more grantees each year."
Calling all HuffPost superfans!
Sign up for membership to become a founding member and help shape HuffPost's next chapter
This post was published on the now-closed HuffPost Contributor platform. Contributors control their own work and posted freely to our site. If you need to flag this entry as abusive,
send us an email
.