Ernest Hemingway was the writer for a generation with an unmistakable family legacy. With a history plagued by many suicides and encounters with mental illness, the name Hemingway has a loaded reputation in the world of fame. So imagine being a part of this notorious family while trying to escape what the public perceives and the burden the last name entails. Mariel Hemingway, the youngest granddaughter of Ernest, reveals her journey trying to escape the curse, in the new film Running From Crazy. Running From Crazy explores the distressed family tree in which Mariel navigates and how she tries to keep herself away from the "crazy," by finding other spiritual and alternative methods to readdress the dilemmas that suicide and mental illness have played in her life. She does not deny the messy past of her family, instead she reveals her own adventure, by cultivating awareness and rethinking mental illness. The film premiered at the Sundance Film Festival and will be released in selected theaters for a limited time on November 1, 2013 as well as being shown on the independent film festival circuit. The film is also produced by the admirable Oprah Winfrey and will premiere on her network OWN: The Oprah Winfrey Network, in 2014.
Running From Crazy is brought to life by the acclaimed documentary filmmaker Barbara Kopple. Kopple is an honorable two-time Academy Award winning director (Harlan Country in 1976, and American Dream in 1990). Teaming up, Kopple and Hemingway join forces and create a film that envisions a truthful and touching account of mental illness, depression, suicide, and how we should treat these taboo topics with light and openness. I had the privilege on October 3 to attend a screening of Running from Crazy at a local independent film festival, the Woodstock Film Festival, and talk to Barbara Kopple about her intentions for the film, as well as the weighted social importance the film has to offer.
Jazmin Kay: If you could portray one message to the upcoming generations regarding the topic of suicide and mental illness what would it be?
Barbara Kopple: I think what that message is, is that you have to talk about it. You have to get out there. You have to get help. And you have to realize that you are not alone. Everybody has those same kinds of thoughts, in every family, everywhere.
Jazmin Kay: I have noticed there is a growing tension regarding mental illness. It's often either a social stigma or some form of fascination that makes people interested and intrigued by it. How do you personally want people and viewers to interpret mental illness?
Barbara Kopple: I think that it's OK and that we all go through it, and that what we need is to really help each other and to have each other's back. We need to love each other and to be able to talk about it and not be afraid of it.
Jazmin Kay: The Hemingway family has such a deeply complex family history. How did you decide on the interpretation that you wanted to pursue with this film?
Barbara Kopple: I didn't decide before, it's sort of the film took me. You never know because documentaries are so wonderful, because they're unscripted and you have to go on the journey with them, and that's what we did.
Mental illness is not something we should fear, as Kopple said. I think that Running From Crazy is a film about the complex web the Hemingway family navigates, while having endless spotlight on their personal life, as well as "seven suicides" as Mariel likes to restate -- but it goes beyond that. To me, the film was a statement towards empowering people to stand up and to strip whatever previous associations they may have with mental illness and suicide, and understand it with empathy. As a teenager or adult, it is so easy to get caught up in your own mind's trap and the status quo -- sometimes you need to trust that as Mariel said in the film "I was my best guide." You are your best guide. Depression, suicide and mental illness are often treated as a hidden topic, something that makes people uncomfortable, but if that's the way we treat it there is no room to overcome and change. Running From Crazy isn't just a film about the Hemingway's problems; it is, as Kopple told me, about "transformation and hope." We need to embrace the hurt and create more love.
For more information on Running From Crazy, go here.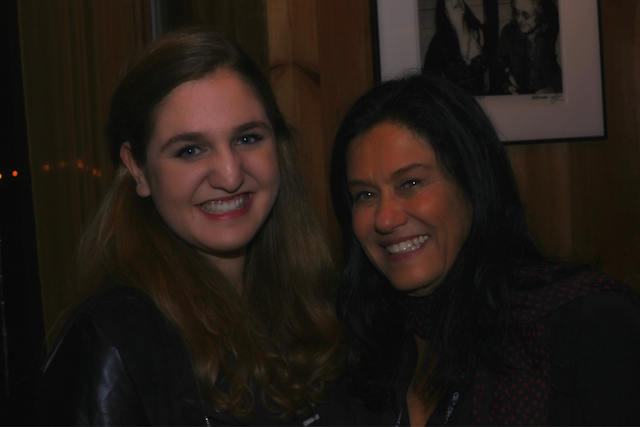 Jazmin Kay and Barbara Kopple at the Woodstock Film Festival.
Related
Popular in the Community