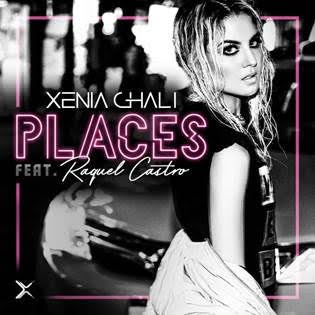 With the Women Behind The Lens movement in full effect, it's also important that more women control their own destinies and take some charge in the music industry as well. Enter Xenia Ghali, who is not only making great music with a variety of talented people- she is producing it all herself. After creating Funky Sheep Records, a brave independent label, it put Ghali in the driver's seat- and she intends to not only help herself, but also tons of other stars, particularly talented new women in the industry!
In the meantime, the spectacular songstress' career is on the high rise. Her newest single "Places" is a total hit, and it features lovable television favorite Raquel Castro from Empire- as well as Teen Wolf star Ryan Kelley for the video. The vague video is getting tons of attention, and naturally, the television stars loved working with the ambitious artist- as does everyone else in the industry.
Ghali has also recently worked with Wyclef Jean on the track "Get Dirty"- another hit that quickly rose on the charts, and another collaboration that proved wildly successful both creatively and financially. Again, the two got along wonderfully, and when describing Jean, the fearless musician stated that he was "an inspiring artist and a brilliant musician." But, when it comes to looking toward future collaborations? The sky's the limit for this empowering talent as she has eclectic interests that range from Tchaikovsky to The Chemical Brothers.
With the entire world at her feet and so much ahead of her, Ghali took some time to take an interview about her hot new tracks, her amazing collaborations, what she would love to do in the future, what it's like starting her own record label, and plenty more! Read below to see what she had to say!
Your newest single, "Places," has just been released and you have an amazing cast in the music video- such as Ryan Kelley from "Teen Wolf," and Raquel Castro from "Empire." Can you talk about your inspiration for the song a bit, as well as the video?
"Places" ft. Raquel Castro is a very interesting record for me. In the past, my singles were comprised of deep and intense feelings. "Places" speaks of taking you to 'Places you won't go.' The definition of "Places" is up to the listener, it could be referring to physical places, to places in their minds, to circumstances or experiences or even to fantasies. I imagined the video in a similar way. I didn't want it to be a clear story or a specific and obvious message. I wanted people to watch something that was interesting, original, fun, sexy, appealing and inspiring. Something that could be interpreted in any way the viewer wanted.
And talk about working with Ryan and Raquel- how was it having them featured in your video?
Having good chemistry with the people I work with is the most important thing to me. Both Ryan and Raquel are wonderful people. We shot the video during the coldest days in November, in freezing temperatures. Ryan and Raquel stayed positive, kept going and didn't complain for a second. It was truly a pleasure to work with them.
Those two weren't the only great people you worked with as of late. You also recently collaborated with Wyclef Jean on the song "Get Dirty." Can you talk about the inspiration for that track, as well as what it was like working with that great musician?
I had the honor of working with Wyclef on the song "Get Dirty." There aren't enough words to describe Wyclef. He is a true musician, an inspiring artist and a beautiful human. I learned a lot from Wyclef and I will forever be grateful for that.
You've already had such a year working with great people. Who would be some of your dream musical collaborations, and in general, who are some of your key musical influences?
There are many musicians and artists who I would love to work with, so the list would be massive! My influences range from Tchaikovsky, to The Chemical Brothers, to Simon and Garfunkel.
You also own your own independent label, Funky Sheep Records- which is a pretty bold move in the music industry and an incredible undertaking. Can you talk a bit about the vibe of Funky Sheep Records, and why you chose to start it up?
Starting up an independent record label is a really great decision for any artist who wants to get their music out into the world. I started it for that reason when I first moved to the US and because eventually I would love to sign, represent and help new artists, musicians, producers and DJs. At the moment I am focusing on my brand and myself as an artist, and once I hopefully reach a point where I can be supporting others, I definitely will! I get asked a lot why my label is called Funky Sheep Records; Sheep are my favorite animal- which is pretty random I know- and I love anything funky!
Being your own boss must definitely have its own advantages as well. Can you talk about the importance of being in control of yourself, particularly as a woman in an industry such as this that has been so notorious for having men control women in ways they might not always appreciate?
Being in control of yourself is the most important asset anyone could have. The less you rely on other people the stronger you are. Of course that doesn't mean you shouldn't have a team or you shouldn't collaborate with others. Having a great team and being able to work with others is the key to any successful project.
And clearly, Ghali knows a thing or two about surrounding herself with good people- there's no doubt that between the lot of them, they will surely be pushing this rising superstar right to the top.
Check out her website here:
Follow her on Instagram here:
And follow her on Twitter here:
REAL LIFE. REAL NEWS. REAL VOICES.
Help us tell more of the stories that matter from voices that too often remain unheard.
This post was published on the now-closed HuffPost Contributor platform. Contributors control their own work and posted freely to our site. If you need to flag this entry as abusive,
send us an email
.