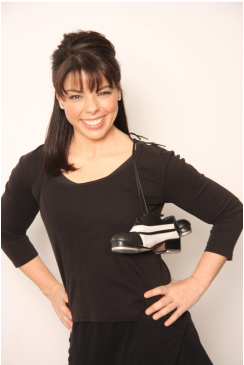 Photo credit: Jeffrey Hornstein
"Watch out," Janine Molinari laughs, flashing me a megawatt smile. "They're gonna come at you!" No sooner has the acclaimed choreographer-director-dance teacher spoken than her students, 20 of Broadway's finest child performers, come barreling toward me, spiraling backward and forward as their miniature feet tap out a glorious rhythm. Though I'm out of breath just watching these kids thunder through routine after routine, their obvious joy in the work is undeniably exhilarating.
Janine, a pixie-like dynamo in red tap shoes, has cultivated a private but immensely supportive atmosphere at Dance Molinari (DMO). With studios in New York and Los Angeles, DMO has become the go-to company for serious triple-threat juveniles who want to prep for auditions and shows in a collaborative, open hearted environment. Celebrities such as Ariana Grande and Nick Jonas began their careers as DMO students, and every young artist cycling through Janine's "Super Saturday" workshop is a literal Broadway baby.
"It's a cross-section of kids," Molinari informs me. "I do a ton of one-on-one coachings when the kids are in shows, so some of them don't come to the Saturday class for months because they come to me during the week."
Of this morning's group, she says, "The little ones have all been in Matilda or Annie; the teenagers in Billy Elliot or Mary Poppins." (I recognize quite a few among the youthful assembly, including Rachel Resheff from Larry David's Fish in the Dark and veteran Broadway kid Matthew Gumley, best known outside theatre circles for his prolific voiceover work.)
But no matter who shows up, Janine's infectious energy sets the tone. It's clear from her enthusiastic and motivational teaching style that Ms. Molinari is quite the opposite of Dance Moms' Abby Lee Miller; the doyenne of DMO likes to encourage her students with equal parts science, craft and good old TLC.
"Raise your hand if you need a friend!" she calls out during a partner exercise. "We're all friends here. This is not a competition." She also frequently reminds them to smile, "because smiling relaxes your body. Remember, you're not just dancers; you're also actors and singers, and your body needs to be relaxed so you can talk and sing while you're doing this."
Even knowing that these tweens and teens are pros, I'm still amazed to hear a 9-year-old calmly inquire, "Can you break it down?" when Janine introduces a new dance combination. However, his precocious comportment is the only thing calm about Super Saturday. The students remain in perpetual motion, jumping from basic warm-ups to synchronized routines to the finale from Footloose (which Molinari is directing and choreographing this season at Connecticut's Seven Angels Theatre). Though opportunities for tension abound, the mood is continually jovial. What's supposed to be work feels a whole lot more like a dance party.
After class Janine and I chat over coffee, our conversation punctuated with raucous peals of laughter. (When you put two bubbly creative types together, hilarity inevitably ensues.)
"I never expected any of this," she confesses. "Dance Molinari is in its 15th year, but it wasn't meant to be a business. It was meant to be fun."
From an early age Janine knew performing was her passion, but choreography became an obsession: "I'd be getting ready for recitals and I'd redo my numbers. My mind always went back to seeing things in pictures or how we could change the movement or shape of something." Her educational experience reflects this; Molinari, a Staten Island native, first enrolled at Flagler College in St. Augustine, Florida, where by her sophomore year she was choreographing the school's mainstage shows and teaching dance classes. Ever ambitious, she moved back to New York where she graduated from Wagner College and began booking Broadway and Off-Broadway national tours. In 2000, while playing in Tony 'n' Tina's Wedding, Janine's fellow cast members asked her to teach them to tap, which led to a fateful meeting one Thanksgiving weekend.
I started doing a warm-up with my adults -- all I taught then were adults -- got a knock on the door, and found all these kids out in the hallway with their parents. They said, 'Our dance teacher didn't show up today. Can we take your class?' I said, 'I'm so sorry. I don't teach kids.' And they said, 'Well, can we take it just for today?' So I said, 'Sure, come on in.' Turns out they were in Annie Get Your Gun and all these big shows. They out-tapped the adults! After the class they asked if they could come back and they told more and more kids, and that's how the business grew. We've really been infiltrated with Broadway kids who are now pop stars and on TV shows.
While Molinari's seen many students come and go, she admits retaining a soft spot for Ariana Grande:
Ariana is very special, with a smile that lights up any room. She's an extremely hard worker who takes her craft seriously, but at the same time is always looking to create something new. I have a very vivid memory of her bringing in the song 'Jai Ho' and being super excited for us to choreograph it!
Sometimes bragging on her students draws Janine into her own adventures. Last year while in L.A., Molinari visited actor Dylan Snyder, a longtime DMO alum, on the set of the Disney series Kickin' It. During filming, Janine mentioned Snyder's tapping ability to the show's producers, who immediately decided to incorporate it into a new episode for Kickin' It's final season and invited her to choreograph a routine. (The episode, "Bringing Down the House," aired in early March.)
Choreographing for TV is really nice. I loved it because I had my script ahead of time and it's all done in a week. But it's just small sections; it's like a little play with a bit of dance here and there. With theatre, it's months of preparation. Theatre is a lot more work but it's more gratifying when the show goes up, because I'm part of the editing process. Doing TV was really fun, but I had no say in how [the number] looked in the end, so that was disappointing. They're just totally different beasts, but there are aspects of both that I love.
That inner drive to control the editing process has led Molinari to some invigorating projects as choreographer and director, including the '80s throwback show Totally Tubular Time Machine with Debbie Gibson (Janine and I squeal over our mutual fondness for the icon, who's apparently the nicest person on the face of the planet) and this year's The Wildest, a revue based on the music of Louis Prima. Now Janine plans to take that control to the next level with her upcoming webseries Tap Out of It, an affectionate parody of life at DMO.
I play 'Gina Marinara,' and there are actors playing all the different teachers. The series is basically the different experiences we have when we're getting ready for a show coming to Broadway, what happens when we get closer and closer to callbacks -- that's really what we're about here, getting the kids ready. But each webisode is going to be two to three minutes long and it will show off the kids' comic chops. We're poking fun at what we do and laughing at it.
Molinari's buoyant approach to dance and life has come in handy outside of the studio too; she constantly uses her art for community outreach, doing cabarets to benefit the Holy Apostles Soup Kitchen and New Jersey's Popcorn Park Zoo, hosting a summer residency at the 92nd Street Y, and overseeing DMO's program Sole 2 Sole, which grants scholarships and donates tap shoes to underprivileged young artists.
"I felt [DMO] needed a way to give back to the community," Janine explains. "I started Sole 2 Sole because I wanted the kids to see how performing can touch the lives of those who can't afford to go to a Broadway show."
Janine knows the transformative power of performance better than anyone. Ultimately, it all comes down to love of the game and love of thy neighbors. "I have a ton of kids who do great things," she says. "They're really supportive of each other and they applaud when someone gets something. [Performing is] a hard living, but it should be part of their learning process and it should be fun."
And as long as there are teachers like Janine Molinari to encourage our young dreamers, you can bet it will be.