....this is the order in which things had to happen for me to get to where I am today. Let me explain; for as long as I can remember I was always running, whether in track and field, cross country, road races and relay. You name it and I did it. When the ability for me to run was taken away from me many things passed through my being. First, I was in complete denial, I would still go out and run, 2 km into my run my back would hurt and I would walk home. I would try this over and over for a period of probably 8 months until finally one day I ran 3 houses down the street and had to turn around and walk back. I had lost the battle and was thoroughly defeated.
It started in December 2010, I fell on the ice while playing hockey with my son and blew out my knee and tore my meniscus. I was due to run my second Boston marathon in April 2011 but this injury left me wondering what the odds were that I would be healthy enough. In the month of February 2011 my mother became ill with cancer so I headed down to the east coast to be with her as she was completely alone and going through a nasty divorce. I remember sitting with her and telling her about my knee and that I would likely not run the marathon that year (I had no plans on running it regardless as she was so ill). I will never forget what my Mother told me that day, she said "Renate, maybe the universe is trying to tell you to slow down and the only way you will listen is for you to be forced. You never did listen to anyone." Of course, I laughed at her and brushed it off; soon it would become a reality. My mother passed very quickly on March 19, 2011. With a heavy heart I decided to run the Boston marathon after all, my Mother was always so proud of me doing it and would brag to her friends about me - I knew she would not want me to miss it. The run was slow and pensive. I took photos and talked to people along the way with zero intentions of a good finishing time - to date, it has been most cherished run ever - one without a single competitive vibe.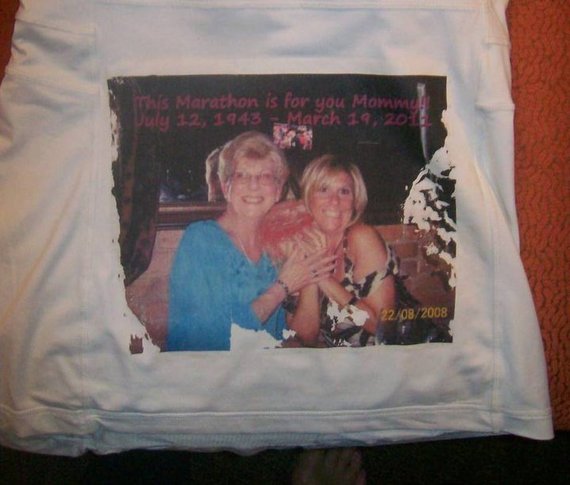 In 2013 I decided I would train for an Ironman even though I had never swam or biked before - this was when my arrogance was at its height. I can only explain this by telling you that I truly believed I could do anything I wanted to and nothing is THAT hard if you train for it. I did train but I can't say very hard - I was a weekend warrior about to do an ironman - 140.6km of sheer insanity. My back had started aching about 2 months prior to the race; I ignored it like I do with all things that I don't want to deal with physically. Sure enough after the race my back was completely out of wack, an MRI would show a slipped disc that was sitting on the nerves which caused me extreme daily pain.
I finally had to let go of running. To let go of the fact that I may never be competitive again. To let go of my favorite sport, my favorite escape. TO LET GO. It was the most difficult challenge mentally yet eventually something finally gave way and I could accept that running was a thing of my past, that there were other sports I could still do. I started to be grateful just to be able to participate in fitness, weightlifting, cycling and stretching. I started to look at my internal thoughts on WHO was I without running? What did I think running was to me? I found out some ugly truths about myself. I was one of those people that I would call an 'arrogant runner', I thought that if you were a real runner it meant running fast, that you had to be competitive or you were no good. I saw that broken little girl inside of me fighting to be loved and acknowledged, to show the world how fabulous I was, that I was not a failure. When I finally saw her and embraced her there came a shift in my body, I won't ever forget how it happened how I let so much anger and resentment of the past go.
On December 26th 2014 I woke up for the first time in 14 months without an ounce of pain in my back, there was always some pain but this day there was none. It is now May and my back remains in a happy place and I have forever been changed by this pain.
I now realize that running is a gift that I can run to enjoy moving my body, that many people don't have the luxury of walking let alone running. I am forever grateful for the lessons that I was forced to learn by the universe when it forced me to sit down.
Sometimes our pain is a wake up call to something deep inside waiting to be healed and sometimes that pain will force us to our knees to acknowledge the truth inside ourselves. I am grateful for this lesson and grateful to run again when I can with no expectations!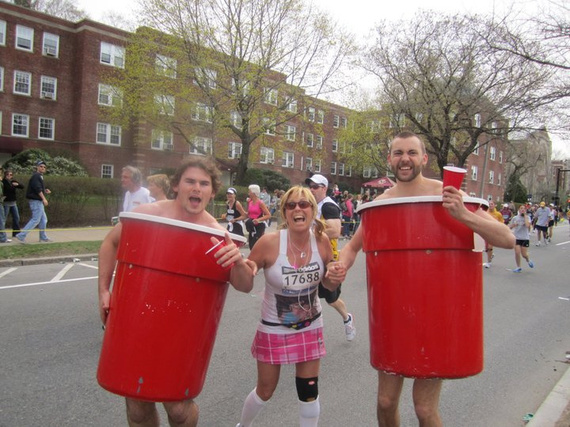 Dedicated to My Mother
Bonnie Lee Gaynor R.I.P.
Grateful Sometimes Running Runner
Calling all HuffPost superfans!
Sign up for membership to become a founding member and help shape HuffPost's next chapter