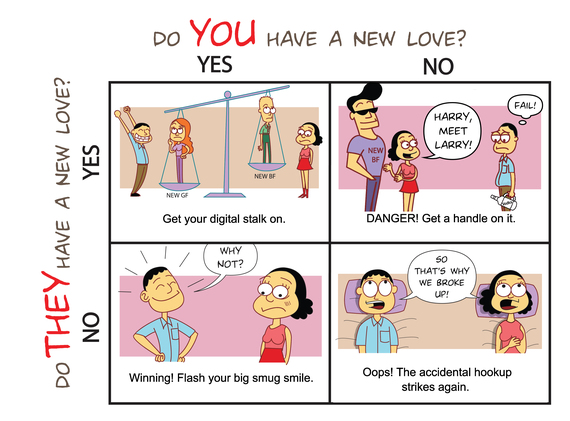 Will your run-in turn out well?
Rule 1: Don't Linger (Bella)
That's right, no lingering. Be polite, courteous and move on. Lingering has only two possible outcomes 1) you blubber, stall or blush 2) you end up 'accidentally' hooking up for the evening. Both eventualities are far from ideal. Say what you need to and move on.
Rule 2: Don't Bring Up The Past (Alex)
While you may want to remark on their great shirt that you bought together when you were in Portland, it's best to keep snippets of the past to yourself. Any references to times spent, moments shared or promises spoken are better left unsaid. It's time to move on.
Rule 3: Go Easy On The Liquid Courage (Bella)
While knocking back a few may seem like a good idea and give you the courage you need to face your ex, make sure that you've sipped a glass and not a bottle. The tendency can be to drink like a fish -- which will not only increase your likelihood of lingering (see tip 1), it will also up the chances of you saying something rash that you can't easily retract.
Rule 4: Have Somewhere to Be (Alex)
It feels good having somewhere to go. You don't have to be specific, you just need to have somewhere to go. If you don't have anywhere to go, don't make up something too far-fetched, like escorting a movie star to an awards ceremony. Stick with something simple like dinner with a friend.
Rule 5: Be Cool (Bella)
Remember, people are people. Though your palms may sweat and your knees may shake at the thought of bumping into your ex, it's important to remember that they're just a person. Think about how many people you meet all the time? It's just another one. No biggie. And if this doesn't help, at the very least you can trick yourself into thinking like this for at least an hour.
Related
Popular in the Community