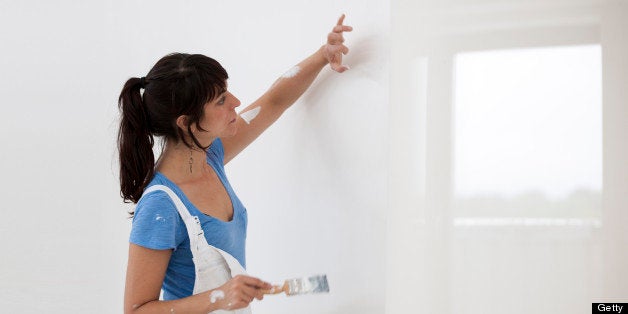 When my 30-something daughter was in the second grade, she was asked to complete this sentence by drawing a picture: 'My mom loves to...' My darling daughter said: 'My mom loves to WORK!', and the accompanying picture showed me (including the detail of my glasses) driving off to work as a public school administrator. I still have that picture.
After 20 years in the nonprofit industry, five years as a private business owner and 16 years as a public school educator, my time to transition from a human-doing to a human-being has finally arrived.
Like most baby boomers born into the American middle class, mine was an upwardly mobile life trajectory launched with a fine public school education, followed by a degree at a Midwestern university, followed by a post-graduate degree plus post-post-graduate work. I experienced two unsuccessful marriages (and a current successful one), the surprise birth of twins (didn't know until the first one was born there was a second one), single parenting and a major career transition from public school to the field of nonprofit management.
I've lived in three different regions of this wonderful country. I've successfully held multiple volunteer leadership positions at a world-renowned arts organization and I have created programs to benefit families nationally and internationally.
Keeping my daughter's visual in mind, I am asking myself: So, now what do I do?
It was apparent to me I needed a project to focus my energy and creativity. We have lived in our condominium for over seven years, and the answer was right in front of me. Time to paint! The solitary, repetitive project gives me time to think and ruminate about where my life is headed. Because my husband is still working, my day-time companion is our black lab, Molly, who agrees with everything I say.
Interestingly enough, my life direction appears to be circular. I am now re-exploring elements of my life which have been dormant for the past 40 years while I was, out of necessity, required to stay aggressively engaged in the social economy. These are the re-emerging areas:
My original career direction as an educator is now at the forefront of all opportunities I am considering for volunteerism or part-time employment. I am a master educator, and once a teacher, always a teacher. I am focusing on the field of adult education, hoping to help mature students build their basic skills by empowering them with marketable employment skills and leading them to informed decisions on how to manage their lives.
I am returning to a faith community. This is a recent 'aha' priority. Reconnecting with a faith environment where the music, traditions and rituals sustain my soul is long overdue.
I am available more to family. Our grown daughters are now parents themselves, and routinely manage their lives and activities quite well. It would be disruptive for me to overly-inject myself into their family schedules, but I can now do so more frequently when encouraged or invited to do so. On the home front, I am cooking more. I come from a long line of very good cooks and used to pride myself on my culinary skills. I am reconnecting with the basic skills and maximizing opportunities to learn new ones in the vibrant culinary community where I live (San Francisco).
For years, I kept the following quotation from TS Eliot in my office: "I shall not cease from explorations, And I look forward, At the end of all my exploring, to arriving where I started, and knowing the place for the first time."
My journey is accurately described in the TS Eliot quote. Now is the perfect time to return to previous life activities -0 those intuitive past-times which validate, stimulate and sustain me. Thank goodness I realized where I was headed before I ran out of walls to paint.
REAL LIFE. REAL NEWS. REAL VOICES.
Help us tell more of the stories that matter from voices that too often remain unheard.