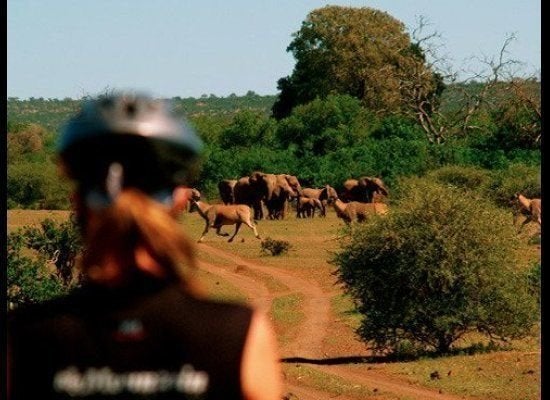 Sometimes an event happens that changes our thinking so radically, we must act on what we know is our truth. Who are the people who run to their desires, fearlessly pursuing their inner guidance?
These are individuals so doggedly determined, they don't let doubt and impossible circumstances get in their way. I've met them. I've been awed by their courage. And two of them happen to be long-time friends.
Susan Gustafson and Dr. Frank Artress are married and have been my friends for 20 years. They are two extremely intelligent, successful people, and they both laugh easily and often. Eight years ago they had everything money could buy. Frank was working as a cardiac anesthesiologist and Susan was a school counselor. They had two convertible sports cars in the driveway of their California house, vacation homes, and valuable original art work lining the walls. They also had something else, restlessness.
That's when they had what they say was a wake-up call. They were on vacation in 2002, climbing Mt. Kilimanjaro, when on the sixth day of the hike, Frank was distracted with his photography and became dehydrated. He had pulmonary edema at 18,000 feet. That is when fluid builds up in the air sacs of the lungs. His heart rate shot up and rangers carried him down the mountain. He almost didn't make it. Before that incident, Susan and Frank had talked about simplifying their lives and doing more to give back. The close call on the mountain brought a sense of urgency.
"I got hit with feelings of regret that I hadn't done something to contribute back to society," he says.
"For Frank and I," Susan tells me, "it took facing our mortality and the fragile nature of life to get our attention."
After Frank was treated successfully, he had a long conversation with the doctor at the local clinic.
"As the universe would have it, the doctor who took care of Frank in Tanzania told him they needed doctors in Africa a whole lot more than we needed them in California," Susan said.
Within 24 hours Susan and Frank decided they would move to Tanzania, permanently, to help. They sold or gave away most of their possessions, getting down to one shipping container. Then they moved to Tanzania with little more than their dream.
"We envisioned the clinic and hospital almost immediately. It took much, much longer to build," Susan says. "As you might imagine, there was a steep learning curve."
Susan and Frank spent hundreds of hours fundraising for their non profit foundation, FAME (Foundation for African Medicine and Education), searching out locations for their clinic, and learning the in's and out's of medical care in Africa.
Eventually they received a donated mobile clinic which they currently drive to villages. The ratio of people to doctors in some of the areas they visit is a staggering 60,000 to 1.
Dr. Golru Ghaffari-Greene worked alongside Frank at the mobile clinic.
"The work he does and the care he provides is life-saving for many of the patients. The people in the three regions don't have access to medical care. Being able to see over 800 patients in six days is life-altering, not only for the patients, but for those of us taking care of them," he says.
Deanna Miller was also a mobile clinic volunteer.
"I was stunned on the second day, when what seemed like hundreds of people were lined up seeking medical treatment. One elderly woman asked us if she could sit down and rest because she'd traveled (on foot) for two days to get to the clinic," she says.
Right now in Karatu, Tanzania, the walls and roof are up on the permanent clinic. Susan and Frank held their vision steady for eight years. A lot of generous benefactors and volunteers jumped into their dream to help.
As their friend, I've been with them on their journey emotionally. They have shared with me their incredible gratitude for surviving the ordeal on the mountain, their determination to pursue the dream of providing medical care in rural Tanzania, and at times their confusion and frustration at the difficulties with red tape and finding funding in the beginning of the project. But I also witnessed their unyielding commitment to follow their truth and inner desire. As they were leaving the states they generously gifted many of their friends with their art collection. I am the recipient of two of those pieces. One of the paintings is titled, "Let there be peace." It seems appropriate that Susan and Frank have found peace now by following their true passion. When I look at their journey for the past eight years, I am deeply moved by them. They are living examples of courage and tenacity. Their lights shine brightly for me, their friends and family, and for Africa.
Life is busier than ever for Frank. Yet in ways, it's also much simpler now. He now clearly knows what he is doing and why.
"It's back to all the fun reasons I wanted to be a doctor," he says.
Susan adds, "I've never been so fulfilled. Getting involved in something bigger than yourself is incredibly meaningful."
When Frank was being hauled down the mountain in 2002, the porters sang songs to him about resilience. In the course of eight years, resilience and passion have made dreams come true, not only for them, but for those seeking medical care in rural Tanzania.