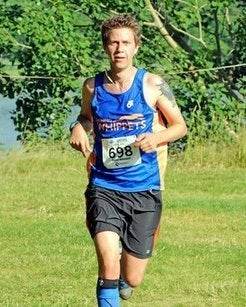 Recently, I've found myself pondering the question "What makes you a runner?" I've joined a running club (The Dashing Whippets) and find myself surrounded by people who have been running for years, most of it competitively. I, on the other hand, decided to start running five months ago when on a whim I decided to sign up and run the ING NYC Marathon because I wanted to do something to make my father proud after he suffered a stroke. Little did I know, this one decision would change my outlook on life and so much more.
I've heard some people say that you're not a runner until you run your first race, or until you run 50 miles a week, or until you run your first marathon. Some people are even generous enough to say you simply have to take your first steps. I disagree with all of this.
I took my first steps with the goal of becoming a runner five months ago. My form was terrible, my legs felt unnatural, I did not feel like "a runner."
I ran my first race shortly thereafter. My lungs burned, I got more and more frustrated with each person who passed me. I was miserable. I did not feel like "a runner."
I've never run 50 miles in a week (40.1 is my PR for a week), and I've never run consecutively more than 21 miles... so I've never "run a marathon."
About an hour ago an Asics ad came across my Facebook timeline that reads:
We know that enough will never be enough.

In fact, we embrace it.

We happen to find great satisfaction in never being satisfied.

We'll always need to go faster, become stronger and get better, no matter how fast, how strong, or how good we get.

That's why we'll never stop pushing.

We find contentment in never being content.

The more we pursue, the more we crave the pursuit.

It's true, the more you go, the harder it is to stop.

But that's fine by us, because we never intend to.
As corny as it sounds, it's true. I'm not sure when it happened, but sometime over the past five months, a fire has been lit in my belly. I can't get enough of it. Junk miles don't exist. As long as I can hear the faint pitter-patter of my feet under me, each and every mile is worthwhile. I crave the burn of a hard race, my lungs screaming for oxygen while my legs burn with lactic acid. I strive for the feeling of crossing the finish line knowing that I pushed my body to its limit. I strive to get faster and go farther. In the past five months, I've watched my PR for the 5K distance fall from 8:30 to 6:30 per mile, my longest run from three miles to 20 miles.
I still get confused when doing workouts. I don't know what 200m is or 400m is on a track. I don't know where to start or stop during interval training, and I'm still not completely sure I understand how to properly do a fartlek, but as long as I'm moving forward I'm happy.
Theres something OCD about it. I dream about running, I read about running, I talk about running all day long. When I don't run, my body doesn't feel right.
I still don't know the answer to the question; "What makes you a runner?" But what I do know is, I'm a runner.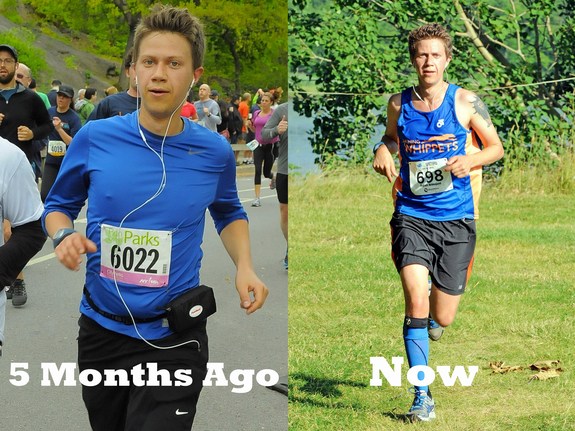 Related