This is the sixth blog in my series, The Pulse of Africa talking with Global Africans working in Africa and across the Diaspora. It takes an inside view on Africa's progress, issues on arts and culture, technology and opportunities in this decade. See the series here.
Runo and I talked for a while and have periodically; as I tend to keep tabs on innovative thinkers in the Global African design world. She had just finished graduate studies in architecture at MIT and was one of the winners of MIT's Ideas Global Challenge with three others (Elisha Goodman, Sandy Huang and Dr. Juma).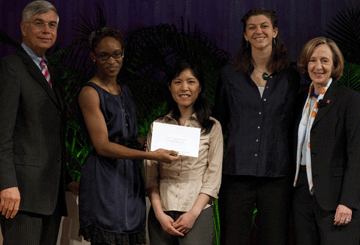 Team photo after winning the MIT Global Challenge- Muhammad Yunus Agricultural Innovation Challenge, 2011. L-R: Thomas N. Byrne, M.D, Ogheneruno (Runo) Okiomah, Sandy Huang, Elisha Goodman, and MIT President: Susan Hockfield
The MIT IDEAS Global Challenge connects students with the passion and talent to improve the world with the experience and resources of the MIT community worldwide. We support innovation and entrepreneurship as public service through an annual competition that awards up to $10,000 per team for the best ideas to tackle barriers to well being.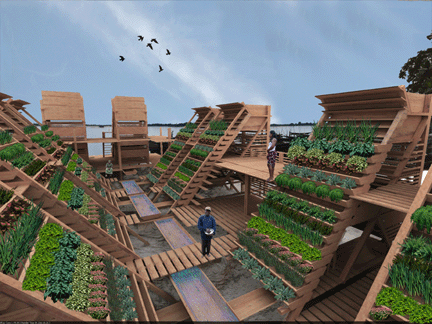 Visualization of Maa-Bara's sustainable aquaponics technology. Image composed by Ogheneruno Okiomah and Daniel Daou.
Okiomah's team won the 2011 Yunus Challenge for creating an innovative solution that has the most potential to increase adoption of beneficial agricultural technologies, financial systems, or market access among smallholder farmers to improve their livelihoods. Competitors were judged based on solutions that overcome the behavioral and situational hurdles of the adoption of agricultural innovations, rather than looking at the challenge only in terms of the creation of new technologies. Maa-Bara's rollout strategy involves university-community partnerships, peer-to-peer technology transfer, and a microfranchise model which improve the likelihood of adoption.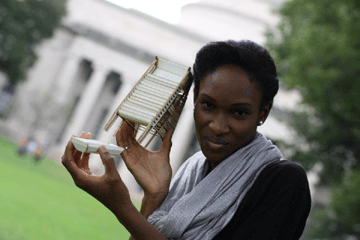 Ogheneruno (Runo) Okiomah, photo credit: Maa-Bara
Maa-Bara is a minimal-waste closed-loop sustainable agricultural model that utilizes kitchen scraps to grow healthy, fresh fish and vegetables. We are developing low-tech, low-cost kits for aquaponics in the developing world...starting with Nigeria. Our solution is "Maa-Bara," a scalable, locally sourced, locally crafted structure for the propagation of fish and vegetables atop this oil-polluted landscape.
This project is inspirational as it is about social design offering solutions to a problem and deals with Nigerians and marginalized groups. Runo is like the new vane of young social design entrepreneurs I recall educating at Parsons School of Design's Product Design: interested in making a difference and using design as a change agent. It targets areas with poor soil quality, depleted fishery stocks, urban and natural disaster recovery areas.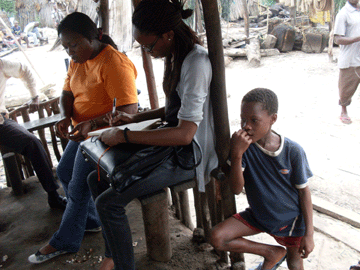 Maa-Bara team collaborating with premier Nigerian NGO called EfDI to conducting a community design workshop in Bodo fishing camp, Gokana Local Govt. Area, Rivers State. June 2010. L-R: Esueni Spiff, Ogheneruno Okiomah, young kid from Bodo community.
Maa-Bara is also supported by Pintrest's Pilot Projects which is focused on "Co-Create a Better World." To put it more clearly, "Pilot Projects Design Collective is an incubator for projects that make vibrant sustainable places and organizations. We link culture + infrastructure for lasting change." It is one of the projects they like, see here. Maa-Bara is about growing food anywhere - and with the food issues globally, we need to look ahead. Dr. Calestous Juma reminds us that "agricultural innovation will increasingly be the engine of economic and social innovation in Africa."
Global Africans are deep thinkers and innovators. They begin early and change the world. Today, Runo Okiomah is an Assistant Professor at Hampton University teaching for the architecture school (Full Disclosure: I serve as an advisor for Hampton University's School of Architecture's advisory board).
More information visit here.
Support HuffPost
Every Voice Matters
Popular in the Community