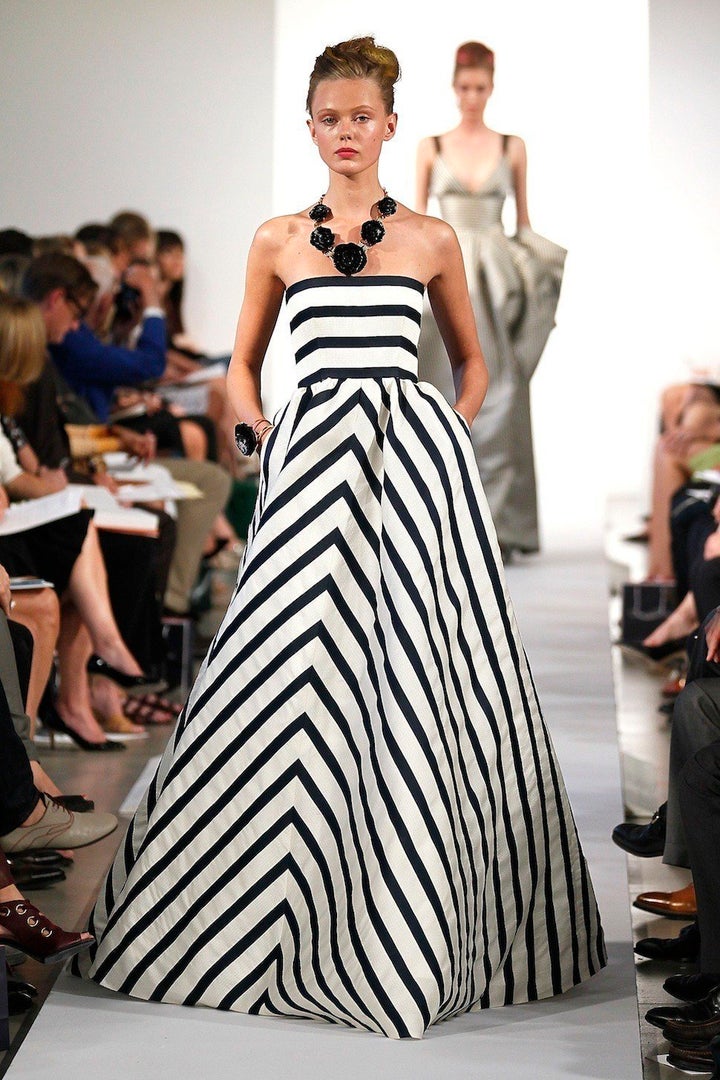 Imagine this: walking down the aisle on your wedding day and feeling like it's the ultimate runway. The fashion editors, (a.k.a. your family and friends) are watching in awe as you not only set the stage as a gorgeous bride but are also making a total style statement that is uniquely you! Now picture this: stepping into the dressing room for your first fitting only to be faced with a sea of white, taffeta, sequins, lace, tulle, organza, corsets, veils and more white. What is a girl to do? How can you show your individuality when faced with so much of the same? This spring, take a cue from the fashion week runways. Why not break the typical bridal gown rules and show your real personality and true colors by slipping into the dress of your dreams that is runway-ready and bridal perfection. This is Runway to Bridesway.
With geometric lines, bold stripes and blocked panels there are so many ways to interpret the bold black and white trend into classic elegance for your wedding dress. When adding black fabric into the mix of your dress stick to soft and flowing fabrics to avoid a heavy feeling. Or make a fashion statement by choosing black accessories and elements to contrast the white dress. This can even be as simple as a black silk sash added to your dress. Worried about that being too harsh? Make sure to add in pink, lavender, or silver into the mix as well to soften up the contrast.
Lace as a wedding dress fabric is tried and true. It is romantic, feminine, regal and classic at the same time. But this spring, why not make a splash in colored lace! This trend is all about making a cheery, bright and unconvential statement for your wedding dress. While cobalt may be a bold choice, coral, peach, baby blue, mint and even a sunshine yellow can all make a beautiful, unique and energetic style statements on your wedding day. It's 2013! Who said wedding dresses need to be white? Why not embrace the colored lace!
The ruffle trend has made a very strong comeback on the runways and is perfect for the girly girl. There is just something about wearing a ruffle that makes us feel sweet and feminine. And with the spring 2013 runways showing ruffles in all shapes, sizes and fluid fabrics this trend couldn't be more perfect for the bride-to-be. When choosing ruffles make sure to wear them wisely, If you are big busted or broad shouldered, then avoid ruffles near the bust, chest and sleeves of your gown. If you are hippy avoid ruffles near your hips. This is your day to look your most fabulous, and flattering your body shape is the best way to do that no matter the trend.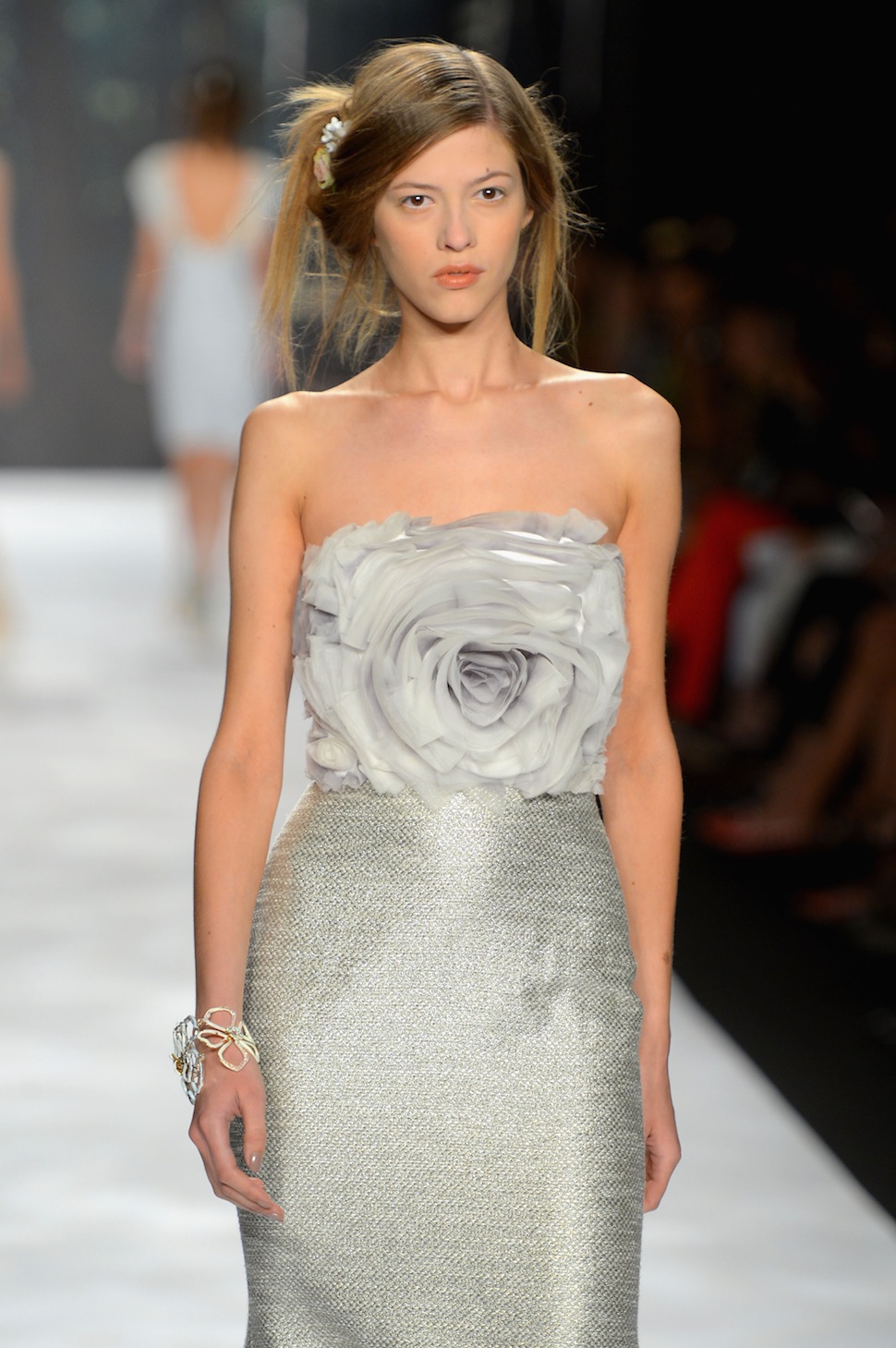 Dress by Badgley Mischka
Metallic fabrics were seen in every category on the spring 2013 runways -- from skirts, to jackets and everything in between. So take a note from ready-to-wear and shine bright in a metallic dress. Whether you go with champagne, light silver or even a metallic pastel you can be as minimal or amped up as you'd like. For a more subtle approach try metallic details and trims. Or for a stronger tak,e pair a metallic skirt and matte finish top-bodice. Keep in mind that if you have mature skin, you want to keep your metallics to the bottom half of your dress. Shiny fabrics can reflect light onto the skin accentuating lines and wrinkles.
Sheerly You Must Try This...
Sheerly you must! The sheer panel trend couldn't be a better way to add easy-to-wear style -- and subtle sexiness -- to your dress. Plus it can be extremely functional! Whether your sheer panels are on your shoulders and sleeves (great for more traditional dresses) or you take a cue from the spring 2013 runways where skirts were given the sheer overlay treatment (great for brides looking for a vintage-inspired dress), this trend, while stylized, is also timeless. You can be classic for your family and sexy for your new spouse: the perfect style combo!
So whatever trend, style, texture, color, fabric or design tickles your style fancy, your wedding dress is a perfect platform for your own self expression. And remember, walk that aisle like it's the ultimate runway!