Wedged between last week's harrowing natural disaster and this week's presidential election, the release of "build," the music video for the same-named October album from Rupa & The April Fishes couldn't be timed better. The latest from Rupa's San Francisco-based international group is a call to basic goodness and action. "When I lose my way I just drop to my knees. I put my hands to the ground.. and I build," Rupa croons in the lullaby. The visuals take us on a journey around the world from India to Athens and back to S.F., depicting the fairytale mappings of artist Matt Mahurin that weave the entire world with the band's hypnotic melody.
Watch the exclusive premiere of "build" above.

Rupa, a doctor-by-day, singer-by-night, activist at all times in between, was born in San Francisco to Indian parents. Living in India, France and the US inspired her to assemble musicians from around the world for her band. We recently chatted with Rupa in an email interview, getting the details on the frontwoman's politically-driven songwriting and her thoughts on the upcoming election: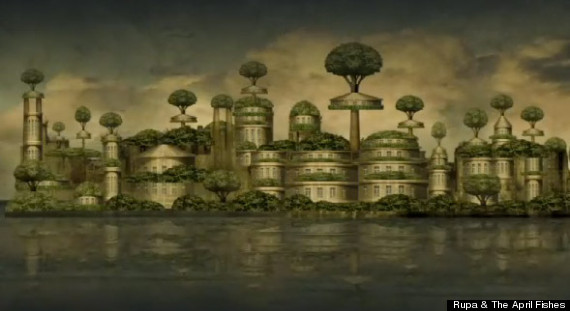 HP: In the video for "Build", viewers are treated to an array of landscapes, both natural scenes and more man-made images. What was the idea behind this visual display?
Rupa: It is imperative that we learn to dance with nature in our design and how we live. We are living in an era where we are witnessing the effect of a global culture out of balance with nature. What if we were to build another way? I am deeply inspired by ewok-hundertwasser-biomorphic architectural ideas and regenerative designs that place us within nature and working in partnership with it rather than imposing ourselves on it. I am looking forward to getting back from the road, getting my hands in the dirt and starting to build my own home with the help of the artists, thinkers and designers in my community.
HP: Many of your past songs comment on global social issues, like your second album, "Este Mundo". Is there a greater political message within "BUILD"?
Rupa: This song is a calling to return to life what belongs to life and not the marketplace. Our bodies, our foods, our connections to each other, the water, the seeds, the soil, the sun -- these things are part of the common experience of life, necessary for life. These things are not inherent commodities, although they have been commodified and misunderstood the world over. The task at hand for our culture, in this great time of awakening, is to reckon with questions like, "What belongs to life? To all of us? To none of us? What can I create that is not for sale and is entirely valuable?" There's something about that process that makes the global financial systems heaving and collapsing appear farcical and tragic, Greek-style.
HP: As an activist, how does your perspective on social and political issues affect you as musician in general?
Rupa: To be an artist is to be a witness to life. We have been traveling around the world for over 4 years, being thrust into incredible situations and dialogues in places like Athens, Greece; Ahmedabad, India; Detroit, USA; Montreal, Canada; Oakland, California; Juarez, Mexico. My art is a way to digest and understand what it is I am witnessing. I see my role more as a storyteller, in the tradition of a mendicant -- traveling from place to place and bringing the stories on a human scale. Being a physician more informs how I investigate or look into things, rather than being an activist. My training and practice as a doctor has affected how I encounter an issue. It is often on the scale of a living system, rather than one tiny corner.
HP: You say in the bio on your website that your band is about "insistence" rather "resistance". Can you explain that?
Rupa: We are not going to be able to create the reality we desire simply by resisting. It is the daily act of quiet insistence in building the things we value and wish to see that will lay the groundwork for the things we wish to manifest. As we see the world heaving with masses of peoples in the streets demonstrating against the abuse of power and then the violence of police and military responding to that demonstration (whether in NYC, Syria, Montreal, Athens), we can see the draining effect that violence has on us, the demoralizing nature it has. I feel it is important to call out abuse of power when we see it and even more importantly than that, to focus our energies on building in our communities the kinds of things we wish to see that we are not seeing around us.
HP: As a socially engaged individual, and a Californian, do you know who you are voting for in the election next week?
Rupa: I vote with my actions every day. I vote for the freedom and dignity of the commons. Those things that belong to all of us because they are necessary for life -- food, water, air, public space and information. These things are slowly disappearing from public life around the world, but most especially in the USA. I vote for transparency in all levels of government so that our civil servants are just that -- servants of the public and not career politicians, people who are working in their own interest or the interest of corporations that back them. I vote for an end to society run by the corporate state where peoples and ecosystems are considered less important than a profit margin and where banks are bailed out by our tax dollars while people -- even those who are elderly and sick -- are thrown out of their homes. I vote for free movement of information and for media that is intelligent, critical and responsible to the society to which they report rather than the advertisers who indirectly pay executive salaries.
This video certainly calms us in this particularly stressful moment. Does it do the same for you? Let us know your thoughts!
BEFORE YOU GO