This stunning beauty queen reigns supreme as queen bee of one of Tampa's hottest clubs, The Honey Pot.
Miss Summers, 23, boasts no one can clock her drag -- her T&A would make a biological woman blush. Unfortunately "realness" was not enough to keep her in the competition and she became the first contestant instructed by Queen of queens, RuPaul to "Sashay, away."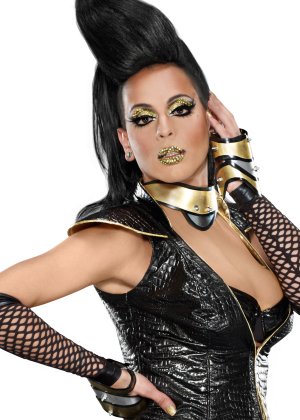 JG: What is most charismatic about Alisa Summers?
AS: Alisa is all about having a good time. She wants you to have a good time and be entertained. She is a sweet person and will always lend a helping hand.
JG: What makes you unique in this competition?
AS: I feel that I have a fresh energy and attitude that I bring to the table. I am a show girl and live for being on stage. I feel that Drag Race is the next step!
JG: Can you tell us about an instance where your "nerve" saved the day?
AS: My nerve is always saving the day. I am constantly around small dramas and issues. My nerve is usually the part of me that is ready to step up an calm the situation down.
JG: If you couldn't light up a stage you wouldn't be a contestant so tell us ... any hidden talents?
AS: I am great with choreography and group routines. They're my absolute favorite. Check out some of my pageant talents ... you'll see!
JG: My partner and I met you after a performance at the Honey Pot during a visit to Ybor City. You were a doll and we loved the vibe of Ybor. What makes the Tampa gay scene like no other?
AS: In Tampa, the Gaybor district is really thriving. Since it was put in place, Ybor has become a cleaner, safer place to party. We have lots of gay clubs, gay businesses and restaurants. The scene here is absolutely amazing and continues to grow each week. I suggest everyone make it out to Gaybor, it's quite an experience.
JG: During your final lip-synch you gave a lot of face and body while your opponent (Jiggly Caliente) busted out the dance moves. Do you think you gave your all at that moment?
AS: While I was on that stage, I felt like I was giving it to the judges. I do know that it's a TV show and editing can make you look any which way, but I do feel like the best portions of my lip sync were not portrayed.

JG: What would you say to the millions of queens out there wishing they were in your pumps as a Drag Race contestant?
AS: Keep auditioning! This show is only going to get bigger and better and there is room for everyone! Don't give up!
Follow Alisa Summers on facebook and Twitter: @alisasummers
Watch RuPaul's Drag Race Monday nights 9/8c on Logo
REAL LIFE. REAL NEWS. REAL VOICES.
Help us tell more of the stories that matter from voices that too often remain unheard.