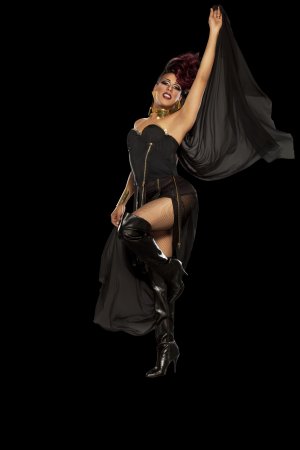 JG: What is most important: Charisma, Uniqueness, Nerve or Talent?
AM: As a entertainer, talent is the most important one because at the end of the day a Drag Queen doesn't need to have the latest fashion or the personality of a famous person. All you need to do is entertain.

JG: What is the most important item in your drag arsenal?
AM: The hair. I feel completed when I get my hair on!

JG: During one of the episodes you said you didn't consider Carmen Puerto Rican enough? Do you still feel this way? What does being truly Puerto Rican mean to you?

AM: I love when people embrace their culture and for me Carmen is still a little off. I love my Latin culture, my language, and my heritage. I stay true to who I am, but it's probably because I was born and grew up in Puerto Rico!

JG: During the PSA challenge you shared that the man you loved had been sent off to combat. Your revelations touched a lot of people. Has he returned? Do you know if he's seen the PSA?

AM: Sadly, I haven't heard back from him, but I believe people come into your life for a reason. I have learned and grew up from this. I'm ready to move on with a future relationship.

JG: Shangela was not the only girl with a catch-phrase on the show. She is now cashing in on "Halleloo!" selling t-shirts and other goodies. Any plans to do the same with "Bam!"?
AM: I think so. My fans are asking for the t-shirts, so I will make sure they have them. For the record, I didn't know I said it that much (laughs).

JG: During the "Jocks in Frocks" challenge, your jock, Slava seemed quite smitten with you. Did you guys keep in touch?
AM: Yes, Slava and I are very good friends (nothing romantic). He is a great guy and it's great to see a straight boy treating us like normal people, plus I know the girl who ends up with him will be really happy.

JG: He was LIVING his drag. Do you think he'll turn up as a contestant on a future season of Drag Race?
AM: YES, Yes, Yes! I'm Team Avala Mateo for Season 4!

JG: During the recap show you mentioned that the rush of being on stage is your favorite part of drag, what is your least favorite part?

AM: Wearing a fake body. It's so uncomfortable. Every movement has to be bigger so people can notice it. I wish I could do it in a different way.

JG: What has been the best part about the entire Drag Race experience?

AM: Meeting the people and finding out how many people love me. It's the best part of the competition and I am now living my dream.

JG: Hindsight is 20/20. Is there something you think you could have done differently that might have won you the title of "America's Next Drag Superstar"?
AM: I don't regret anything about the competition. I was real. The person you got to see is what you got.
I was the real Alexis - I have a passion for entertainment and a love for drag now more than ever.
JG: What is next for Alexis Mateo?
AM: If you have the chance to come see me in a show, sit down and relax, cause the show it's about to start! I will love to continue entertaining people around the country -- maybe a cruise line show or headline in Las Vegas. I want to become a National Title holder. More TV, music! I would love to be part of a cast of a cartoon movie, have my own Dating Show on Logo to find a love of my life... oh, and the first Hispanic, gay, Drag Queen President of the United States.
Calling all HuffPost superfans!
Sign up for membership to become a founding member and help shape HuffPost's next chapter