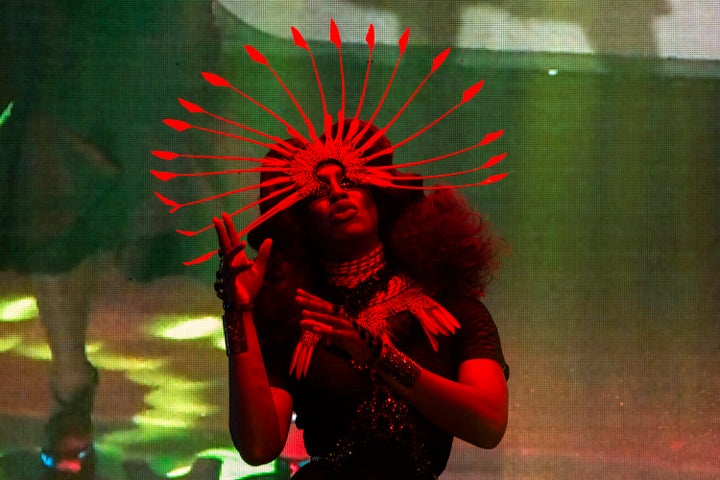 In my family, television is the altar upon which relationships are built. And growing up, my mother, older sister and I treated reality competition shows like weekly communions.
We were there for that first "American Idol" season. We all truly rooted for Tiffany on "America's Next Top Model" (after that episode, we quietly went to bed to process our respective heartbreaks). And we honestly fought when my sister watched a new episode of "So You Think You Can Dance" without us. It was the first Top 10 episode. Feelings were hurt.
Those evenings, sprawled on couches and screaming over design decisions on "Project Runway," were also the first times I saw queerness of any form. In 2009, my mother discovered "RuPaul's Drag Race" ― RPDR ― and, like any other competition show, we immediately adopted it into our weekly lineup.
By the time I left for college, RPDR became another tool by which I could measure how my family would handle my coming out. Although the show focused primarily on gay men's narratives, it was my only point of reference. I gauged how my mom reacted when couples on the show kissed their boyfriends, watched how they handled the use of someone's preferred pronouns and, in the small moments when my sister defended the contestants' identities, I too felt validated.
Gayness was not a topic of discussion in my Christian family. Anything near the subject was met with, "Well I don't have a hell to send anyone to" or "It's just not what God wanted."
One of the few times it was explicitly mentioned, I was eight and with my dad running errands. I loved these moments. I was a total daddy's girl, and during these rides, he taught me everything from proper business technique to why rap is an activist's genre.   
But on this day, he turned to me, saying simply, "India, you can bring home anyone. I don't care if they're black, brown or purple. Just don't bring home a woman."
He laughed his way through the little speech and we casually walked into the grocery store. The topic never came up again ― but ever since he passed in 2013, it's a moment I play over and over again.
In retrospect, he must have had some inclination I wasn't straight.
After coming out, you spend your first few moments as an official member of Team Queer, learning exactly what it means to exist in this new identity. You join the gay dating apps. You watch as your entire friend group gets queerer, and by proxy, more supportive. And eventually, you become comfortable with calling yourself, and really everything you touch, painfully and wonderfully gay.
Then you look back and realize that the straight facade you kept up for so long was just not done well at all. 
While I hadn't even admitted my queerness to myself then, this show gave me context. And hope.
I can remember every point of my childhood where my parents just should have known I was gay. I rooted much too hard for AzMarie on her cycle of "Top Model." Queen Latifah was my idol beginning around age six. And I owned so many basketball shorts that I cannot in good conscience tell you I didn't wear them to school, bed and every family function it was allowed.
I had the same moment of realization with contestants on "RuPaul's Drag Race." Before I could even recognize my own queerness, I was feverishly rooting for theirs. And each week, my family made space for these unapologetically queer queens in our home. We watched all throughout high school and, while I hadn't even admitted my queerness to myself then, this show gave me context. And hope.
Of course, when I did come out, the discussion wasn't quite wrapped up in a single hour of reality show fanfare. But it was as if I had done a bit of the field work already. If they could process the queens on screen, then they could at least begin to understand my point of view.
Those weekday television rituals were a moment of childhood that seemed so trivial while I lived them out, yet so profound looking back. Because, while there were many other factors in my coming out, this show and the moments my mom, sister and I discussed all our favorite queens and looks were vital.
In an environment of total heteronormativity, I could see a space for my queerness to exist without inquiry, issue or question. For one hour, it was feasible. Even with the show's many problematic issues, the platform it allowed me is something I'm quietly thankful for.
Besides, it's nice to say my perfectly wonderful, apostolic Christian mother introduced me to "RuPaul's Drag Race.' And whether she knows it or not, it was a transformative experience.
Calling all HuffPost superfans!
Sign up for membership to become a founding member and help shape HuffPost's next chapter