On Monday night's finale of RuPaul's Drag Race, this year's "Next Drag Superstar" was crowned. Acclaimed makeup artist Sutan Amrull's androgynous alter ego Raja snatched the coveted title. Raja has easily sparked more online and water cooler debates than any Drag Race contestant before her (with the possible exception of Shangela). For every purist who questions androgyny as drag another commends Raja's edgy gender-bending aesthetic and tongue-in-cheek creativity. Drag, like any other art form, evolves, reflecting times and trends and change is never an easy pill to swallow.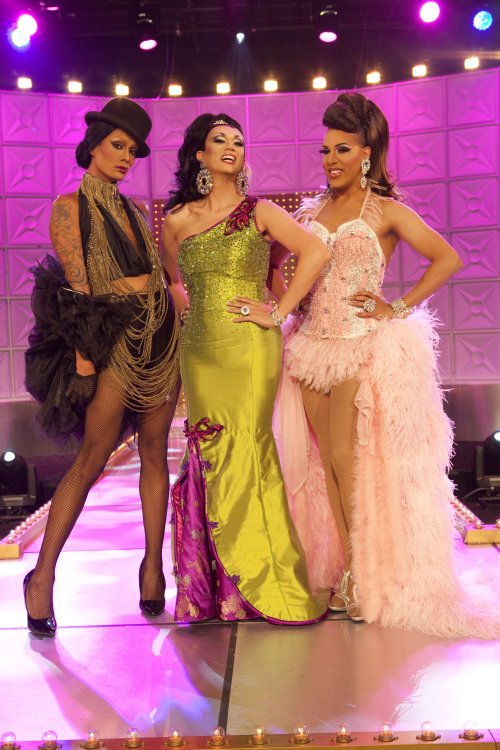 Left to Right: Raja, Manila Luzon & Alexis Mateo
JG: What is most important: Charisma, Uniqueness, Nerve or Talent?
JG:What is the most important item in your drag arsenal?
JG: Your Tyra impersonation during Snatch Game was hilarious. Do you know if Ms. Banks has seen it? If you don't already know, what do you think she might think of it?
Raja: I'm not sure if Tyra has seen it. My impersonation has created a bit of buzz, and Tyra is a gal who loves a good buzz. Totally kidding, Tyra doesn't drink! I know Tyra well enough to know she has a great sense of humor and I know she loves my parody.
JG: Speaking of Tyras... Cage Death Match between Banks and Sanchez, who comes out alive?
Raja: Banks... Her tits are "real"!
JG: Your runway walk often stole the show during the main stage presentations. Who are your favorite models?
Raja: Andej Pjeyk, Kristen McmMnamy, Paulina Porizkova, Twiggy, Dovima, Tyra Banks, Veruschka, Dita Von Teese, Gizelle Bundchen, Patricia Hartmam. God, there's so many!
Raja: Alexander McQueen, Vivienne Westwood, Martin Margiela, Rick Owens, Ann Demeulmeester, Jean Paul Gaulthier, Thierry Mugler, Hussein Chalayan and more!

JG: What is one fashion item you simply can't live without?
JG: What has been the best part about the entire Drag Race experience?
Raja: Getting letters and emails from kids (and parents) who have found me to be their artsy-fartsy, rebellious role model. Some have brought me to tears of joy. I couldn't ask for anything more... Well, maybe $75,000! Ha ha!
JG: I was thoroughly entertained by every minute of Heather cattiness. I've read some harsh opinions of you (and the other Heathers) regarding this. What do you say to those who didn't see the humor in it?
Raja: "The Heathers" was our conscious attempt to create a team/alliance, much like a sporting event. We (as most gays do) loved movies like Mean Girls and Heathers because of the silliness and blatant tongue-in-cheek cattiness. Those who don't understand that none of it was personal, and can't see the ridiculous humor in it, probably need to pull the branch out of their asses and do some serious introspection.
JG: Which Heather would you trust with a deep dark secret?
JG: What is your response to those who say you are more androgyny than drag?
JG: That androgyny is drag. In my case I feel, the only thing that makes me teeter on that fine line is whether or not I decide to wear a bra.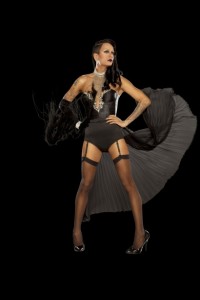 This year's Next Drag Superstar: Raja
JG: What does the title of "Next Drag Superstar" mean to you and how do you plan to live up to it?
Raja: "Americas Next Drag Superstar" means that I have been able to place myself within that constellation of creatures that have influenced. I've said that my great intention is to leave a legacy to a generation that needs a new role model.

JG: What's next for Raja?
Raja: Not really sure what's next, so many great collaborations and projects ahead. All I know is, I am constantly creating and I can't wait for everyone to see all I have inside of me just waiting to explode!

Stay tuned for interviews with Alexis Mateo and Manila Luzon!
RuPaul's Drag Race Reunion Special airs Monday May 2nd at 9/8c PM on Logo.