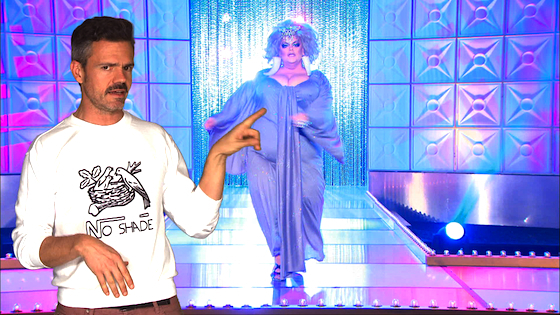 Darienne Lake giving you "Operation Dumbo Drop-Dead Gorgeous" on this week's RuPaul's Drag Race
Yes, animal lovers, the runway became a heavy-petting zoo as birds took flight, cheetahs pranced, elephants walked and Paula Abdul even rush-rushed in for a she-union with her former American Idol pup Adore Delano. An extra-large version of the Scruff Pit Crew stunk up the workroom with their man-scent for some mini-challenge wordplay called "Hungmen." And... Cher's entire immediate family played couch potatoes and tested our top seven queens' talk-show-hosting abilities. Love you, Georgia. You too, Chaz! Tell your mom I said "hi"!
And contrary to Cher's Burlesque braying, it turns out you have seen the last of "You've Got SheMail," as the six-season tagline got retired this week. You can follow different sides of the debate about that on Facebook and The Huffington Post and at your local wig store.
Anyway, it's now down to the top six, and one beloved, queenly firebird has left us all smoldering in her wake. She will be missed. And holy f*$k! How about that lip sync?! Who knew Paula Abdul's "Vibeology" was the killer lip-sync jam of all time? Go, Paula! I'm in a funky way... still!
SPOILER ALERT: I spill the "T" on which of our wild runway animals was set free this week, so if you haven't yet watched the episode, steer your safari Jeep over to LogoTV and take care of that.
One last thing: Big props to Cher's mom and Chaz for being so nice on the show! Can I spend next Thanksgiving with them?