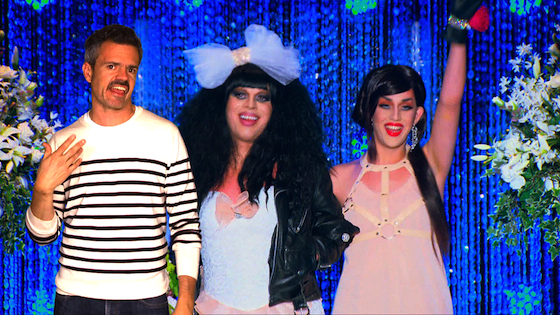 This week on RuPaul's Drag Race: Here come the brides?
Queerly beloved, this week it was drag-wedding time on RuPaul's Drag Race! Which bridal makeover queen gets an "I do," and which gets an "I can't"? Watch this week's Extra Lap Recap below to find out!
But yes, for Season 6, the annual makeover episode turned out to be a big, fat, drag-wedding extravaganza with real couples getting hitched, but with a hitch: The ladies were the grooms, and the men were the brides! Kind of a draggedy twist on marriage equality? (Like you never saw that coming....)
Also, for the mini-challenge our queens got messy making drag-stract artwork using just their bodies and some big, splashy paints and canvases. It was artsy-fartsy -- very Georgia O'Queef. (Warning: I become excited and get a bit Sunday in the Park with George and Barbra's Broadway Album up in here. It's not pretty.)
And Drag Race also received a visit this week from real-life couple Neil Patrick Harris and David Burtka, who are so darned adorable they make me wanna get all coupled up!
Speaking of Georgia O'Queef....
Anyway, enjoy this week's recap, and I hope you catch the bouquet! And be prepared: This week's departure is a heartbreaker. (So yes, she gets a special tribute at the end of the recap. Watch till the end! Props 4ever!)
BenDeLaCreme and I respond to this week's elimination. Waaaaaaahhhhh!
And SPOILER ALERT: I'm gonna spill all the drag-wedding whatnots in this recap, so if you've not watched the episode yet, then march down the aisle to LogoTV.com and take care of that first.
Now, everybody say "love"!
REAL LIFE. REAL NEWS. REAL VOICES.
Help us tell more of the stories that matter from voices that too often remain unheard.