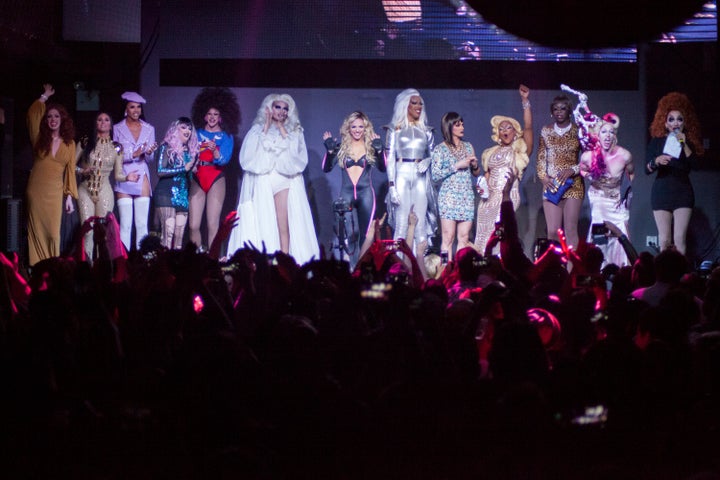 It's finally that time of year again... are you ready for the return of "RuPaul's Drag Race"?
The eighth season of the iconic reality show won't hit our living rooms until March 7, but the anticipation was already high last night in New York, where the season's 12 queens kicked off the show's premiere tour at Manhattan's Stage 48.
We're being pretty legit when we say: we actually gagged over most of the queens this season. There are very few girls that seem to be "filler" queens, and the trajectory of the season could easily go a number of ways.
But with three New York queens on season eight -- Thorgy Thor, Bob the Drag Queen and Acid Betty -- Stage 48 was packed to the brim last night with loyal fans and supporters.
Before all 12 queens took to the stage, we had a chance to talk to a few of the girls about their own personal legacies, their experience on the show and "Drag Race" as an institution. Check out their answers and some photos of the event itself below.
Happy "Drag Race" season!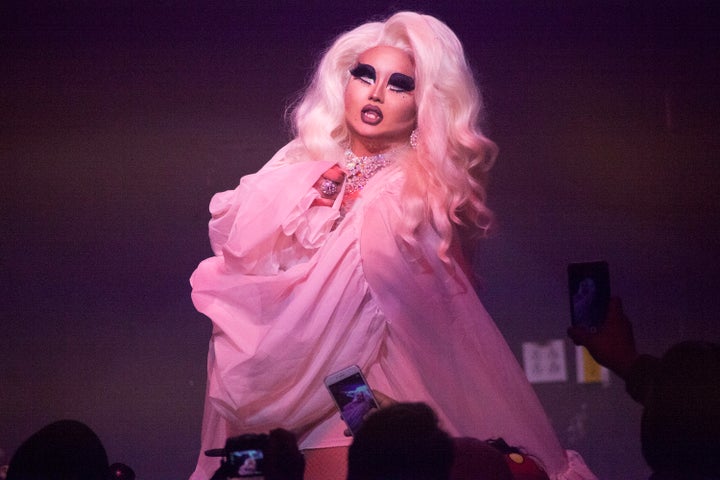 Kim Chi: Kim Chi is a live action anime character who works as a high fashion model. I'm heavily inspired by over-the-top anime drawings and over the top conceptual runways and I like to meld those two. It's really an honor to be part of this season because part of the reason I chose the name Kim Chi is [because] the queer Asian community is very underrepresented in American pop culture -- especially Koreans. So I wanted to pick a name that was as feminine as possible, but not feminine at the same time. In the future I hope we have [more diversity] like an Indian queen, some Mediterranean queens, some more Latin queens -- I want to see more variety.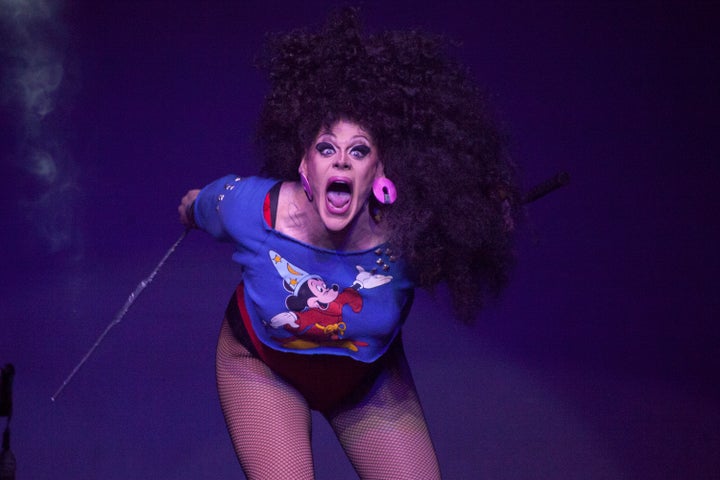 Thorgy Thor: I'll say this, and this is the first time I'm actually saying this to anybody, on the show I realized very quickly that the other girls were very efficient with their time. As a very, very ultra-creative person for years and years, I'm very good at taking my time alone and shutting out everything that I don't like and creating. And being thrown there, it was beyond anything I could've imagined as a nightmare for a creative person who is very specific -- meaning on the show it was depicted as, "Oh, don't tell Thorgy, she's gonna cry about it," or "don't tell Thorgy, she's gonna worry about it," because I was always running around like this worry wart. Which I didn't expect! But I really learned a lot about time management and like how I'm terrible at it, bad at asking for help because I'm very independent. Most people that live in New York, you can't depend on other people to get you anything -- you have to go cut in front of somebody, you gotta stab somebody to get that cab (laughs). So I learned that about myself.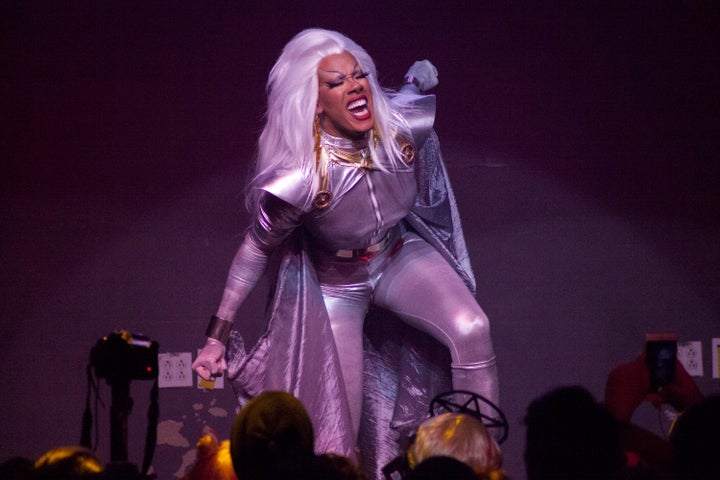 Dax ExclamationPoint: "Drag Race" has always made drag very, very accessible. People get interested in it that would never normally go to a drag show or look at a drag queen, and some are even like "well now I want to be a drag queen!" I remember a time not very long ago when there was like five or six of us in Atlanta (laughs). it was fun, but now people feel open to express themselves, especially when it comes to gender fluidity -- they're not afraid to. And I think that is what drag is doing for the world.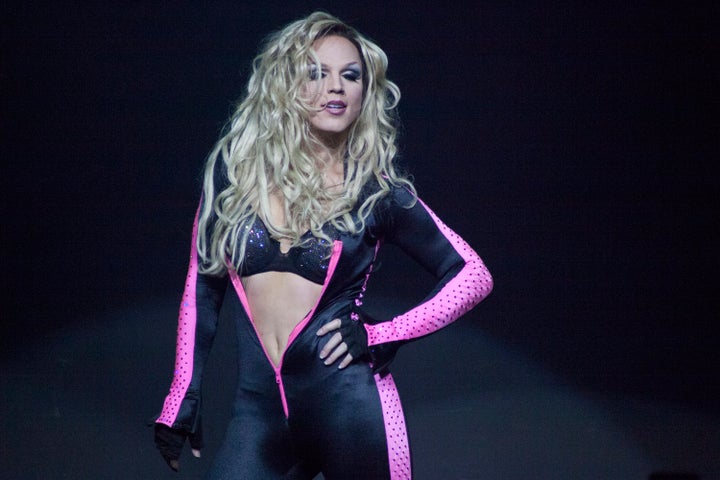 Derrick Barry: I feel like I'm always going to have critics that say, "He only does Britney," or "He's always pretty' or "He's always blonde," but hopefully they get to see something they like on the show. When I auditioned I wanted to be known in the way Chad Michaels is for Cher, and I wanted everyone to know that Britney is what I do. But I came out of it so differently -- because now I'm so excited for people to see everything else I'm doing. I'll always keep Britney a part of what I do but I feel like I did so much growing in the show while being around all of these inspiring people.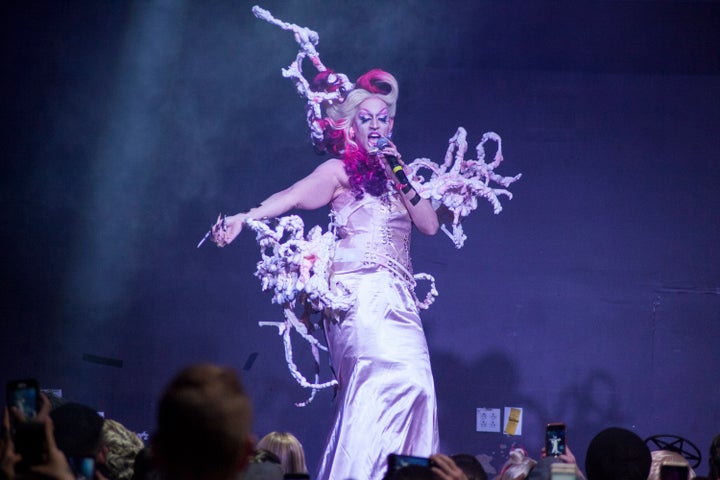 Acid Betty: "Drag Race" has changed the drag scene at large completely. I was talking with Mimi Imfurst about how when we started doing drag there was no TV show. So we were actually breaking the rules and being ballsy [through our work] and getting treated like shit because of it. It really took a rockstar in us to be like, "I'm a drag queen, I'm a freak, fight the power!" Now, with "RuPaul's Drag Race," every girl just wants to know how to get on the show -- there's not this [conversation about], "Well, what does this drag character say about you?" And how is this drag persona exposing an internal, vulnerable side about you Because I feel like me, Mimi, Lady Bunny, Bianca -- it's really a part of us.
HuffPost Queer Voices previously interviewed Acid Betty for our series "After Dark" -- check it out here.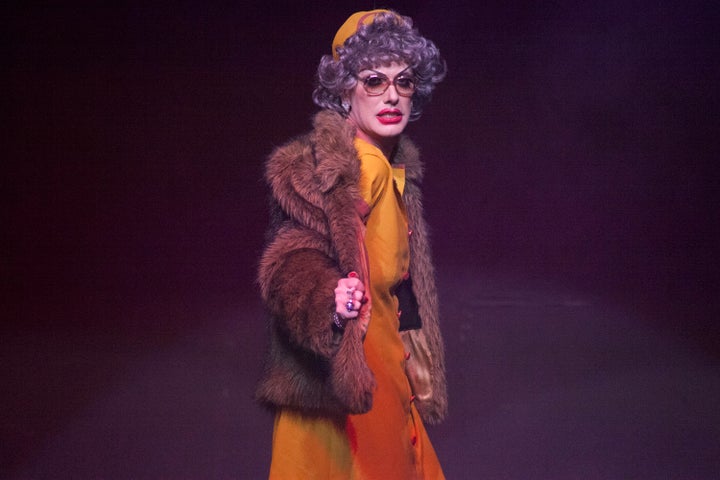 Robbie Turner: I think drag is helping a lot of movements happening the same time. It's not scary -- drag queens aren't scary anymore, they're in your home. They're the gal pal that you want to go out with -- we're like the ultimate accessory. It's not like the drag queen of yesteryear where they were all underground in seedy nightclubs. Yeah, those clubs still exist but now it's much more of an approachable thing that somebody's mom would be like, "Oh, drag isn't as scary as I thought it was."
"RuPaul's Drag Race" season eight will premiere on Monday, March 7 at 9 p.m. ET/PT. Check out more photos of the New York premiere party below.
Calling all HuffPost superfans!
Sign up for membership to become a founding member and help shape HuffPost's next chapter